The episode begins with the vampire in Angad's body hurt Angad so that Sandhya and everyone release him. Sandhya says to everyone that they need to perform the Pooja for the Shivlings and keep it in front of the vampire so that he can't stay in the house. (Check: Kawach Written Updates.)
Sandhya says to Malini that Rekha told her that the vampire doesn't leave anyone so easily. Sandhya says that the vampire leaves only when the person dies. The vampire hit his face so that Angad gets hurt. Everyone comes outside hearing the voice. Sandhya asks Usha to take the Shivlings inside the room.
Malini says that they need to find a solution so that the vampire leaves Angad's body. The vampire hit Angad's face again and again. Balraj asks Sandhya to take the Shivlings soon to the room. Akhil and Ankit tell everyone that Rekha has seen Angad's death. Sandhya says that she won't let anything happen to Angad.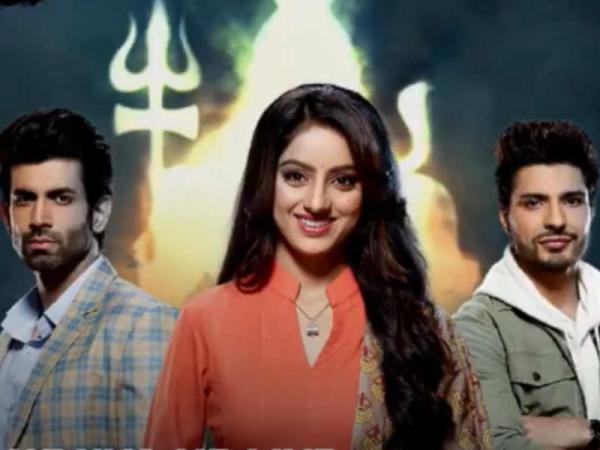 Sandhya says that Angad will be safe when the vampires come out from his body. The vampire takes a scissor to kill Angad. Sandhya comes to him and the vampire gets happy that she has come to give Prem. Sandhya says that she is a mother and she won't let anything happen to Prem. The vampire says that she will lose everything.
Sandhya says that his heart might want something which Bhau hasn't given him so she can fulfill it and he can leave Angad in return. The vampire tells her about his story that he wanted to live a normal life and marry someone, but no one was ready to marry him as he was very ugly. The vampire says that he got angry after hearing everyone's denial.
He says that he raped every girl who called him ugly, but all the villagers started hitting him one day. The vampire questions Sandhya whether she would accept him to save Angad's life? Sandhya says that she can do anything for his love. She says that she will fulfill his desire and takes him in her room.
Sandhya says that she wants to accept him in his real face. The vampire comes out of Angad's body. Angad denies Sandhya not to do like this. Sandhya says to the vampire that she will only come to him when he leaves Angad.
The vampire tries Angad in the room. Angad denies Sandhya not to do anything like this. The vampire says that he won't leave her husband. The vampire says that he will first come close to her and then kill her husband.
Sandhya says that she knew everything as he is not a good person. Sandhya says that she has come with Lord Shiv to fight with him. Sandhya removes the blanket and all the Shivlings starts attacking the vampire. Sandhya and everyone start reciting Lord Shiv's Mantras. The vampire grabs Angad's neck and vanishes away.
Angad is dead and everyone is shocked to see him. Rekha and Kartik return to the house and gets shocked to see Angad lying dead. Sandhya cries badly and asks Angad to return. Rekha says to Sandhya that she wants to talk with her.
Rekha takes Sandhya to a corner to console her. Rekha says that Prem has some powers and Bhau wants to take Prem's powers. Rekha says that Prem can bring Angad back to life.
Rekha, Kartik, and Sandhya come to talk with Prem. Rekha questions Prem whether he has done something which no one can do. Aastha says that she also knows about Prem's superpowers. Aastha says that she has seen Prem hitting the vampire. Prem says that it happened all of a sudden. Prem says that he just makes a wish and saved everyone.
Rekha says to Prem that he should make a wish and call Angad back. Prem says that he didn't know about it as it happens all of a sudden. Sandhya asks Prem to make a wish for his father and cries badly.
Sandhya takes Prem in front of Angad. Prem calls Angad back again and again, but nothing happens. Prem gets emotional that his power is not working. Prem says that his father has left because of him. Sandhya says that nothing happens to him. Prem starts crying after hearing that his father is no more.
Aastha starts crying and asks Prem to bring back her father. Prem's eyes turn red and a light appears over there. Everyone comes there and gets shocked to see Kartik, Sandhya, Prem, and Rekha lying unconscious. Aastha says that everyone is fine as they have gone to bring back her father.
Everyone gets shocked to see everyone dead and cries badly. Aastha says to everyone that all of them will return. Balraj asks Ruhi to take Aastha along with her.
Rekha is hanging on a branch and all the place is covered with lava. Kartik and Sandhya try to save Rekha and pulls her up from the branch. Rekha says that they have come to a place where spirits get released. Rekha says that Angad's spirit will also come here. Rekha says that they have died as only the spirits come here.
Rekha says that if their body is present in the house, then they can return. Balraj says to Ankit that police had permitted them to conduct Antim Sanskar. Balraj and Ankit feel emotional after seeing everyone. Sandhya goes to find Angad with Prem.
Rekha tries to talk with anyone in the family so that they don't burn their bodies. Aastha denies to everyone that they should not burn anyone as they are alive, but no one hears her. Aastha starts praying to Lord Shiva to help her. Rekha tries to connect with Aastha and talk to her.
Sandhya and Prem find Angad and gets happy to see him. Prem runs to Angad but Sandhya feels something odd.
Precap: Sandhya gets trapped by a giant snake. Aastha says to everyone not to burn anyone's body. Sandhya and all of them were leaving, but a voice says that only four of them can leave!