The episode begins with Sandhya finding Angad but can't see anyone. Sandhya is dancing like a Tandav in Patwardhan Wada, which is completed decorated and thinking about the right match for her between Angad and Kapil. She fell down and Angad holds her hand to get up. (Check: Kawach Mahashivratri Written Updates.)
Both of them are dancing in a passionate manner and are lost in each other. Sandhya looks back and gets shocked to see Kapil. It was just her dream. Usha and Sandhya's aunt comes there to ask her to get ready. Sandhya recalls that she got a call from Ranjana and gets shocked to see no entry of Ranju's call in the call log.
Nisha reveals to Ranjana's father that the police has found a dead body whose face is damaged badly in Mumbai. She asks him to leave for Mumbai in an hour. Ranjana's father hears Ranjana's voice and looks at Ranjana's spirit, asking him to find her as she is lost. He looks at a lady behind her daughter and follows the spirit.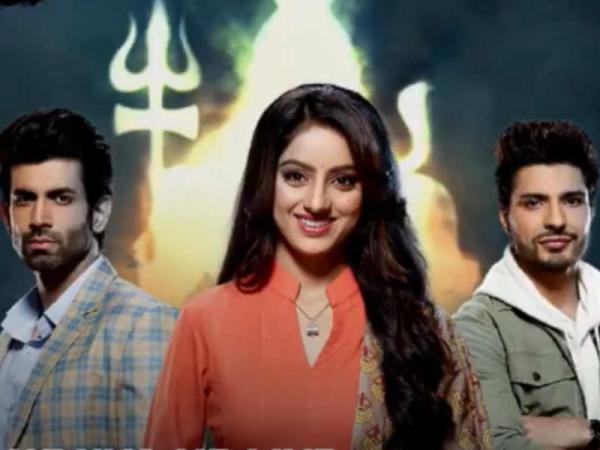 Ranjana's father comes to Vinayak asking to meet Sandhya.Sandhya is wearing her saree and Angad comes in her room. Angad makes Sandhya get ready with his closed eyes. Angad says that he wants everything to get stops when she is near him. Sandhya recalls his conversation with Nisha and asks about her.
He thinks that she should not know about Ranjana's missing news and her death news also. Angad says that he was not with any girl. Nisha comes there and asks Angad to talk with her as it is urgent. Sandhya introduces herself to Nisha. Sandhya says that she was there with Angad last night. Nisha says that she has come today. Angad diverts the topic and leaves with Nisha.
Ranjana's father says to Angad and Nisha that he has seen his daughter with a lady. Angad's relative is also there. Ranjana's father asks to meet Sandhya. Angad says that Ranjana is not here.
Kapil enters Sandhya's room. Sandhya thinks it is Angad and ask why he told a lie? Kapil says that he was lost and leaves from there, but says that her smile is missing in the room. Sandhya smiles and asks him about Angad's relation with Nisha. Kapil says that she should ask Angad.
Sandhya says that he is not anything to her so he will not tell her anything. He asks whether she is sure that he doesn't mean anything to him. Sandhya is called and Kapil asks her to leave first as people will think wrong if they leave together.
Sandhya looks at Angad with Nisha together. Angad's sister teases Sandhya that Nisha is her Souten. Sandhya questions that when did she come? Angad's sister replies that she came last night. Sandhya gets worried that Nisha told her a lie.
Ranjana's father goes behind the spirit of Ranjana after hearing her voice.
Sandhya looks at Angad and Nisha talking in a sign language. She starts crying as she is sad. Kapil ask her to smile. Usha asks Sandhya why she is crying? Sandhya says that it is because of the fire.
Ranjana's father asks the evil spirit about Ranjana. She points at Ranjana's spirit and he goes to her. He tries to touch her and the evil spirit kills him.
Sandhya and Angad are performing aarti. Angad understands that Sandhya is tensed because of Nisha. During the aarti, Ranjana's father's dead body falls down. Angad guesses it is Ranjana's father from the clothes as the face is not visible. Angad tries to console Sandhya as she is scared.
Vinayak asks Usha not to let Sandhya know that he was Ranjana's father. Sandhya hugs Usha and ask about the person. Angad says that he was a village person whose leg got stumbled and he falls down. Angad promises Sandhya that he will come soon and leaves from there.
Angad, Jolly uncle and everyone are discussing death. Nisha says that it is strange about Ranjana's death as it is Akal Maut.
Angad looks at the evil spirit on the terrace and goes to find her, but there is no one.
Sandhya is worried and leaves the room to go to Angad.
Angad questions the evil spirit about her presence, but it gets disappeared. Nisha comes there and he says that there was a lady in Kashti saree but she got disappeared. Angad says that something is wrong here. Nisha asks him to relax. Sandhya looks at Nisha with Angad and gets sad.
The elders think to postpone the wedding. Vinayak says that the marriage will take place on the next day only.
Sandhya thinks to question Angad about Nisha. When she was leaving, the evil nuptial thread comes in front of her. She takes it and throws out of the window. It comes back and she gets shocked to see it. She breaks it, but it gets joined.
Sandhya gets shocked and takes it to throw out, but the evil spirit comes in front of her. She runs away from there and gets hit with Kapil but change the topic that she was finding Angad.
Nisha and Angad are talking with each other and Nisha falls down when she got hit for the kids. Angad was trying to help her. At the moment, Kapil and Sandhya look at them. Sandhya gets hurt as it looks Angad is holding Nisha in his arms. She leaves from there.
Precap: Angad takes Sandhya to a dinner date. Sandhya asks Angad about Nisha. Angad says that he will reveal it after the marriage. Sandhya says that then the marriage will not take place. Sandhya is dressed up as a bride and gets shocked to see Angad with Nisha.
She leaves from the Patwardhan Wada and the evil spirit is around the villa. Sandhya comes to the god and questions about everything. Someone is shown being attacked by the spirit!