The episode begins with Prem and Sandhya finding Angad. Prem runs to hug Angad after seeing him. Sandhya looks that Angad's eyes are turning red and run behind Prem to stop him. Sandhya's leg gets stuck in the sand. Angad turns Prem into sand and leaves. (Check: Kawach Mahashivratri Written Updates.)
Sandhya begs from the voice to give her son back. The voice asks Sandhya to pay for his son. The voice asks Sandhya to bring a gold coin from the gate and he will give her son back. The trap disappears from Sandhya's leg and she runs inside the gate. Rekha tries to talk with Aastha through a mirror.
Rekha asks Aastha to talk with everyone that they should not burn their bodies. Aastha says that no one listens to her and Rekha asks her to take the mirror to everyone so that she can talk with everyone. Aastha was running and the mirror falls from her hand. Aastha says to everyone that Rekha aunty was in the mirror and asked not to burn their bodies.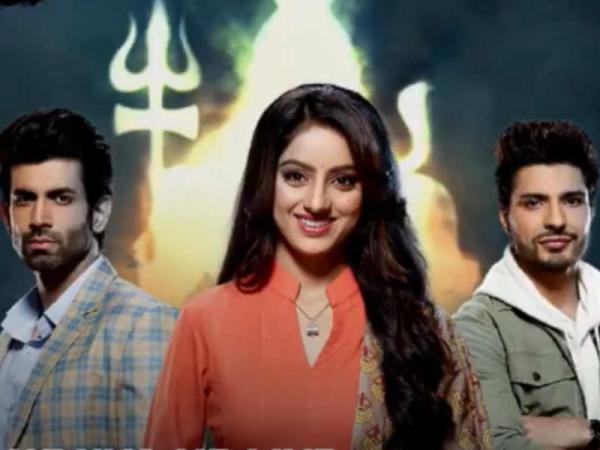 Sandhya finds the gold coin and takes her to save Prem. Sandhya gets shocked to see a giant snake behind her. The snake says that she will not let her take the gold coin. Sandhya says that she has to save her child. Naagin says that she eats the person who comes into the cave.
Sandhya runs to escape from there, but the gold coin falls from her hand. Naagin tries to come outside of the cave. Sandhya thinks to take the gold skin. A burning skull comes over there and gives a weapon to Sandhya to kill the snake. Sandhya denies that she can't kill the Naagin. The skull says that Naagin will kill her.
Sandhya says that she can't kill her to save her son. Sandhya throws the weapon and prays from Lord Shiv to save her. Sandhya starts reciting Lord Shiv's mantras. Sandhya comes out from the cave while praying. Sandhya looks at her son and gets sad for him. Sandhya says to the skull that she couldn't bring the coin.
Sandhya begs to give her son back. The skull says that she has won this test as she has a heart of gold. Prem comes back to life and Sandhya gets happy to see him. Sandhya asks the skull to help her find her husband. The skull shows her four gates as she should find the right door to reach her husband or else, she won't return.
Kartik asks Rekha to try again and tell everyone. The priests ask everyone to get ready for Antim Sanskar. Aastha asks them not to burn anyone. Rekha comes over there, but no one can see and hear her. Rekha thinks to talk to Jolly Uncle as he can see and hear her.
Sandhya prays Lord Shiv to help her find Angad. Sandhya's nuptial thread starts lighting and shows her the right gate. Sandhya goes inside with Prem. Jolly uncle asks Rekha to leave. Ankit and Akhil try to handle him but he has lost his control. Rekha says to Jolly uncle to inform everyone that they are alive.
Ankit puts an injection on Jolly uncle and he writes something on the wall before getting asleep. Ankit and Akhil are not able to understand Jolly uncle's written note. Sandhya and Prem find Angad tied to fire. Angad is getting tortured by the vampire. The vampire says that he will not leave Angad so easily as he controls him.
The vampire asks Angad to kill Sandhya and Prem. Sandhya asks Angad that he can't kill her son. Angad traps Sandhya and comes to kill her. Angad was about to hit her, but her nuptial thread starts showing a light. Sandhya says that he is her husband and he promised to save her. Angad recalls everything and throws away the hammer.
The vampire says that all of them will be finished. Prem comes ahead and hits the vampire with his power. Akhil tries to understand Jolly uncle's handwriting. Sandhya returns to Rekha and Kartik with Angad and Prem. Rekha asks them to leave now as everyone is ready for their Antim Sanskar.
Rekha asks Prem to show them the direction to return. Prem says that he doesn't know about it. Sandhya asks Prem to recall everyone in the home. A light appears over there which shows everything happening in their home. All of them were leaving, but the skull says that only four can leave as four people came over here.
Rekha says that she will stay here as she can do something to come back. Akhil stops Ankit and reads the written note by Jolly Uncle as no one is dead. Akhil says that Rekha's spirit might have told Jolly Uncle.
Sandhya and Angad ask Rekha to leave with Kartik and Prem. Angad asks Sandhya to leave and be happy after recalling him. Sandhya says that he should also recall her like this. Sandhya apologizes to Angad and hits him to leave. Sandhya gets sad after recalling her memories with Angad.
Prem, Kartik, Rekha, and Angad come back to life. All of them get worried about Sandhya. Angad says to Sandhya that why did she hit him as he decided to stay over there. Rekha tells everyone about everything happened.
Sandhya says to the skull that she obeyed their rules and asks what should she do now? Lord Shiva gets impressed with Sandhya and blesses her with her life. Sandhya says that she is ready to sacrifice anything to go back to her family.
Angad was crying after grabbing Sandhya and Sandhya comes back to life, but doesn't open her eyes. Kartik says to Rekha that they need to save Prem from Bhau. Rekha says that Prem is saving all of them.
Angad asks Sandhya to get up as he can't see her in such a condition. Angad gets a call and he was busy on it. Angad looks behind, but Sandhya is missing. Sandhya starts acting like a small kid in front of everyone.
Precap: Sandhya asks Angad to recite her Lorry. Sandhya says that she wants to meet her Bua, Manju!