The episode begins with the lady's spirit hitting Sandhya badly. The spirit enters Sandhya's body and hits Angad badly. The spirit cuts Sandhya's neck with the knife. Angad comes to senses as it was not real. Sandhya questions what has happened to him? Angad shouts at Sandhya to leave him alone. (Check: Kawach Written Updates.)
Sandhya gets a call from her mother. She says that Akhil's health is not well and he is calling Sandhya. Sandhya says that she is coming home. Angad comes to his room and recalls that Sandhya might have felt bad. Angad receives a message from Sandhya that she is going to her mother's home and will come soon.
Angad thinks to write everything on a paper, but the paper flew away from the winds. Angad keeps Nataraj Murti on the paper and writes everything. Everything gets blown away, but his paper didn't fly away since it is under Shiv Ji's feet. Angad gets an idea and comes into the Mandir. He closes the door.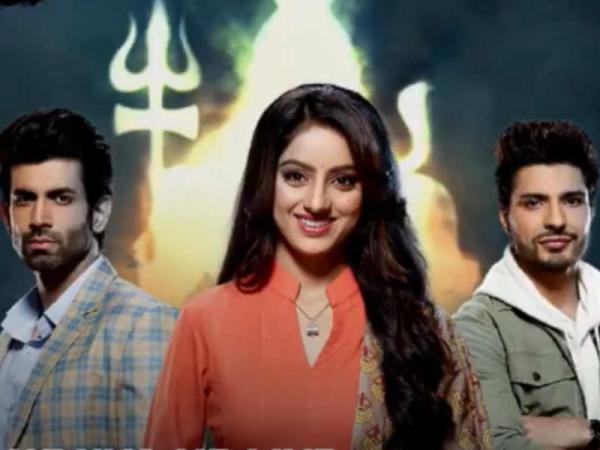 The lady's spirit is not able to enter inside the Mandir. Angad thinks that Sandhya is also safe since she is at her house. Angad feels bad as he had left the letter and his phone in the room. The lady's spirit asks him to come outside. Sandhya comes to her home and looks at Akhil, who is having a very high fever.
Usha says to Sandhya to take care of Akhil and she will come soon. Akhil says to Sandhya that he has seen Angad outside Ashutosh's office. Akhil says that Angad is linked with Ashutosh's murder. Sandhya says that she won't listen to anything against Angad. Sandhya says that she is going since Angad might be waiting for her.
Angad takes a Thaal and puts all the Sindoor on it. He writes on it that she will find the answer near Shiv Ji's Murti in their room. The lady's spirit enters inside Malini's body.
Angad thinks that he will not go outside and the gate starts hitting. Malini asks him to open the gate and Angad hears two voices. Angad opens the door and looks at his mom who is completely in control of the spirit. The spirit starts hitting Malini. The spirit tries to hang Malini. Angad comes out from the Mandir to hold her.
Kapil's spirit comes inside his body and he throws away Malini. Kapil hears that Sandhya has returned home. Sandhya gets shocked to see her mother-in-law lying in an unconscious state. Sandhya takes her to the hospital since Angad didn't listen to her.
All the family members come to the hospital and Sandhya reveals everything. Bhairvi says that it might be a case of thievery. Sandhya says that she shouted for Angad but he didn't listen to her. Bhairvi says that Angad might be in office. Sandhya says that his phone is also switched off and he is not in the office.
The doctor says that the patient is out of danger and says that the wounds are done by the patient itself. Sandhya goes home to take Malini's old medical file. Nisha comes to the house and gets shocked to see Angad hanging himself.
Angad smiles after looking at Nisha and comes down. Angad holds Nisha and says that she is right since he is the spirit. Nisha starts running and Angad throws objects to stop her. He holds Nisha's neck and says that he will give her a chance. He says that he will kill her if she reveals anything.
Sandhya comes to home and Nisha hit her. Sandhya questions what has happened and Nisha leaves from there. Sandhya goes to check the file in the storeroom as Malini told earlier. She comes to the storeroom and the light doesn't turn on.
She looks at a file which is weird and Kapil's photo falls down from it but she couldn't notice it. She takes Malini's medical file to leave from there. She recalls a photo which falls down and was like Kapil's photo, but she can't find the photo.
Angad comes to Sandhya acting like he is very worried as anyone is not at home. Sandhya says that mother-in-law is in hospital. He questions where his mother is alive or not, but changes the topic. Sandhya gets a call from Shobha and she says that mom is fine now.
Manu and Bhairvi were talking about the incident. Angad comes there and says that no one can think about what will happen to them since crime rate has increased! Sandhya and Angad come to the hospital. The doctor looks at Malini's old medical file and takes it to study.
Malini comes into senses and everyone questions what has happened? Malini looks at Angad and shouts after recalling the lady's spirit. Malini asks to remove everything and hits everyone. Malini asks them to take her out. Sandhya says that they are with her and nothing bad will happen. Malini hit Sandhya's hand with a knife.
Sandhya takes Malini down and everyone holds her. The doctor puts an injection on her hand. Malini was about to speak everything but Angad does something for her. Sandhya tries to hear the word Kashti and recalls about the spirits. Malini can't speak anything and the doctor says that her voice has gone.
Sandhya is talking with her family and reveals everything to them. Usha says that she will talk with Pandit Ji. Pandit Ji's phone is not ringing and a lady goes to talk with him in the village. Sandhya is worried about Angad's odd behavior. Angad is eating chicken by hiding in the kitchen. The lady's spirit tells him about Manoj.
Precap: Sandhya goes to take sindoor from the mandir and looks at the Thaal left by Angad about the letter!