The episode begins with the monster removing Aastha's blanket. Aastha thinks that it is Prem but Prem is sleeping. Aastha gets up to check who is taking her bedsheet. Aastha runs behind him and looks that he has put all the fingerprints. Aastha goes into the storeroom and the door gets closed. (Check: Kawach Written Updates.)
Sandhya and Angad get shocked to hear Malini screaming. Malini questions Balraj how does her skin turn green? Sandhya moves to help Malini and removes the blanket. Everyone gets shocked to see that Malini's legs are not there. Malini says that she came into her room and heard someone laughing from the blanket.
Sandhya says to Angad that Bhau is doing this. They go to Rekha's room to check why she is not aware of anything. They get shocked to see Rekha lying in the green skin. Everyone comes out after hearing someone laughing. The group of crows comes inside the house. The house gets covered with green footprints.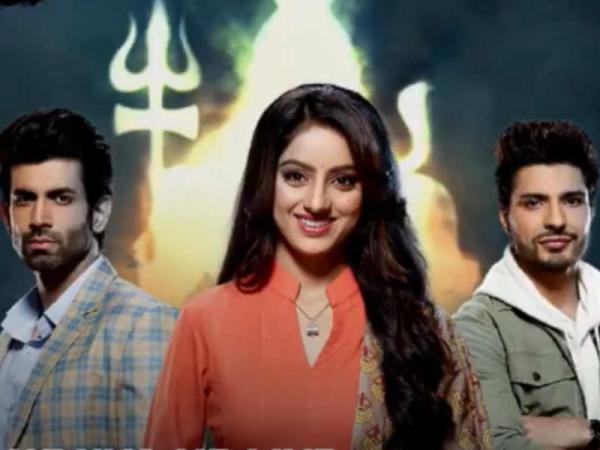 The monster laughs that everyone will be punished as Sandhya didn't accept Bhau's condition. Sandhya and Angad get shocked to see Rekha's legs are also missing. Sandhya recalls about the book which contains everything about the ghosts. Sandhya finds the book, but can't read it as it is written in Sanskrit.
Ankit calls the priest to come home soon. Shobha says that they should go to his house as the priest will come very late. Malini questions Shobha whether they find a solution. Shobha says that she doesn't want to live in the house of ghosts as she is worried about her child.
Malini gets sad that her daughter has left her in such a situation, but her daughter-in-law is struggling to help her. Sandhya wakes up Rekha with the help of a chemical. Rekha comes into senses. Sandhya says that her mother-in-law is also facing this problem. Sandhya questions who have entered the house?
Sandhya gives her the book to read and find a solution. Rekha says that these monsters are known as Dubi and are always found in the graveyard and they release a green flame. Rekha says that if someone comes from interaction with the green flame, then he or she starts disappearing and gets completely disappeared in 24 hours.
Rekha says that if a person gets disappeared, then he or she can't come back. Angad counts that they just have 12 hours to fight with Dubi. Rekha finds that the page is torn on which the solution was written. Rekha says that only humans can touch this book.
Dubi forces Prem to give him the back. Prem gives him the page, but Dubi gets hurt from it. Dubi asks Prem to burn the page.
Sandhya gathers everyone to know who has torn the page from the book? Buaji says that they don't know about it. Rekha says that Dubi might have scared someone and forced him or her to tear the page. Rekha tells that it is necessary to find the page in 12 hours.
Shobha says that she thinks it is kids work. Sandhya and Angad go to check Aastha and Prem. Prem comes to the kitchen and burns the page.
Sandhya and Angad find Prem in the kitchen as he burned the page. Sandhya questions why he has done it? Prem says that he has done it for Aastha as Dubi has taken Aastha with him. Prem says that Dubi has asked him to burn the page and then he will give Aastha. Prem asks Dubi to give back Aastha.
Sandhya and Angad go to check Dubi but can't find him. Sandhya and Angad look at the green footprints and follow it to the storeroom. The gate gets closed and they look at a green flame which asks him to choose from Aastha or Prem. Sandhya says that she wants both her kids.
Dubi comes over there and says to accept Bhau's condition. Dubi gives them Aastha lying unconscious in green color. Everyone gets sad to see Aastha in such a condition. Shobha asks Ankit to leave. Ankit says that they can't leave everyone like this. Shobha says that she is going back home and he can stay here.
Shobha was opening the gate, but the green flame comes inside the house. Dubi says that no one can leave from the house. Angad calls Dubi to come in front of him. Sandhya asks Angad not to call Dubi over here. Dubi laughs and crows come there. Angad asks him to come in front of him.
Dubi says that he will play hide and seek and if he wins, then Sandhya will give Prem. Sandhya says that they won't play with him. Angad says that he is ready to play the game. Dubi starts counting.
Shobha and Buaji go to hide as they are scared. Sandhya says that they should stay together. Sandhya says that everyone should hide in the Mandir as Dubi can't enter there. Sandhya can't take Shobha and Buaji inside the Mandir.
Dubi comes to find Shobha and disappears. Shobha comes outside from the cupboard and Dubi catches her. Dubi turns Shobha with his green flame, but Sandhya, Angad, and Buaji enter with Lord Shiv's idol and recites the prayer. Dubi gets attacked with it. Dubi gets disappeared from there. Sandhya takes Shobha with them to the Mandir.
Angad gets hit with a chair and Dubi comes there. Dubi releases the green flame on him, but Shobha takes Lord Shiv's idol near him. Dubi starts losing his power and disappears. Everyone comes to the Mandir.
Buaji apologizes from Sandhya for misunderstanding her. Dubi comes outside the Mandir and says that they have played a good game. Angad says that they have won it. Dubi says that he has to leave now and disappears from there.
Precap: Angad says to Dubi that they will give Prem to him. Sandhya takes Prem to go with Dubi!