The 2nd January 2019 episode of Kumkum Bhagya starts with Abhishek's entry in Pragya's house for searching Kiara's birth certificate. He looks at Pragya's photo and got lost in her and waste a few minutes.  Someone opens the door and he feels like King has come. But it is Purab who has come to help Abhi. Both of them start the search at every place in the house.(check: simmba collection.)
While looking into the cupboard, they threw away the salwars and wasted a few minutes over the discussion about who will fold the salwars! In the end, Abhi decides that Purab will fold the salwars and he went on looking at other places.
Pragya looks really worried! Abhishek's eyes point in a case kept above the cupboard and takes it off. After opening the case, he finds his photo in that. It also has an album which has Kiara's childhood photos. He gets emotional while seeing her photos. He looks at Pragya's passport and her name is written as "Pragya Abhishek Mehra" which makes him happy.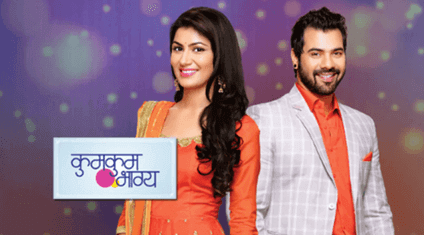 Pragya feels like Abhishek's presence which is making her comfortable, but at some point, disturbed too! He looks at a file named birth certificate and takes it, but when he was keeping the case, an album falls down. He walks to Purab in happiness.
While playing at the party, Kiara fell down and get hurt. She says to King that she wants to go to the home. King talks to the organizer that my daughter has fallen down so we'll be heading towards our home. Pragya comes and asks what happen? Kiara stops King for revealing the fact since she will get scolded so he makes the excuse that his stomach is not well and I want to go home.
Pragya catches the lie and asks to tell the truth. Kiara says that no this is the fact. King says let's not speak a lie to your mother. Everyone leaves all the way to their home.
Abhi and Purab are dancing in happiness to find the certificate. While opening the certificate, it falls down below the table and Purab asks Abhi to pick it up. Purab takes Abhi's phone and calls Disha. Disha asks did you find the certificate? Abhi gets shocked to see the certificate which says, Kiara Arora. Disha asks them to check if the King's name is written in the father's name slot. Abhi checks that neither Abhi's nor King's name is written on the certificate.
Disha says it means that when Kiara was born then King was not around which implies that Abhi is Kiara's father. Abhi looks for any other proofs for having a valid answer that he is Kiara's father. Purab asks Abhi to hurry up since Sunny has a scary dream so he wants to leave. Abhi denies since they have not fond a valid proof yet so I want to take two proofs to win. Purab says that they all will come home so please let's go. Abhi says that you should go because Sunny needs you.
Pragya, Kiara, King, and everyone have reached home. Pragya rings the bell, but no one opens the door so she starts looking for a spare key. Abhi thinks that Purab has come, but gets shocked after hearing Pragya's voice since she was scolding Kiara for eating ice-cream at the party.
Precap: King is biding good night to Kiara and Pragya. Abhi is standing outside Pragya's room and get to know that King and Pragya have separate bedrooms.
Stay tuned for more Kumkum Bhagya news.