The episode begins with Prithvi and Sherlyn scared about their plan. He thinks to leave before they get caught. Dadi says to Sarla and Jhanki that Rishab loves Preeta. Sarla says that this is not the truth and I don't want the Luthra's to blame my daughter's character to stay with their rich sons. Dadi says that I'll not tell you, but questions that why Jhanki always get dreams about Prithvi trying to hurt her?
Sarla says that Prithvi is a nice guy and Preeta is going to marry him. Sarla says that I know someone wants to hurt Jhanki but he is not Prithvi. Karan and Preeta are trying to open Billa's phone, but it is password protected. The phone switches off and he says that I'll take help from my professional friend.
Prithvi shouts at Sherlyn as he is really worried about his failed plan. She says that it is your fault and what will you do now? He replies that I'll cut your neck and suddenly changes his words. She says that you involved Monisha in our plan and that's the point when everything got wrong. Sherlyn is worried that as soon as Billa's phone get open then Prithvi will go to jail and Monisha will also not leave him. She asks him to kill Karan but he says that this can't happen.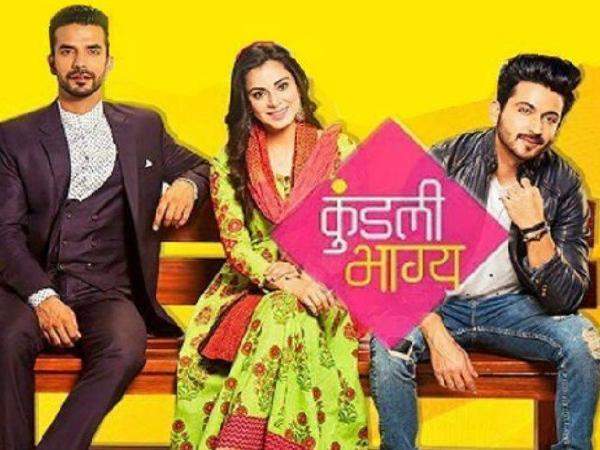 Sherlyn comes in Monisha's house, but Monisha throws her out. Sherlyn rings her house bell again and again. Monisha comes out and warns to kill her. Sherlyn tries to console Monisha and says that you can marry Karan to leave your loneliness.
Karan comes out of the car, but Preeta can't come out as the door gets locked. He opens the door and asks Preeta to stop as her dress got attached in the car. He says that I'll help you and she denies. At the moment, Preeta's dupatta gets torn out and they both are looking at it. He says sorry for the mistake and will bring new dupatta for her. She says that it was one of my favorite and it is difficult to find a matching set. He says that I'll bring five same dupattas for her. She asks her to shut his mouth.
Monisha asks Sherlyn to get out of her house. Monisha says that I am in love with Ritvik at the moment and you're comparing him to Karan. Sherlyn tries to change her mind and says it is not sure that Rishab has killed Ritvik. Monisha denies and says that I've heard when Billa said that Rishab gave money to kill Ritvik. Sherlyn says that the Luthra's are a nice person and it is someone else who was trying to get the Luthra's down. Monisha says that it could be Prithvi also. Sherlyn says that stop doubting on us and don't forget that if we can kill someone else then we can also kill you. Monisha warns her that don't think about it anyhow. Sherlyn advises her to marry Karan or else the Luthra's won't leave you. Monisha throws Sherlyn outside her house.
Precap: Karan tells to everyone that they have got Billa's phone. Preeta adds that Billa's phone has the record of the mastermind who was behind this act.