Today's episode of Kundali Bhagya begins with Sameer and Srishti thinking about each other. They both are recalling their memories spend with each other. Karan and Preeta have some cute fight with each other. Preeta's dupatta gets flew away on Karan's face. She is feeling shy at the moment and he covers her with the dupatta. (check: Kasauti Zindagi Ki 2 25th January 2019.)
Prithvi is drinking and thinking about the moment when Monisha attacked Rishab for Ritvik's murder. He thinks that Karan was about to kill Monisha at that moment, but it was a good thing that the police were present there. He thinks that when Karan gets to know about the mastermind, then Karan will kill me. He is worried that a phone ruined all his plans. He plans to steal the phone to get escaped.
Sameer and Srishti can't sleep so they came outside and talk to each other. She is feeling something for him. She says that I created such a mess at the police station and asks for a sorry. But he says that I found it really funny. He also apologies that I started shouting at you. He is feeling cold, so she removes her shawl and gives it to him. He denies, then she suggests to share it.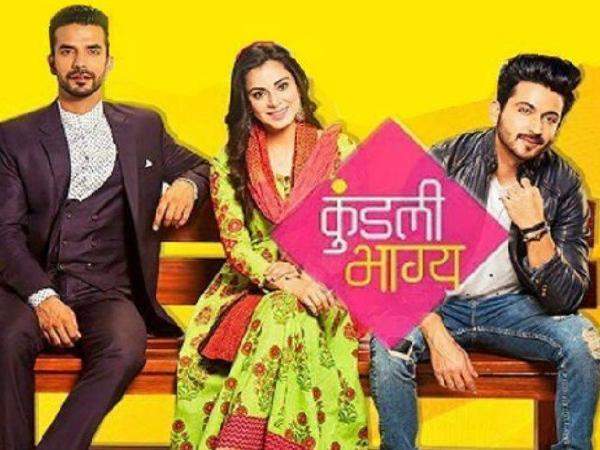 Kareena asks Sameer about his act. He replies that I was feeling cold. Kareena asks Sameer to go to his room. Kareena talks to Srishti that focus on your work instead of doing anything else in the house. Kareena says that stay away from other things in this house or else it won't be good for her and her family. Srishti thinks that Kareena might be thinking bad about me and Preeta Di.
Sameer comes inside the house and Kareena asks about his relation with Srishti. He denies and says that she is just a friend. She says that stay in your limits or else I'll call your family and ask them to take you home. Kareena warns him not to get involved in anything which makes me feel bad in this house. Srishti also comes down and the bell is ringing so Kareena asks Srishti to open the gate. Everyone comes outside and asks to open the door.
Srishti opens the door and Karan comes inside in a very happy mood. Karan hugs everyone and feels really happy. Karan says that I've got Billa's phone. Preeta explains that in Billa's phone call log, we will get to know about the mastermind. Karan says that all this happened because of Srishti. He adds that Srishti made Billa speak everything.
Prithvi picks Sherlyn's phone and asks that what happened about Monisha? She questions that how come he gets to know this? He says that I'm well-aware about Monisha and you.
Karan says that Billa's phone is dead and in the morning, I'll get it open.
Prithvi talks to Sherlyn that the phone will not open as it will not remain in the Luthra's hand. He says that I'm going to the Luthra's house and get the phone. She asks him not to do this thing and he starts shouting at her.
Sherlyn thinks that she needs to help Prithvi as he can't do this all alone. Prithvi thinks that he doesn't want that Preeta thinks anything bad about him as he loves Preeta.
Precap: Prithvi enters the Luthra's house and Srishti hears some noise!