The episode beings with Prithvi enters into the Luthra's house. Srishti hears a noise, but couldn't find anyone in the place. She looks at the window which is left open, implying that someone has entered the house. Prithvi moves, but touches a foil paper which makes noise. She takes a step ahead to look but couldn't find anyone. She takes a vase to beat the thief, but Prithvi has successfully managed to hide in the guest room. Srishti enters the guest room and still is not able to find anyone ad Prithi has to hide in the cupboard. (Read: Kasauti Zindagi Kay 2 28 January 2019.)
Dadi is searching for Preeta and comes into Srishti's room. Dadi gets scared after seeing a vase in Srishti's hand. Srishti asks Dadi to sit down and tells that Preeta is in the kitchen. Srishti goes to call Preeta. Prithvi closes the cupboard door but it creates noise. Dadi was about to open the cupboard, but Preeta came.
Karan has charged Billa's phone and Srishti brings something which Preeta has prepared. Karan denies to eat, but Srishti is teasing him. He takes the dish and eats it. Karan and Srishti come to give compliments to Preeta on her dish.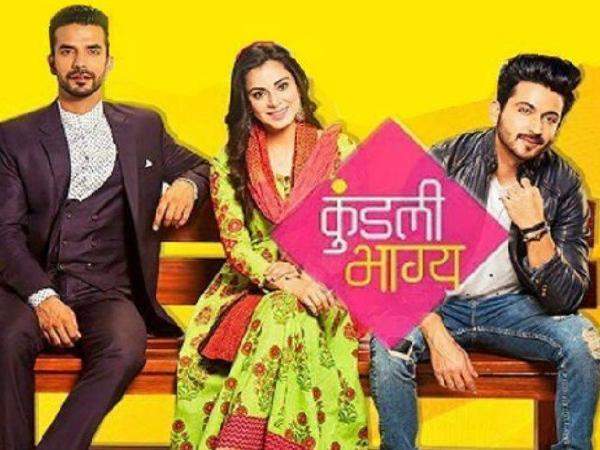 Srishti reveals about the scene to Dadi. Dadi makes fun of her and says that it might be a ghost. Srishti got scared, but Dadi adds that the ghosts are invisible. Srishti says that don't scare a small kid. Dadi says that you're so tall and not a kid anymore.
Dadi wants to take a rest and she leaves along with Karan. Prithvi is feeling like a watchman in the cupboard. Preeta also goes to wash her hands. But Srishti thinks that it might be a ghost and not any thief in the house. Preeta asks for a towel and Srishti replies that it might be in the cupboard. Suddenly, Srishti says that it is left outside. Preeta closes the cupboard door and didn't see Prithvi inside it.
Prithvi gets worried and thinks that he can escape when everyone is sleeping.
Everyone is sleeping and Prithvi has somehow managed to come in Karan's room to take Billa's phone. Karan is speaking Preeta's name in his dreams and Prithvi tries to hit him, but Karan holds his hand and sleeps. Sameer comes inside the room and Prithvi hides. Sameer comes to sleep with Karan but Prithvi is in trouble as Karan is holding his hand. Kareena enters the room and covers the blanket. Kareena hears Karan speaking Preeta's name and gets irritated with it. Prithvi thinks that it is the Luthra sons who have a clever mind and Preeta is really a sweet girl. Sherlyn is also hiding in the window.
Prithvi has got the phone and takes his hand away from Karan but accidentally throws something. Karan wakes up, but sleeps after seeing nothing. Prithvi takes the phone and tries to leave.
Preeta starts coughing and wakes up to drink water. Srishti also wakes up as she is scared. Preeta is going to take water from the kitchen and Srishti holds her to not let her go. Srishti is scared that if Preeta will leave, then the ghost will come and eat her. Srishti denies that Preeta should stay with her. Preeta says that the ghost will get scared after seeing you. Preeta makes fun of Srishti but Srishti denies that she is not afraid. While Preeta is moving, she hears some noise from Karan's room.
Precap: Karan is giving about a half proportion of his wealth to Monisha but she denies stating him as a liar. He adds his marriage proposal to her!