Kundali Bhagya 31 December 2018 Written Update: The episode begins with Karan, Preeta, and Srishti's entry in the police station. Prithvi is hiding on the gate and hearing their conversation. The media enters and asks from the police about the accident which happened was actually a murder. The inspector asks to bring out the gangster and media asks that about the gangster's involvement in the murder and its reason. (check: Nagin 3 31st December 2018.)
Srishti shouts at the Gangster to ask him the answers. The media team goes to Karan, Preeta, and Srishti for asking that you are a proof about the murder's incident then why are you questioning from the gangster! Karan speaks that it has been just a coincident. Prithvi enters secretly and tries to signal the gangster but fails. Srishti looks at Prithvi and thinks about his signals.
The constable asks Prithvi about his signals he was passing to the gangster and speaks to Srishti that it looks like Prithvi has some connection with the gangster. Prithvi starts explaining his side and acts like he doesn't know anything. Karan speaks to Preeta that let us tell the truth to Monisha. Preeta says lets first register the complaint and then we will tell.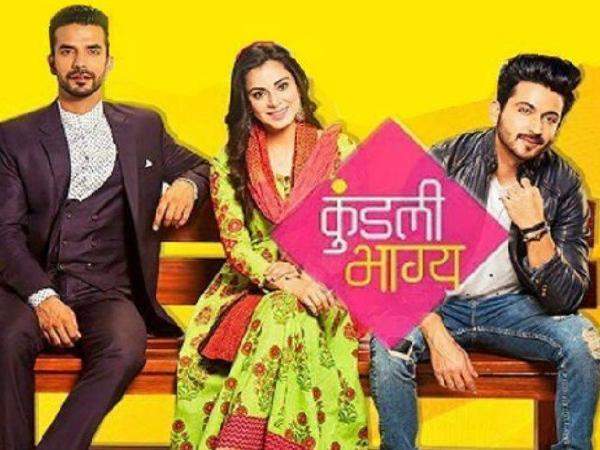 Rishab arrives at home where everyone is gathered up since Dadi got hurt. He takes Dadi to the hospital. Dadi stops Sherlyn to touch her since she is dangerous. Everyone leaves for the hospital and Prithvi is calling Sherlyn but she can't pick his call.
Jhanki is walking in tension and Sarla stops her and asks her to take a rest. Jhanki denies to take a rest and says that she is recalling something, but not sure about its authenticity. Jhanki speaks to Sarla did some gangsters entering our house and we'll be fighting against them! Sarla says a yes and both of them are happy to learn about Jhanki's memory.
But Jhanki is not able to recall who made her sit on the chair and says that the person might be really bad who made her leave the house at midnight and fight with him. Jhanki recalls her memory with Srishti when she was confessing that she is in love with Sameer. Jhanki calls Srishti and keeps it on speaker for Sarla too. Srishti is really happy to see that Jhanki aunt has called after a long time.
Jhanki hears the inspector's voice at the police station and Sarla asks where are they! Srishti replies that they are at Karan's house. Sarla and Jhanki get shocked and immediately decides to go to the police station.
Kritika comes and is shocked seeing Dadi hurt and asks what happened to Dadi. Rakhi replies that Dadi fell from the stairs and got hurt. Sherlyn arrives and Dadi denies to go with her and in her car. Rishab takes Dadi in his car and everyone goes with her. Dadi asks about Karan and Rishab tries to avoid the answer and says he is busy so I came here.
Everyone thinks he is lying and Dadi asks to stop the car because you're not telling the truth about Karan. Rishab says he is at the police station with Preeta and Srishti since an accident happened in which Rithvik is dead. Rishab says that Karan, Preeta, and Srishti have seen the guy who intentionally met into an accident with Rithvik and they have managed to somehow take him to the police station.
Everyone is shocked to hear this and Rakhi feels really bad for Rithvik. Rishab avoids telling that the mastermind killed Rithvik. Rakhi asks about Monisha that she knows about Rithvik's death or not!
Precap: Prithvi is talking to Sherlyn on call that no one should learn that I'm involved in Rithvik's murder and I have the control over Monisha. Jhanki has heard all this and Prithvi is shocked to see Jhanki.
Stay tuned for more Kundali Bhagya news.