The Kangana Ranaut directorial and starrer Manikarnika has been released in the UAE a day before India. The movie is Kangana's debut as the director. The film is a biopic and its story revolves around India's willful and determined fierce warrior queen Rani Lakshmi Bai of Jhansi. Her life and struggle for Indian independence is the center point. Overall, the flick has got initial mixed reviews from the critics. (check: Uri collection.)
Per the Gulf News, the period drama starring Kangana has got few scenes right. Most of the emotions going through her face seems to be a bit exaggerated – be it triumph or tragedy. Manikarnika doesn't appear to have emotionally connected properly with Rani Laxmi Bai when the British Army is trying to colonize Jhansi. Moreover, the Hindi accent by the Britishers in the film appears cartoonish and doesn't evoke the sense of fear that could have been generated.
It can be understood why so much focus is given to Kangana, but as the director, she should explored a bit more the villainous role played by Ankita Lokhande and Zeeshan Ayub. The scenes of sword fighting have been importance and the execution has been good, but the battle scenes of foot army could have been better. It felt a bit more repetitive.
The dialogues by Prasoon Joshi were well delivered and they were appropriately evocative and filled with patriotic zeal. More than required stress is given on earning self respect by thrashing the Britishers who came to colonize Jhansi. If you want to see and know more about the warrior, then this is the film for you. Others may want to duck this nationalism-fueled drama.
Rating: 2.5 stars out of 5.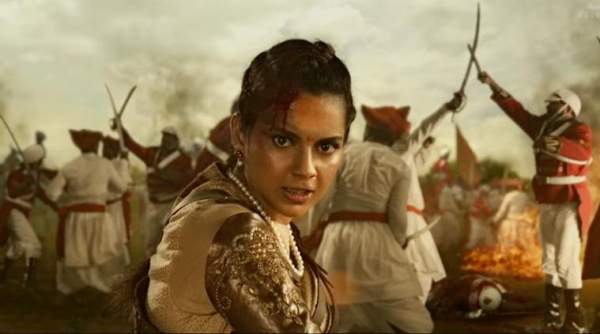 Per the Khaleej Times, Kangana Ranaut has brought us back the story of legendary war hero who fought till her last breath with courage and determination. She has fully delivered a true war hero. The film belongs to Kangana. The reviewer also stated that until now, the moviegoers have seen period drama from Sanjay Leela Bhansali or Ashutosh Gowariker. Manikarnika has come with a better grandness ans strong characters, powerful dialogues by Prasoon Joshi, and a tight screenplay.
Rating: 3.5 stars out of 5.