Prince Harry (34) and Meghan Markle (37) are going to become parents any day now. They are expecting the first baby very soon. Here is everything that you would like to know about the to-be-born Royal baby. The details include Markle due date (labor), name and gender predictions, where she will give birth, etc. (Check: Overlord Season Four.)
Meghan, the Duchess of Sussex is at Frogmore Cottage where she is relaxing. She is having her mother by her side. And, the baby is due any day now. Harry and Markle got married on May 19, 2018. It gave birth to speculations if they would start a family together.
Down the timeline, they announced that they are expecting a baby. The announcement was made during a 16-day tour of Australia, Fiji Tonga, and New Zealand in October 2018. According to the Kensington Palace, the Duke and Duchess of Sussex won't make much of the details around the arrival of their public.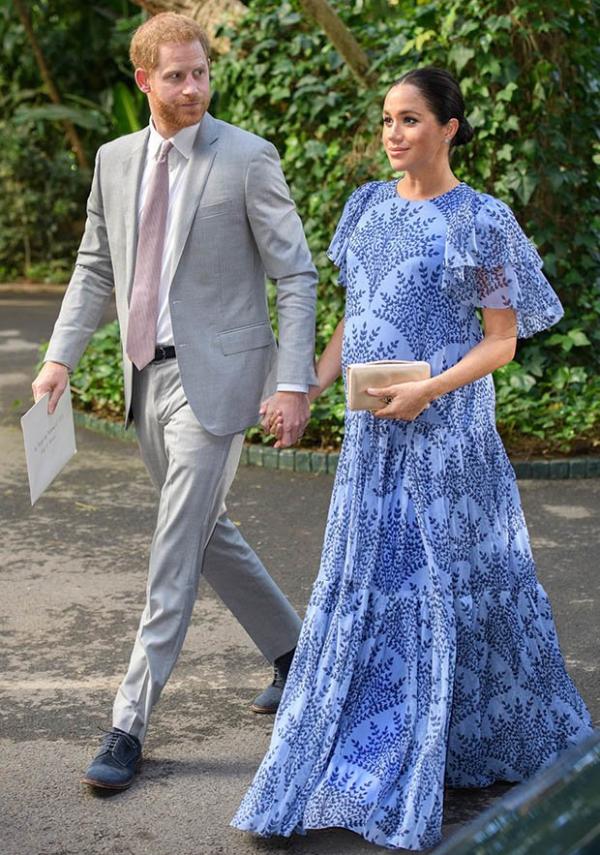 When is the Royal baby due? What's due date?
The reports are saying that Meghan is due to give birth any day now. As per a royal source, the day is not far now. The to-be mother is very much excited, and she is also nervous like any first-time mother. Harry and Markel are not ready to wait any more. Markel wants to give birth in the natural way.
That's why she has been practicing various techniques like hypnobirthing and breathing ones with her husband. The royal family hasn't revealed the official due date, apart from the small hints given/uttered here and there. She was believed to be atleast three months pregnant when the first news of her being pregnant was revealed on October 15.
The Kensington Palace had tweeted that the duo are expecting a baby in the Spring of 2019. Then, there were speculations that she would give birth around March or April 2019. On January 14, it is being said that she slipped her due date when she was on a tour of Birkenhead.
According to Chris Ship, the Royal Correspondent, he overheard Meghan sharing some private information about her due date. At that moment, she was talking to one of the women in the crowd. As per that report, she was 6 months pregnant at that time. So, it means that her due date is at the end of April or beginning of May 2019.
Everyone is now excited to hear about some related news to the topic, like when Meghan is going into labor. As of now, nothing has been officially out, except that she is pregnant. Last week, when she visited the Welsh Secretary of State, she said that "we're nearly there!", in reply to if she was "all in good order".
In the meantime, a source told that Meghan and Harry are on high alert, along with the entire palace. It's because the doctors have already notified that the baby could come any day now. There had been some false alarms regarding the labor news. It becomes a complete rollercoaster ride.
The ITV royal editor Chris Ship also told that the arrival of baby is imminent. It can be assumed that the news would be public after they have celebrated privately.
What gender is the Royal baby?
The gender/sex of the baby is not revealed yet. According to the Duchess, they are keeping the baby's gender a surprise. However, it is being said that Meghan had revealed that she is having a baby boy, at her baby shower. As per the source, she was talking openly about it.
Also, it was added that Meghan is determined not to conform to gender norms such as pink for girls and blue for boys. It's because she believes that it has got out of fashion now. However, there are speculations that the royal baby will be a boy. It's due to the rumors that arose after Abigail Spencer gifted something wrapped in blue paper.
On Betfair, the odds of having a girl baby have been dropped from 10/11 to 1/2 last week as the date is coming near. Betfair's spokeswoman Katie Baylis said that after a significant bet, the odds were slashed for a girl, and odds for a boy increased to 6/4. It is one of the biggest bets on the royal baby markets this year.
But, according to the couple, they aren't either sure of whether they are going to have a boy or a girl. Both of them have told well-wishers that they wanted to keep the gender of the baby 'a surprise'.
One thing is sure that there won't be any official reveal about the baby's gender, until the child is born.
What will Meghan Markle and Prince Harry's baby name be?
Along with the gender, the name of the baby isn't official yet. It will be revealed only after the birth of the baby. So, it will remain a secret until after the baby is born. According to Meghan, they don't have complete freedom when it comes to picking a name for the baby. They haven't decided it yet as it's quite early.
With the news of being Meghan pregnant was out, the bets started on the odd of the baby name. Their first baby has already got a plenty of interest. The early favorites are Victoria, James, Diana, Isobella/Isabella, and Alice. Arthur, Edward, James, and Phillip are not too far behind.
Other names in the list are Elizabeth, Grace, Henry, Alexandra, Christopher, Mary, Daniel, Alexander, and Oliver.
Where will Meghan Markle give birth?
It is being said that Meghan has decided not to give birth at the Lindo Wing of St Mary's Hospital in Paddington, London. It was like a tradition for four decades. She has decided to chose a maternity hospital closer to their new home in Windsor.
Prince Harry, Prince William, Prince George, Princess Charlotte, Prince Louis, and many other royals have taken birth at the prestigious maternity ward. Also, there is a possibility that Meghan may chose home birth over Lindo Wing.
Meghan has been praciticing hypnobirthing techniques. So, she could opt for the comfort of being at home, rather than having babies at the Lindo Wing like the Duchess of Cambridge has done with all three of her children.
Is Meghan Markle pregnant with twins?
There are huge speculations regarding that healthy baby bump of Meghan. It is being speculated that she may have been carrying twins. The experts also believe the same, but cites the reason of her age.
As she has already crossed 35 years of age, there is a huge possiblity of geriatric pregnancy. It's a condition in which there is a higher likelihood of having non-identical twins. However, there have been no official confirmation so far.
Where will the Royal baby live?
It has already been confirmed that Harry and Meghan will raise their child in Frogmore Cottage, within Windsor's private Home Park. Also, the Duke and Duchess of Cambridge would move to the same place from their Kensington Palace home.
What title will the Royal baby have?
It is of a great surprise that Harry and Meghan's child won't automatically bear the Royal titles HRH, prince or princess. You should know that until Queen Elizabeth is on the throne, any child born during this time will be referred to as Lord or Lady Mountbatten-Windsor.
This law has been over 100 years ago. It was instated by the great-great-grandfather of Harry, King George V in 1917. The current patent directs the same. However, the Queen has the power to issue a new Letters Patent to change the old law. She has already used her power for the children of Prince William and Kate.
Where is the Royal baby in line to the throne?
The Royal baby will be #7 in the line to the throne. Prince Harry will continue to remain at number six, and the royals above him in the succession will remain too. The Queen's son Prince Andrew will get down to number eight. So as his daughters, Princess Beatrice and Princess Eugenie will move down to 9th and 10th places, respectively.
What is the royal baby's surname going to be?
Technically, the family surname for the royals is Mountbatten-Windsor. But, they have been known for implementing variations. Being the Duke and Duchess of Sussex, it is expected that Harry and Meghan's child will bear the surname – Sussex.
It's because the children of Prince William bears the surname as Cambridge. Prince Willaim is the Duke of Cambridge. Prince Harry and William both used the surname Wales in military circumstances, because their father is the Prince of Wales.
Who will be the first to know about the birth of the royal baby?
The very first news of the birth given by Meghan will be told to the Queen. She will be alerted on an encrypted line before anyone else. Meghan's mother Doria Ragland will be told afterwards.