The episode begins with Bela and Mahir's wedding. Huzoor also gets married to Juhi as Mahir. Huzoor asks Bela to leave the house as it belongs to her husband now. Bela shows the will in which it is written that has property has been transferred to Bela after marrying Mahir. (Check: Naagin 3 Written Update.)
Sumitra takes the will and reads it. Bela asks Huzoor to leave the house. Rohini gets angry and comes to fight, but Bela stops her and says that it is the matter of the court. Bela takes Krish to her room and Vish takes the documents from Sumitra. All of them leave now. Fake Ruhi takes Mahir and her team also leaves.
Fake Ruhi enters her room with the person who looks alike, Mahir. Juhi comes in her avatar, but changes it when Ruhi turns back to look at him. Huzoor comes close to Mahir and asks for a gift. She asks him to come close to her, but then asks him to go close to Bela.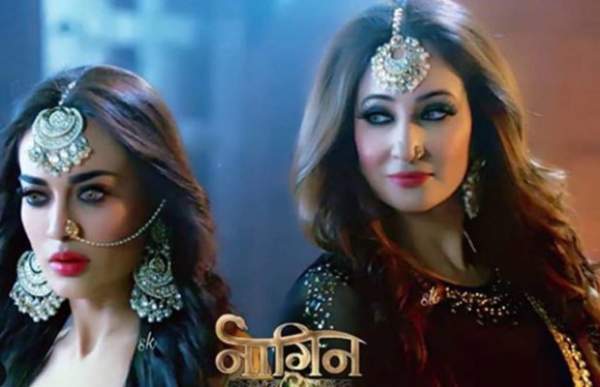 Huzoor asks him to fool Bela, make her feel that he is cheating her, and reveal about Naagmani from her. She gives a bottle to him to pour it into Bela's food and drinks every day. Huzoor comes close to Mahir, but Hukum's people come to call her.
Juhi comes to inform Bela that Huzoor have gone with some people. Bela goes to follow Huzoor and asks Juhi to stay here. Juhi reveals about the medicine, which Huzoor gave it to her. Bela leaves saying that first, they need to learn about Huzoor.
Sumitra asks Yuvi and Rohini about Ruhi. Rohini says that she doesn't know where has she gone! Rohini says that Ruhi has gone with the Hukum's people. Yuvi goes to see Ruhi. Juhi opens the bottle and starts coughing from it. Yuvi hears the cough sound and thinks to asks from Krish about Huzoor. Juhi is not able to change her avatar.
Bela and Mahir enter the place where Huzoor has gone. Huzoor disappears inside the cave. Bela and Mahir come to the cave which is an alive cave that protects itself and is very deadly that no one can enter into such a cave.
Yuvi opens the door, but couldn't find Krish in the room. Yuvi looks at Juhi hiding in the room through the mirror and gets to learn about her identity to whom Krish has given money to marry Ruhi in her look. Yuvi acts like he doesn't know anything and leaves.
Mahir denies that he doesn't understand about these alive caves so he will not obey her. Bela denies that humans can't enter such caves so let her go inside. Mahir says that he will not let Bela go alone. Bela says that Lord Shiv has blessed her so let her do all this. Bela becomes a butterfly and goes inside the cave.
Huzoor asks Hukum about his tension. Hukum asks his team members to leave. Hukum asks Huzoor that why didn't she gave the medicine in the bottle to Bela. Hukum says that she has given the bottle to Krish for doing this. Hukum asks her to give the medicine to Bela so that she couldn't change her avatar and he can see her everywhere.
Hukum says that Bela has to complete three wishes to know about their truth. Hukum says that first wish is she needs to enter this cave and no one can enter this cave without his permission. Hukum says that second wish is she need to see Hukum's face, which even mirrors haven't ever seen. Hukum says that it is impossible for that Naagin to enter this cave. Mahir is waiting outside the cave.
Yuvi thinks about Juhi and is confused with it. Yuvi thinks that Bela might be playing a trick with them. He goes into Bela's room to check her. Bela and Mahir are playing in the bathtub. Yuvi goes inside the bathroom and looks at them. Bela shouts at him, but Yuvi asks Mahir to come outside.
Yuvi asks Krish that what is he doing all this! Krish says that he is doing it since Huzoor has asked him to do all this. Krish says that he has to confuse Bela so that she reveals everything. Yuvi asks about Bela's sister from him. Krish says that she has asked her to come when Bela goes into Huzoor's room.
Yuvi says that Juhi will help Bela. Krish says that she won't as she left her sister to die in front of the eagles. Vish and Vikrant were acting like Bela and Mahir.
Hukum holds the butterfly in his hand and Bela comes in her avatar. Hukum and his people have trapped Bela. Bela says that she will complete the second wish also. Bela comes in her Naagin avatar and hits everyone. Bela and Ruhi start fighting with each other. Bela kicks the fake Ruhi down and holds Hukum in her grip.
Bela looks at Hukum's face in the water. Bela says that she will complete her third wish also. Hukum leaves with Huzoor and Bela gets trapped in the fire.
Mahir gets worried and hits on the fire stand. The cave starts burning from fire and Mahir thinks to burn it to go inside. Bela asks Mahir to help her get away from the fire. Mahir can't see any fire around Bela.
Mahir says that there is no fire around her and Bela says that it is a magical fire so he should not move forward as he will catch fire. Mahir jumps inside and gets Bela out of the fire. Both of them fall into the water and are close to each other.
Precap: Yuvi says to Ruhi about Juhi who was there in her room!