The Nagin 3 episode begins with Bela confessing to Mahir that she is not a real human but still she loves him. Mahir wipes out her tears and says that he doesn't need any explanation. Both of them are close to each other. They both go to a spot which has been arranged by Vishakha for them. (Check: Total Dhamaal on The Kapil Sharma Show.)
Vikrant is walking into the jungle to misdirect a snake following him. He leaves a text message for Vish that their plan has got unsuccessful since a Naag is following him. A vulture is also following them and Vikrant informs it to Vish. She is also followed up by a Naag. Vikrant asks Vish to move ahead for Plan B.
Bela and Mahir come at the place and opens the door. Bela runs to the washroom, but Mahir comes following her. Bela opens the shower on Mahir's face and he throws water on her. Both of them are wet now and together in the shower. Mahir gives her a shirt to wear. Bela holds Mahir's hand and sends him out of the washroom.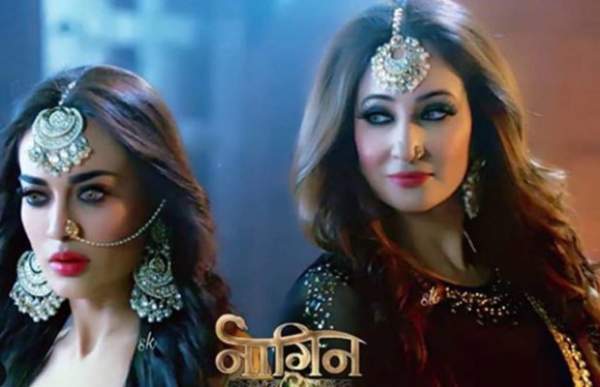 Mahir is uncovering the place and finds some decoration materials. He starts arranging the place in a beautiful manner. She enters in a shirt and Mahir is looking at her. Bela is so happy after seeing the arrangements.
Bela hugs Mahir and both of them are lost in each other. Mahir says that there's nothing to eat at the place, but drinks are present. He pours her a drink and says that it's brandy. Bela says that she is feeling like a hilly place. He puts the tray aside and the snow machine button gets on. He says that Bela wants snow and that's coming now.
It's a romantic scene and both of them are close to each other. The snow is falling on them and they're getting closer to each other. Mahir covers them with a blanket.
Sumitra and Alek are following Vish in the jungle. Both of them have got tired after walking for so long. A truck comes and Vish comes in her Naagin avatar to get onto the truck. Vish informs everything to Vikrant.
The sun has risen and Bela greets Mahir. Mahir holds Bela tightly and she asks him to leave her. He says that stop staring at him and she replies that her husband doesn't stare at her so she is staring at him. He wakes up and is staring at her. Bela wraps herself and gets up.
Mahir is doing something in the kitchen and Bela asks to help him. He says that there's nothing to eat but Bela find something to eat. Bela says that prepare the breakfast and she will come after some time. She says that she has some work and she will come soon. They hug each other and she leaves.
He confesses his love for Bela but she didn't reply. He says that if she won't reply, then he will go somewhere leaving her. She says that go wherever you want, she will find him. She leaves and closes the farmhouse door. She comes in her Naagin avatar and leaves.
Vish has arrived at the cottage where Mahir and Bela are present. Sumitra also comes there following her. Sumitra says that the truck driver was her team member and holds Vish's hand.
Bela is praying for Lord Shiv and is returning the Naagmani today safely as she is stepping into a new world where she doesn't have any need of the Naagmani but need the blessings from Lord Shiv for her and Mahir.
Sumitra asks about Bela and Mahir and asks that if they're hiding in the cottage. Yuvi comes in the place. Alek and Rohini also join Sumitra along with Amita. Sumitra says that they'll trouble Vish and bites Vish and she falls down.
Bela keeps her head down in front of Lord Shiv to seek blessings and a flower comes down in her hands. She gets happy with the blessings and says that her ancestors used to dance and express their emotions. She says that she would like to thank God with her dance before leaving the Naag Log.
Vish gets conscious and falls Amita down. Vish gets up to throw down Rohini. Yuvi holds Vish's neck to suffocate her. Bela holds Shiv's Trishul and dances. Vish removes Yuvi's hand and throws him. Alek slaps Vish, but he tries to bite him and then others come to hold Vish.
Sumitra comes in her Naagin avatar and bites Vish which makes Vish fall down. Bela is thanking the god for giving her permission to carry forward her relation with Mahir.
Vish comes in the window and shouts Mahir to run. At the moment, Sumitra comes and asks about Bela as he is making breakfast on his own. Bela returns the Naagmani to Lord Shiv.
Sumitra asks about Bela but Mahir denies to reveal. Mahir says that she is just a cruel lady behind the Naagmani. Sumitra says that she loves it and asks about the Naagmani. Yuvi, Alek, and Rohini take Vish inside and Vish shouts at Mahir to run.
Sumitra holds Mahir's neck, but he refuses to tell about the Naagmani. Sumitra asks everyone to search the Naagmani. Yuvi and Alek say that the Naagmani is not here. Sumitra throws Mahir down and suffocates him with her Naagin tail. Vish shouts at him, saying that she will burn in hellfire.
Sumitra says that she will burn here everything. Bela gets slip down and her sindoor falls on the ground. Bela gets worried and runs towards the cottage. Sumitra puts a wooden table on Mahir. Sumitra pours kerosene oil around Mahir and on the table. Vish is shouting to stop all this. Yuvi throws the kerosene oil everywhere.
Sumitra burns the matchstick and throws it on the ground. Everyone leaves, taking Vish with them. Mahir shuts down his eyes and Alek close the door.
Precap: Bela is crying and says that Mahir can't leave her. Vish and Vikrant are also feeling emotional. A group of men in black clothes drags Bela at some place!