Nagin 3 20 January 2019 Written Update: The episode 68 begins with Sumitra and Bela coming in their Naagin avatar. Sumitra shouts at Bela to stay away from the things happening in my house. Bela comes in her Naagin avatar and kicks down Rohini and Alek. Vish has replaced the medicines which Sumitra was giving to Mahir. (check: Khatron Ke Khiladi 20th Jan. 2019.)
Mahir denies to eat the medicine and Yuvi shouts at him to eat it or else he will beat him. Mahir consumes the medicine and says it is good. Yuvi is leaving and look at Bela outside Mahir's room. Bela comes as Shivli in the room and Mahir is so happy to see her. Mahir asks Shivli to tell him a story.
Vish looks worried and Vikrant questions about her worry? She replies that I'm feeling nervous about my plan. She adds that I'm confused about whether Mahir will recall his memory or not. Vikrant says that stay patient and goes to make coffee for her. She is happy to see his love.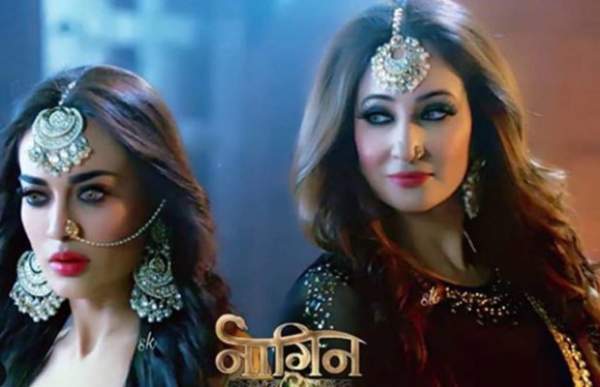 Shivli starts the story and Mahir is excited to hear it. She says about her story and everything happened at their wedding. She feels really sad about his condition.
Vikrant enters and Vish questions about the coffee? He says that I've reached now. She gets shocked and says that who was that? Yuvi has come as Vikrant to learn about Vish's plan.
Yuvi goes to Sumitra and tells her about everything. Sumitra says that wait for my next step.
Bela is feeling sleepy and looks at Mahir as he is waking up. Mahir talks to Bela and says that I remember you, but I'm feeling like I've met you after so much time. Bela is happy to learn this and asks Mahir to recall everything. Mahir gets really disturbed after recalling the things in a blurred way. Sumitra comes in and bites Mahir. Bela is feeling helpless as Alek grabbed her. Both Vish and Vikrant has also come at the moment.
Bela takes Mahir in his room with Vish and Vikrant. Bela recalls the guidance as told by the guruji and which tells that the Naagmani can help in rescuing Mahir's life.
Sumitra has made a plan to get the Naagmani by biting Mahir with a dangerous poison.
Bela decides to bring the Naagmani for saving Mahir's life. Sumitra has called some people to meet and Vish is trying to look at them. Vish gets to know that the vultures have returned to help Sumitra for taking revenge from Bela as she killed their son.
Vish tells everything to Vikrant and is really worried about them. He consoles her and says that he will protect her.
Bela is curing Mahir with the herbal ingredients and he wakes up. Mahir doesn't remember anything and asks her that why is she crying? She tries to escape, but Mahir doesn't let her go. Vikrant tells that Sumitra has called the vultures also. Vish is with Mahir to take care of him. Bela and Vikrantleaves to get the Naagmani but Alek has seen it.
Bela and Vikrant are going in their human avatar to avoid getting caught by the vultures. Bela and Vikrant come in their Naagin avatar and fall down into the river. The vultures are waiting outside to grab them.
Vish is sitting with Mahir and he wakes up. She asks about his health, but he gets afraid of her. She gives him fruits to eat, but Mahir says that his head is paining. Someone is outside the door and Vish goes out to see it, but there's no one standing outside. She comes inside the room, but Mahir is not there.
Precap: Sumitra throws out Andy, Kuhu, and Mahir. Vish is trapped in the Bel leaves.
Stay tuned for more Naagin 3 written updates.