The episode begins with Bela as she gets up and comes out of the camp. A man who saved her life is sitting outside in the born fire and Bela calls him. Bela asks him that he had saved her life. The man says a yes and asks whether she has reached the place on her own or someone else forced her. He introduces himself as Krish to her and his face is covered with the cap.
He takes his hand forward to introduce and Bela also shakes her hand. The man removes his face covering and Bela gets shocked to see Mahir. Bela loses her senses and falls down in his arms. She is unconscious and he is trying to wake her up. He takes her into the camp. (Check: Naagin 3 written updates.)
Bela gets into senses. Bela is looking at him and calls him Mahir. He says that he is Krish, not Mahir and asks her name. She says that she is fine and has called her friends. He asks her about the people who have left her in the wall to die. She says that he is no one to ask her such questions.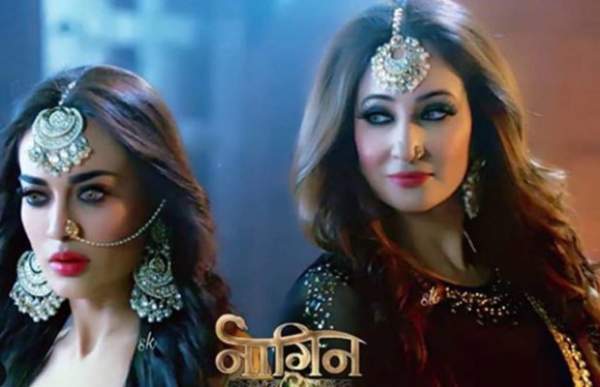 He says that answer his question as he has saved her life. She says that she is very confused and leaves. Vish and Vikrant come at the place and Vish hugs Bela. Vish and Vikrant get shocked to see Mahir. Vish calls him Mahir and hugs him as he is alive. Bela says that he is Krish who has to safeguard her life. Krish says that he has some work and he leaves.
A group of people comes to attack Krish. Krish gets into a fight with the group. Someone hits him from back on his head and hist him with a knife. Two people hold him and one throws him away. Vikrant, Vish, and Bela hold him. Vikrant comes in his Naagin avatar and kicks everyone down. They take him with them.
Bela rings the bell and Kuhu and Andy get shocked to see Mahir. Bela says that he is not Mahir. Bela takes Krish inside her room and asks him to take a rest. She comes downstairs with everyone. Bela gets emotional and leaves. Vish and Vikrant come to console her.
Bela says that Mahir is not there and is crying. Vish says that she is just asking for what to do next! Bela says that she will never forget Mahir and doesn't even know anything now and has lost her everything. Krish suddenly hits on an object when he was outside the room. Bela goes to check him. Krish comes in the room and his wound is paining a lot.
Bela comes and says that his wound is bleeding a lot. He says that he needs to leave. She says he should call his family and leave with him. He says that he doesn't have any family. She says that she is a firefighter and strong but still. He says that he is not a firefighter and he has to safeguard her from the building which was his own property.
He falls down on the bed and thinks not to leave at the moment as his wound is paining a lot. Vish and Vikrant go to the Haveli. Bela says to Andy and Kuhu to take care of that guy and she is leaving for some work. Kuhu says that she wants to bring something for Ruhi so she will also come with her. Bela says that she will bring it first and then go to her work.
Bela comes back and looks at Krish going with someone. She comes in the room to check him and he is present there. She gives the stuff to Kuhu and asks whether Krish has come out in the meanwhile. Andy says that he has gone out in the garden.
Bela gets worried that he has seen Krish going with someone. She comes to check him in the room and he is sleeping. Bela thinks that someone is present who looks like Krish. Bela comes into the Haveli and can't find Vish and Vikrant. She leaves and Sumitra say that Bela will also die.
Bela looks at someone's shadow inside and thinks about something happening. Vish and Vikrant were leaving and can't reach the Haveli as someone is misleading their direction. Some snakes are travelling with them and Vish leaves to check them. Vikrant gets stuck in some branches and Vish is also trapped badly.
Bela is in her house and talking with Krish but she hears some bean noise. Bela goes to check the bean's sound. Kuhu reveals that Andy's health is not well and Bela comes with her to handle Andy's health. Bela gets confused with the bean's noise. The doctor says that Andy has a liver infection and asks to check Bela also.
Andy asks Bela to get her check-up done. The doctor says that she will conduct the check-up fast. Bela gets worried about Vish and Vikrant. Sumitra comes inside the house along with a group of people in a black outfit. She is happy that the Huzoor has broken the Suraksha kawach made by Bela.
The doctor gets in her Naagin avatar and Bela opens her eyes, but couldn't catch the doctor. Bela looks at Andy and Kuhu lying in an unconscious state. The doctor is giving a multi-vitamin injection, but Bela takes it to check the injection.
Sumitra enters the house with the group silently. She moves upstairs along with them. Bela holds the doctor and asks what is she doing! Bela puts the injection on the doctor's neck and she reveals that something big is about to happen.
Precap: Krish holds Bela and hides her from Sumitra and her group. Bela comes in her Naagin avatar in front of Krish! Bela and Krish are fighting from a group of people!