Naagin 3 29th December 2018 Written Updates: The episode starts with Vikrant's entry running away from the party and everyone running to catch him. Bela shows the direction to everybody looking for the waiter. Vish arrives and Bela tells that he was Vikrant. (Check: KGF box office collection.)
Kuhu is crying looking at RJ lying dead. Andy starts shouting at the Inspector and questions his inquiry. The inspector asks Sumitra about any idea about the waiter and questions her since she hired the waiters. Sumitra shouted at the inspector and walk away. (check: India's got talent 8 winner.)
Mahir follows Sumitra and asks what happen. He thinks she is hiding anything and then she shows a CCTV footage to him. In the video, Bella is standing around the baby and the waiter killed RJ in front of her. He is moving to reveal Bela's truth, but Sumitra stops him. She deletes the video saying she wants to protect her family.
Naagin 3 29th December 2018 Written Updates
Bela comes to meet Vishakha and asks her why she called her? Vish tells her that I am going to find Vikrant.
Bela enters the room and sees Mahir standing in front of her. Mahir shouts at Bela that you've killed RJ. Bela is shocked and questions him, how can you put such blame on him! He says that his mother told him the truth. She questions her mother's truth. He shouts her for speaking against his mother. She walks away and catches Vikrant flirts with her. She walks away to Sumitra and shouts at her saying how can you kill your daughter's husband? Sumitra warns her that she will kill everybody.
Kuhu is lying with her baby and Andy is staying with her. Mahir comes to ask her well-being and Andy says she is fine now. Andy asks about Bela to Mahir and he answers that she is not needed here. Andy asks why are you upset with Bela? Mahir ignores the situation and gave excuses to Andy.
Vikrant is in an angry mood and throwing things away in the Haveli. Vish enters and consoles him. He denies to love her back and says I don't have a heart since it is broke and leave me alone. She asks that please tell me if you need my help in all this.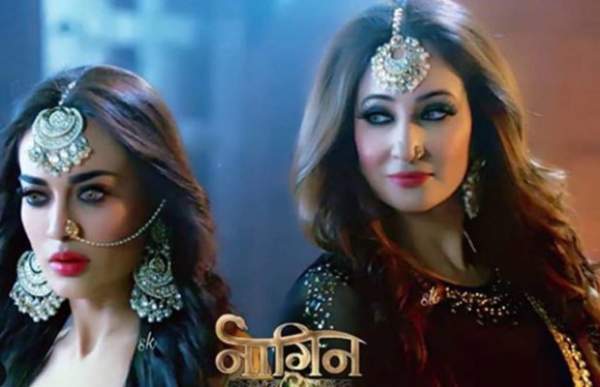 Mahir is with the baby and changes the baby's dirty clothes. Bela enters and moves forward to help him. He asks her to leave the baby with me since she is not safe around you. She goes out and he sleeps with the baby. Bela remembers that she has left her phone inside and she enters the room to take her phone. The baby starts crying and Bela takes the baby. He wakes up and sees Bela showing her love towards the baby. He refuses her help and sleep. She covers them up with a blanket. He wakes up and says her to sleep in another place in the room.
Vish's enters the house with a knife and moves upstairs near Bela's room. Bela gets up to take water from the kitchen. Yuvi sprays something in Bela's eyes. Bela fell down and he takes her away. An act of Vish is seen where she uses the knife moving towards the bed where Mahir and the baby are sleeping.
Bela wakes up in a tent house and reminds that somebody sprayed on her. She walks into the room and screams loudly. Andy and Kuhu also come to see what happened. Vish has cut her hand and the blood is spread all over. Vish is treated and Sumitra asks what happened that you did this. Bela consoles her and Vish asks her to stay away and blames her for everything. Vish says I'm in love with Mahir.
Precap: Vish reveals her love towards Mahir. Sumitra asks Mahir to leave Bela. Bela cries after seeing Vish and Mahir together.
This is all about Naagin 3 29th December 2018 episode written update. Stay tuned for more Naagin 3 news.