The Nagin 3 episode begins with Sumitra and her team looking at Rinki who is lying dead in the water. Amita starts crying. Yuvi says that Vish's soul has killed her. Yuvi says that he has seen Vish's soul. Sumitra says that she will believe only if she gets to see Vish's soul.
Sumitra comes to her room and starts thinking about Vish's by making fun of her. Vish arrives and asks why Sumitra was calling her? Sumitra questions about the shadow behind the curtain. Vish's soul comes outside and says that she has come to take revenge. Sumitra cannot believe in her eyes and then bites on Vish, but Vish replies that she can't do anything with a dead person. Sumitra asks about the Naagmani. Vish goes out of the room and Sumitra is following her. At the moment, Kuhu interrupts Sumitra. Sumitra replies that she is following Vish, but Kuhu says that nobody is there. Sumitra can't see Vish and shouts at Kuhu.
Alek and Rohini also question why Sumitra is calling Vish's soul? Sumitra replies that she has seen her so she was behind her. Everyone leaves, but Sumitra wants to get the Naagmani. Bela goes to her room and asks Mahir to sleep. Yuvi says that the Naagmani is of no use if they are dead. Bela comes out from the room and Mahir wakes up.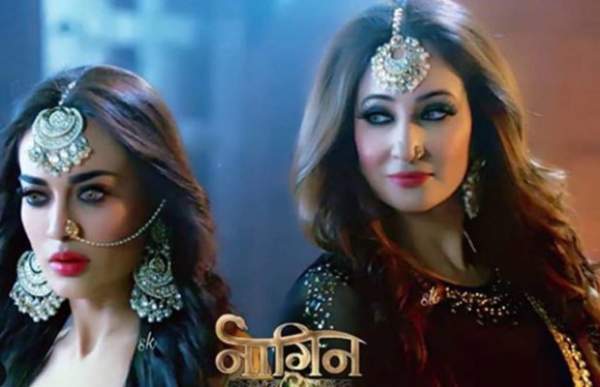 Alek, Rohini, and Sumitra plan a tantra to bring Vish's soul. At the moment, Bela a\comes and asks them to stop all this. Sumitra says that they are trying to call Vish's soul. Bela asks them to speak slowly as Mahir is sleeping. Vikrant also comes there and asks about the drama. Bela says that they are trying to harm Vish's soul as they have her jewelry. Sumitra asks Vikrant to take the Naagmani from Vish and give it to her. Vikrant blames Sumitra for Vish's death, but Rohini says that it was Rinki behind Vish's death. This makes Amita angry and Bela says that look at your friends. Vikrant takes the neck piece and calls Vish to take revenge.
Bela goes to her room, but Mahir is not there. Mahir is finding the ghost. Sumitra looks at the electricity, which was getting on and off. Vish comes at the moment and asks from Sumitra about what she is searching? She shows the Naagmani hanging in the box where Vish was thrown to die. Sumitra tries to take the Naagmani from the box through a table and Vish throws away the table. Sumitra falls down in the box and Vish lefts the water open along with the bel leaves.
Sumitra is shouting for help but no one is there. Mahir enters the room and removes the bel leaves from the box. Sumitra asks Mahir to help her, but he denies. Sumitra asks him to break the glass or else she will die. Mahir tries to break the glass. At the moment, Bela and Vikrant come. Both Vikrant and Mahir break the glass. Mahir asks to help his mother. Bela thinks that she can't kill a mother, irrespective of her acts. Sumitra asks whether Bela is forgiving her? Bela denies and adds that this is her last chance.
Precap: Vikant is preparing a havan kund to burn the evils in it. Sumitra is shouting for help from Vikrant. Vikrant confesses his love for Vish as she is with him but unconscious!