The episode begins with Huzoor saying that look on my face and adds that Bela has betrayed her. Huzoor asks everyone to hate Bela. Sumitra says that Bela will be hated by everyone and get punished for her sin, but before that Huzoor should get back her rights. (Check: Naagin 3 written update.)
Huzoor says that she will take everything from Bela and declares her as the Naagrani. Vikrant and Vish are shocked to see this. Huzoor says that she is waiting for someone which she has kept with her away from Bela and won't ever let it go away from her which is her love.
Huzoor calls her love and Mahir enters, calling her love. Bela gets shocked to see Mahir. Mahir comes and holds Huzoor's hand. Bela comes forward towards Mahir but everyone stops her. Bela pushes them and says that if they will stop her, then she will kill them. Bela comes forward towards Mahir but he doesn't look at her.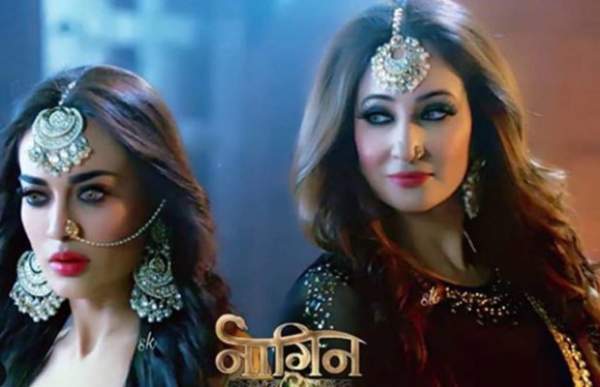 Bela asks Mahir to look at her, but he doesn't and Huzoor comes to say that she has protected him from the fire as her love is loyal which isn't afraid of death also. Huzoor says that she has told everything to Mahir and after that he trusted her.
Bela questions Mahir that he doesn't trust her. Mahir doesn't speak anything. Huzoor says that he is not your Mahir. Mahir says that he trusts Huzoor and she speaks the truth. Bela recalls her memories with Mahir and gets shattered. Bela leaves and Vish and Vikrant also follow her.
Huzoor is given the Naagrani crown in front of everyone. She says to Mahir that he has made possible for her to get here. Vish is confused with the girl who is faking everything. Vikrant says that he is not Mahir or else he wouldn't have let anyone insult Bela. Vikrant and Vish decide to attack everyone inside the Haveli.
Bela denies that they won't attack as Mahir is inside. Bela says that he is Mahir as she can identify her. Bela says that they know to learn about the reason why Mahir is standing with them! Bela says that she has left everything on the Lord Shiv now.
Huzoor says that now she will not let anything bad happen to the Naag Vansh and will frame new rules which will be very strict so that anyone can't betray the Naag log. Huzoor says that she will now become Mahir's partner.
Krish comes to talk with Bela, Vikrant, and Vish. Vikrant hits him down and Vish calls Krish a lier. Krish says that he doesn't know anything. Bela stops Vikrant and asks him to let Krish go away. Krish says that he is not Mahir and he has no interest in their matters. Huzoor comes and Krish says that she was the girl who was lying.
Huzoor goes with Mahir in his car. Vikrant asks Krish that how has he come to know about Huzoor's name as Ruhi. Krish says that listen to him, which is very important for them. Krish says that when he was roaming inside the Haveli, then he looked at this girl who was planning something for tonight. Krish reveals the plan which the girl was making.
A grand pooja is happening for Lord Shiv on the occasion of Shivratri. Bela comes at the temple along with Vikrant, Vish, and Krish. Krish says that the girl might have come here to take blessings from Lord Shiv. Vikrant asks what he is having in his bag! Krish shows his bag and says that there is an event going to happen here as his friend told him.
Krish says that he has brought the dancer's outfits so that they can enter with the dancers. They enter with the dancers inside the temple.
Huzoor is planning to get the Naagmani along with Sumitra and her team. Sumitra says that Bela might have taken the Naagmani with her. Huzoor says that she will marry Mahir which will break Bela and at the moment, she will reveal about the Naagmani from her. Sumitra says that tonight is the best day to execute their plan.
Huzoor says that when Hukum will come, then nothing should happen wrong. Sumitra is getting the Huzoor ready. Rohini comes and says that Mahir is also getting ready.
Krish is dancing with Bela and she recalls her memories with Mahir. Yuvi comes with Alek in a tense mood. Someones walking steps are sounding. Huzoor says that it might be her Mahir. The lights get to turn off and Huzoor says that it is not Mahir. A group of people in black outfit enters the room. Huzoor calls the person Hukum.
Sumitra whispers in Yuvi's ears that her plan is also ready. Alek and Yuvi leave for some work.
The wedding arrangements are being prepared and Bela is keeping an eye on everything. Huzoor comes along with her team. Vikrant, Vish, Krish, and Bela hide them in a circle and are dancing. The lights turn off and a group of people in black outfit comes there. Hukum comes there and Huzoor notices Bela with her team at the place.
Bela takes Vish aside and says that a person who has come in the black outfit was the one who has kidnapped her. Vish takes Bela to join the dancers. Huzoor says to the priest that she will get married to Mahir first before the prayer begins. Rohini comes and says that Mahir is not in his room. Sumitra goes to check Mahir.
Krish leaves and Bela holds her from the back. Bela stops Krish and says that she doesn't know why is he doing all this, but knows that he is her Mahir.
Precap: Sumitra looks at Mahir getting out from his car. Bela is fighting with the Huzoor girl. Someone's dead body is getting fired!