The episode begins with Vish calling to Bela for informing her that Sumitra is calling the doctor for a check-up. The doctor checks Bela in front of Sumitra and Rohini. The doctor comes down and Hukum asks about Bela's health. The doctor says that she is pregnant. (Check: Naagin 3 Written Updates.)
Hukum gets happy after hearing it. Hukum says to Vikrant that he is successful in his mission. Vish gets shocked to hear all this and thinks about Bela's pregnancy report. Bela thinks that she knew about her pregnancy. She thinks that she can't share this thing with Mahir as he won't let her stay in such a negative atmosphere.
Vish worries about her child. The baby says to her that some people are going to kill him. The baby asks Vish to take care of him. Vish says to her baby that he is fine as he is with her mother. Vikrant and Bela come there and asks about Vish's health. Vikrant says that they have to kill the Shaitaan in Vish's womb before he takes birth.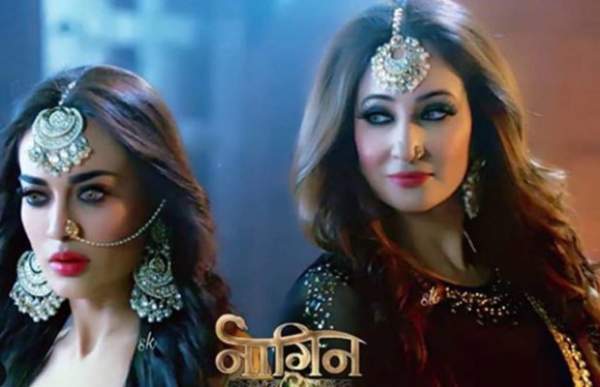 Vish warns them not to do it. Vish says that it is her child and she would make her child a good person. Vish warns them to stay away from her baby or else she would reveal everything about that night to Hukum.
Vish goes downstairs and Vikrant comes following her. Vish warns him as she is a powerful Naagin with a Shaitaan. Bela comes and holds Vish. Vish warns them not to come close to her baby. Bela says to Vikrant that it is the child who is doing all this. Bela says to Vikrant that they need to wait for doing anything. Sumitra comes to take Bela to eat something.
Rohini is serving food to Bela and Bela is making her demands. Mahir comes there and gives her a chocolate ice cream. Mahir takes Bela with her. Bela took the lassi from Rohini and goes upstairs. Bela is drinking the lassi which she took from Rohini. Mahir stops Bela from eating and drinking all this if she doesn't want to.
Bela says that she wants to eat all this. Mahir says that he knows her as she doesn't like sweet lassi. Bela says that he is right and she doesn't like lassi. Bela starts eating chocolate ice-cream with Mahir.
Hukum comes there with Sumitra and looks at Vish eating so bad. Sumitra says to Vish that she is eating so much. Bela comes and says that only a little food was sent to her. Hukum asks Sumitra to take care of Bela. Sumitra asks Bela to sit and she goes to bring food. Bela is scared to protect Vish from Hukum.
Mahir and Bela are sleeping. Bela hears Vish's voice and goes to check her. Rohini and Alek are talking that they won't let Vish go near Bela.
Bela takes her Naagin avatar and goes to Vish. Vish says that she feels like her baby is about to take birth. Bela is shocked to see Vish's stomach getting so big. Rohini and Alek hear some voice. Alek thinks that it is Bela who is making such noises. Bela tries to console Vish to control the pain.
Bela says that Vikrant has gone outside to trick Hukum's team. Bela says that she has to go and bring Mahir for help. Vish apologizes for her for acting like this.
Alek and Rohini come inside Bela's room and can't find her. Bela looks at them and Alek goes to find her outside. Bela thinks that she can't talk with Mahir in the presence of Rohini. Bela goes to Vish and consoles her.
Hukum says to Sumitra that his child will come soon within just a few days. Hukum says that if Sumitra would be a little younger, then he would have given this chance to her only. Yuvi comes to say that some Naag's are keeping an eye on Vikrant.
Alek comes in Vish's room and she hides her stomach. Vish says that she can't sleep due to such noises from outside and ask him to get out. Bela calls Guru Ji to take about Vish. Guru Ji says that the child wants to create a fear in her mind so don't let him do that.
Guru Ji says that Shaitaan has used his tantra mantras on Vish and managed to let Andhakasur come into her. Guru Ji says that no one holds the power to control Lord Shiv's devotees and all this is done to create a terror in their mind. Guru Ji says that they can stop Andhakasur from destroying everything if she follows his instructions.
Mahir wakes up and leaves a message to Bela asking about her.
Vikrant comes to Bela and says that some Naag's helped him to get out. Bela says that she will go and act like she has come from a walk and try to trick Alek and Rohini so that they can take Vish to some safe place. Bela leaves a message for Mahir about everything.
Alek informs Sumitra and Yuvi that Bela is missing. All of them are gone to find Bela. Bela comes in her room and shouts at Rohini that she was sleeping. Bela says to Mahir that he is not letting her sleep quietly. Bela calls Rohini to give her a foot massage or else she will inform Hukum. Yuvi says that he has seen Bela in her room.
Vish's baby says that he knows nothing will happen to him as she will protect him. The baby says that Vish is such a special person to give him birth. He asks her to listen to him as no one wants to help her. He says that everyone wants to kill her as they want to kill her baby.
Precap: Sumitra gets to know that Vish is carrying Hukum's baby. Vish gives birth to the baby and Bela holds the baby!