The episode begins with Rohini and Alek asking Yuvi to wake up. Rohini says that Sumitra has changed and is with Bela. Yuvi can't believe in this thing. Sumitra has called everyone together, but no one about what is going to happen! Sumitra comes and apologizes from Bela and Vikrant. Sumitra throws Bela and Vikrant in the ground.
Sumitra calls Vish to give her the Naagmani or else Sumitra will kill everyone. Vish comes and asks why did Sumitra call her? Sumitra says that Vish needs to tell everyone. Vish asks Sumitra to take Bela and Vikrant out. Sumitra asks her team to throw hot lava on the ground. Due to hot lava in the ground, Bela and Vikrant can't come in their Naagin avatar and escape from the place.
Vish says that Naagmani is in front of her eyes and point towards the Haveli. Sumitra leaves with her team. Mahir is crying badly for Bela and Vikrant. The ground gets closed which left Vish is great confusion.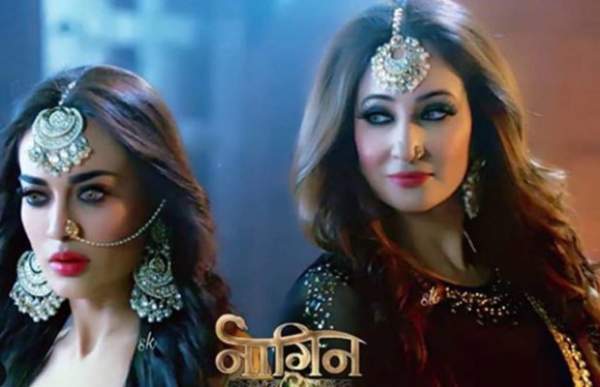 Vish goes to Bela and Vikrant and manages to take them out. Bela says that it was just a plan to show that Vish is dead in front of everyone. Bultu brings a net to help Bela and Andy is happy with it. Bela asks Andy, Kuhu, and Bultu to take care of Mahir and themselves also. Bultu tells everything to Adi but he tries to inform Sumitra about it. Adi calls Yuvi but Vikrant picks the call. Bela ties Adi and leaves Vish over there.
Sumitra has come to take Naagmani from the Haveli and leaves her team behind. Sumitra enters the haveli and the door gets closes. She looks at her reflection everywhere and can't move ahead. Vish comes and asks if she didn't like her reflection in the mirror. Vish has trapped Sumitra in her magic and Sumitra can't come in her Naagin avatar.
Andy, Kuhu, and Bultu have managed to trap Yuvi with her team. Kuhu tries to take Mahir out, but Yuvi doesn't let him go. Bultu throws Bel leaves on Yuvi and Mahir gets out from the net. Andy takes out a gun for the vultures. Sumitra looks at Vish's reflection in the mirror and gets to know that she is alive. Bela and Vikrant also come there. Yuvi tries to change Mahir' mind to come out of the net. Mahir denies to help him as he is a bad person.
Sumitra asks Vikrant to take her out from the fire. Vikrant says that he doesn't even want to give fire to her dead body. Vikrant recalls the moment when Vish was lying unconscious on his lap. He recalls when he confessed his love for Vish and she waked up after hearing this. Adi has managed to escape from the ropes and moves to help Sumitra.
Bela and Vikrantadds that she had already heard her plan to throw them down on the ground. Sumitra asks for the Naagmani and adds that she will not die if she didn't get her Naagmani. Bela replies that she knows it and also that Sumitra is a greedy woman. Sumitra replies that everyone is greedy including Bela also.
Adi comes out running and Mahir looks at him. Bela says that the fire has been just in one mirror and the other was just a reflection which was scaring her. Bela asks Sumitra to give them back the Naagmani.
Precap: Bela confesses her love to Mahir and Mahir also accepts it. Both of them are close to each other!