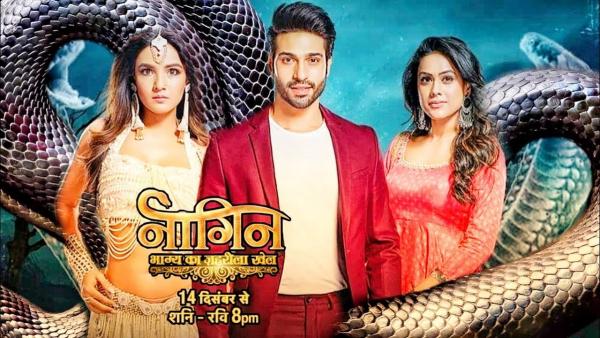 The Nagin episode begins with Vrinda staring at the symbol of OM when Dev enters over there and she gets shocked to see. Vrinda blames her for acting like sleeping but watching her actions. Dev denies for it and questions her whether she is fine? Vrinda says that she wants some alone time when she feels trouble to sleep. (check: Naagin Written Updates.)
Dev apologizes that he disturbed her privacy and returns to lie back. Vrinda goes to change and gets shocked to realize that her Om locket is not with her. She comes out to find it. Dev gets the locked and informs Vrinda that he has kept the locket on the table. Vrinda's pallu was down so she runs immediately back to the washroom.
The next morning, Dev is shirtless and comes out from the washroom. At the very moment, Vrinda comes to the room as she was finding tamarind. She scolds Dev as he didn't inform her that she is having her first Rasoi today. Dev was thinking to make her recall that he told her last night but she leaves from there.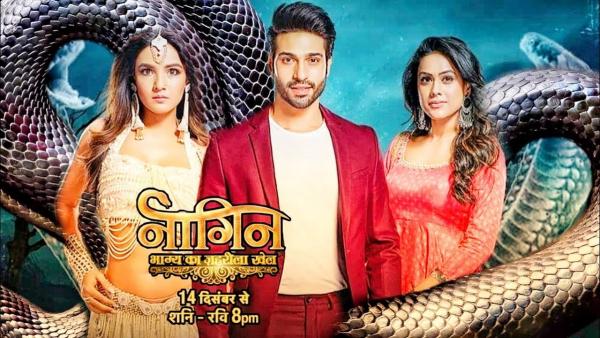 Vrinda removes the band from her hair before leaving from there and Dev smiles staring her. Vrinda places all the prepared dishes on the dining table. Akash questions whether these all are the recipe of Swara? Vrinda says yes. Vrushali comes and taunts at the moment. Everyone gets downstairs and feels good after looking at the food.
Baa asks Vrinda to make her husband eat the first bit but Vrinda makes Baa eat the first bite. Vishakha comes over there and clicks their picture by commenting that she has missed India a lot. Rohan replies that India also missed her.
Baa questions Vrinda why didn't she wore the jewelry she gave to Dev? Vrinda doesn't know about the jewelry and Vishakha signs her. Vrinda gets to learn that Dev might have handed it to Vishakha when she facets her. Vrinda tells an excuse to Baa. Everyone compliments Vrinda's food.
Vrinda questions Vishakha why didn't she informed her about the jewelry? Vishakha says that she didn't feel it was important. Manyata gets worried as Vrinda might not be wearing the Om locket so they can't communicate.
Vrinda tells Vishakha about the locket and its powers. Vishakha thinks to take it as Manyata would be trying to communicate with her. Vishakha says to Vrinda that the locket is dangerous but she denies to give it and leaves from there as she gets a call.
Vrinda meets Baba and shows him the locket that it is not shining from the last night. Baba asks him to wear like no one can notice it and leaves. Dev sees both of them.
Dev question Vrinda about the man looking like a priest? Vrinda says that he was Laal Tekdi Mandir's pandit. Dev keeps questioning her but she denies saying not to irritate her. Dev says that it is her care and both get into an argument. Vrinda says that he questions a lot and now he will ask why she is dressed like it or opened her hair.
Dev compliments that she goods good with her hair open. Dev gives the jewelry set to Vrinda which Baa gave him and she gets happy as she always loved it. Vrinda says that Baa knew how much she loved the set! Dev says that he remembers it and not Baa.
Vrinda feels happy after recalling the time when she was with Dev. Suddenly she recalls her revenge and thinks not to trust Dev. She thinks to serve everyone with Draksharab drink but wonders that she is not aware of it. She wears her locket and prays to Lord Shiva to help her and her locket shines.
Manya sees the shining Om and understands that Vrinda has worn it. She prays Lord Shiv to make her communicate with her. Vrinda sees the visual of Laal Tekdi Mandir's visual, Naagmani Mandir, and a door where Manyata is kept locked. Vrinda understands the hint and thinks to reach Manyata,
Dev declares about the party and all his cousins get happy. Dev says that it is the reception party so they should invite Vrinda's guests with respectful greetings. Vishakha questions Dev about Vrinda and he replies that she has gone shopping.
Vrinda comes to the Laal Tekdi Mandir and questions Baba about Draksharab. Baba replies that he is not much aware of it. Both move towards the door which Vrinda has seen in her vision. Baba says to Vrinda that she can use her locket to open the door. Vrinda takes it closer but it gets blasts. Both go inside the room but can't find Manyata.
Vishakha takes Manyata at another place. Vishakha says to Manyata that she has cooked a story to Vrinda that she is Manyata's closest friend. Manyata shouts that Vrinda will find her. Vishakha takes the Om Manyata and says now she will use it. Manyata questions Vishakha what does she want?
Vishakha says Naagmani and the secret of Laal Tekdi Mandir. Vrinda returns home and cries in front of Vishakha as she failed to find Manyata. Vishakha questions whether she talked with anyone when she left? Vrinda says she told to Dev. Vishakha says that Dev might be involved in hiding Manyata.
Vrinda says that she will make everyone drink Draksharab. Vishakha questions whether she knows what it is? Vrinda says that she just got the idea suddenly.
The party starts and Vrinda looks at the locker she saw in her vision. Vrinda looks that Dev is sleeping and checks her chain. She thinks that Vishakha is also a Naagn so she might be using the chain to communicate with her.
Vishakha looks at Sparsh and Rohan coming towards her and starts acting on the phone that she is not getting a bed at the hotel. Rohan and Sparshs ask her to stay here and she agrees to it.
Precap: Vrinda tells Vishakha that she is finding her mother with the help of the chain. Vrinda comes to the place but Vishakha changes Manyata's location. Vrinda is having another plan!