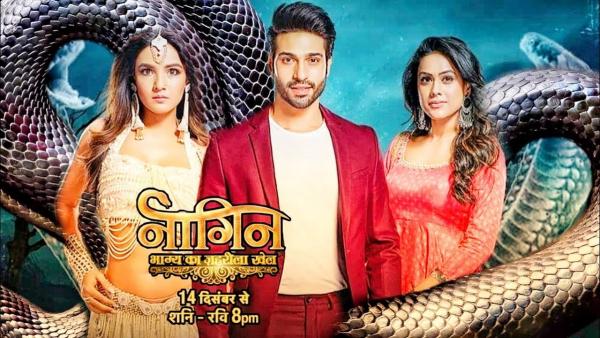 The Nagin episode begins with Swara says that Bel leaves are so pure so how can it hurt Vrinda? Manyata says that she will talk later and asks Vrinda to leave as there is danger. Vrinda says that she can't go as she will save her and goes to find a knife. (check: Naagin Written Updates.)
Somebody present in Vrinda's avatar at the Parekh house. Ketki points Vrinda how can she talk like this in front of her husband. Vrinda says that Dev is not a possessive husband who denies his wife to talk to other men. Dev says to Vrinda that she can do what she wants! Vrinda starts dancing with Rajat.
Vrinda returns and finds Swara bleeding badly. Manyata leaves from there as Vrinda was holding Swara who is unconscious. Vrinda wakes up Swara as the door is about to close. Vrinda finds leg jewelry in the sand over there and leaves from there with Swara. Vishakha returns in her real avatar from Manyata's avatar.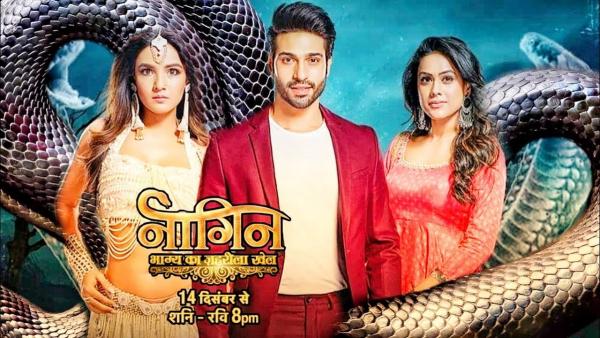 Dev leaves from the house in anger. Vishakha plans to take Naagani from Dev as he is angry now. Vrinda is worried about how did she let Manyata go like this! Dev thinks why Vrinda is lying from her and not breaking her relation with Rajat after marrying him! He gets angry and his forehead starts shining. He feels pain in his head and holds it.
Vishakha comes with a sword and was about to hit on Dev's forehead but Vrinda comes there. Vish thinks how did the Naagmani disappear after Vrinda's entry? Vish asks Vrinda to go from here as she will handle Dev. Vrinda asks Vish to go in her avatar at home and she will be with Dev.
Vrinda looks at the leg jewelry which matches the one she found in the sand in Vish's leg as she was leaving. Dev gets up suddenly and hits Vrinda. He was about to apologize but stops. Dev says that she was too close and got hit. Dev says that he is going home for the pooja and she can also come.
Vrinda says that she is going to Swara Maa. Dev questions what happened to her? Dev says that he will also come with her. Lily brings Prateek inside the house hiding from everyone.
Baa asks Swara to stay here as she is not well. Vrinda says that she will stay here only. Vrushali questions why is she staying here? Baa says that it is her order and asks Dev and Vrinda to take her to the guest room.
Lily hides Parteek in the washroom and reveals to him that she is pregnant. He gets happy hearing it. Dev asks Swara to call him when she needs anything. Vrinda says that she can call her. Dev says that Vrinda gets misplace some time. Swara says that she will call both of them.
Dev and Vrinda come to the room. Lily asks Prateek to leave as they can be caught. Prateek leaves from there. Lily's pregnancy tool falls in the washroom and she leaves from there hiding from Dev and Vrinda. Vrinda sees Lily leaving from the mirror.
Vrinda puts something in her nose. Dev asks her to remove it as it doesn't look nice. She says that she has put it as it happens because her BP is low. She says that when she doesn't eat anything so this happens and she has not eaten from the morning. Dev comes to her why does she keep lying?
He says that he saw her coming out from the pillar chewing her mouth where Rajat was also there. Vrinda says that he didn't saw her eating from Rajat's hand. She thinks why is Vishakha doing all this? Dev looks at blood from her nose and asks her to sit. Dev asks her to face upward and removes the blood with a cloth.
She says that she will be fine after eating some sweets. He says that he has chocolate. She says that she just like fruit and nut. He gives her fruit and nut chocolate.
Dev comes to the washroom and finds the pregnancy positive tool in the washroom. Dev questions Vrinda whether she has low BP? He says that she keeps lying but she can trust him. He questions what has he done that she can't trust her? Vrinda questions what has happened? He says that she is pregnant so she should not lie now.
He shows her the pregnancy tool with a positive result. She says that it doesn't belong to her. He denies trusting her and leaves.
Vrinda asks Lily to come with her. Mily stops her that they were talking something personal. Vrinda says that she has seen Lily going from her bathroom and shows her the pregnancy tool which she left in the washroom. Vrinda says that Dev also knows it.
Dev greets the doctor and asks her to check his wife. Baa and every one also come to Dev's room. Vrinda says to everyone that she is pregnant. Baa gets happy. Swara also gets to know it. Baa makes Vrinda wear the Rudraksha. Everyone goes from the room.
Dev brings food for Vrinda and puts it there. She says that she ate the chocolate. Dev asks her to keep her mouth shut as she keeps lying. He says that he is working and she should eat healthy in this condition. Vrinda looks that her skin is turning scaly and her half body becomes snake from the bottom. She hides in the bedsheet.
Dev comes to sleep and turns off the light. Vrushali asks Vrinda to brings mango pickle for her. Lily ask Mily to bring orange juice for her. Vrinda comes to the kitchen and her half body turns into a snake. Mily gets shocked seeing her. Vrinda scares Mily to hide her secret or else she will reveal Lily's pregnancy news and kill everyone.
Mily returns and sits on the breakfast table with everyone. Vrinda serves the juice and pours a liquid on Mily hiding. Mily throws Lily's juice and says that Vrinda is Naagin.
Precap: Rajat says to everyone that it is his baby in Vrinda. Dev supports Vrinda's baby!