The Nagin 4 episode begins with Vrinda receiving a call from Manyata. Manyata says that she has run from the jungle. Vrinda questions whether she was not in the cave? Manyata questions which cave? Manyata says that they all are behind Naagmani. (check: Naagin Written Update.)
Vrinda doesn't hear everything properly. Manyata says that she is in danger as they want to sell Naagmani. Manyata says that she might have the key and the sun. Vrinda questions where is she? Manyata sees a board and informs that she is in the Kaneri Mountain forest. Vrinda asks her to stay there only and she will come soon.
Manyata asks her not to go in front of Sujata. Vrinda is not able to hear her properly and runs to save her. Vrinda recalls that Manyata talked about the Naagmani. She recalls when Dev told her that he is going to arrange some money for the business. Vrinda recalls when she saw Dev taking the key.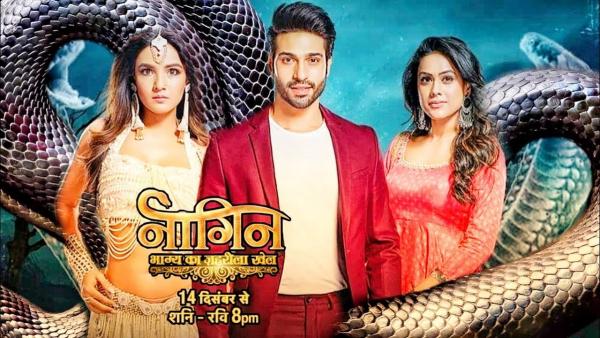 She recalls when Manyata said her to not fall as it is not safe. Vrinda thinks that she is so stupid as she couldn't see anything in front of her eyes. Vrinda thinks that Dev ditched her and she failed to do anything. She turns into a snake and leaves for the forest.
Manyata is running to escape in the jungle. Vishakha and Mundika (the witch) are behind her. Vishakha gets happy that things are going according to her plans and Manyata has called Vrinda. Vishakha asks Mundika to remove her hair from her face first.
Vishakha says that she knew that her hairs protect her powers as the sun rays reduce her powers after falling on her face but she doesn't need any powers now. Vishakha asks her to remove her hair as she just has to fool someone. Mundika shows up her real face and Vishakha gets irked by it.
Vishakha asks Mundika to follow the plan. Mundika goes from there to confuse Vrinda. Vishakha goes behind Manyata. Vishakha's twin appears in Dev's avatar. Vishakha asks her twin to let her instruct before killing Manyata.
Vrinda comes at the Kanheri Mountain forest but fails to find Manyata. Mundika comes to distract Vrinda and reveals her the way as she questioned her. Mundika signals Vishakha to make her twin in Dev's avatar work on the plan.
Vish's twin in Dev's avatar comes to Manyata. Manyata gets shocked as Dev is here but gets to know it is Vishakha only. Vishakha reveals her how she will get the Naagmani now and find the Lal Tekdi Mandir's secret. Manyata attempts to use her powers but fails as she left shapeshifting just after Nayantara's death.
Vishakha says that she can get her powers back after touching Naagmani. Manyata tries to escape but Vishakha bites on her. Vishakha herself gives an offer to Vrinda to help her but she refuses to hear her.
She asks her to stay away and leave but Vishakha shows Dev's car to Vrinda in the jungle. Vishakha says that Dev has got some plans and keeps on speaking negatively about Dev but Vrinda keeps on ignoring her. Vishakha keeps her plan on and manipulates Vrinda about Dev.
Vishakha's twin transforms into Dev's avatar after hearing Vrinda's voice and drags Manyata. Manyata gets to know about her plan but Vish's twin as Dev mishandles her.
Vishakha offers Vrinda for her help again but she avoids her offer.
Vish's twin as Dev comes to the Cliffside with Manyata and questions about the secret behind the Lal Tekdi Mandir! Dev shows her the knife. Vrinda also runs to the Cliffside and gets shocked to see Dev stabbing Manyata like this.
Dev kills Manyata and puts a knife on her stomach. Dev looks at Vrinda and hits Manyata again. Vrinda tries to reach to Manyata to save her. He hits Manyata again to kill her. Manyata falls over there. Dev thinks to make Vrinda misunderstand by acting like he is taking Naagmani from Manyata.
Vrinda reaches to Manyata and tries to wake her up. Vrinda shouts for Dev again and again in anger. Vrinda talks with Manyata that she will not leave Dev. Vrinda says to Manyata that she will save her and take her to the hospital.
Vrinda says that she will not let her go as she has met her very late. Manyata says to Vrinda that she has been cheated. Vrinda says that she knows Dev cheated her. Vrinda grabs Manyata in her tail to take her but hear some voice. Vishakha blasts the cliff. Vrinda and Manyata fall from the cliff.
Manyata dies after falling from the cliff. Vrinda removes stones fallen on Manyata's body and shouts for her to wake up. Vrinda takes an oath to take her revenge from Dev. She gets angry and vows to end up Dev's life. Vrinda apologizes for Manyata as her dead body was lying there.
Vishakha listens to Vrinda and gets happy that she got successful in her plan. Vish thinks that Vrinda has got an intention to kill Dev now.
Dev returns home and makes everyone happy by revealing that he has found a new investor. All the family members congratulate him. Dev has a conversation with his father which goes very heart-touching.
Vrinda conducts all the final rites for her mother, Manyata. She is in extreme anger to kill Dev now. Dev and everyone gets to indulge in the Holi festive vibes. All of them perform the Holi Ka Dahan in the house's courtyard area. Vrinda burns Manyata's body.
Everyone questions Dev about Vrinda! Swara also calls Vrinda but she doesn't pick it up.
Vrinda is furious about how Dev did this to her mother! She is dealing with all the pain for the incident which happened on the Cliffside.
Dev gets angry as Vrinda already promised her to stay with him during the Pooja. Vishakha returns home and starts manipulating Dev about Vrinda. She talks with Dev that Vrinda's intention wasn't right and she was busy selling all his factory shares. She says that Vrinda has planned to run with Rajat.
No precap…