The Japanese manga named Noragami Aragoto was derived to form the anime titled Noragami that means Stray God. It is of the supernatural genre. Adachitoka has written the manga series while Kodansha has published it. The anime series first released on January 5, 2014. The first season comprised on a total 12 episodes. (Read: Houseki No Kuni Season 2.)
Noragami Anime Plot
The story revolves around an average middle school girl named Hiyori Iki. Once she tried to save a stranger, but herself met with an accident. Her life changed with that incident. Because of the accident, her soul can now slip out of her body when she desires. She becomes Ayakashi, a person who can travel in both the parallel worlds. One is afterlife (Far Shore) where human souls and demons wander. The second is the normal human world (Near Shore).
Once while traveling from human world to afterlife, Hiyori gets to meet a Yato – a nameless god. She found an acquaintance in him. To build him temple, Yato use to take a fee of five yen for accepting the wish of a mortal. He wants to build the temple so that humans could worship him in that temple. Hiyori requested him to fix her because she wants to lead a normal life. She doesn't feel good whenever her soul leaves her body. But, Yato has some other plans for her. She gets to meet Yato's Regalia named Yukine. After becoming good friends, these three experience various adventures.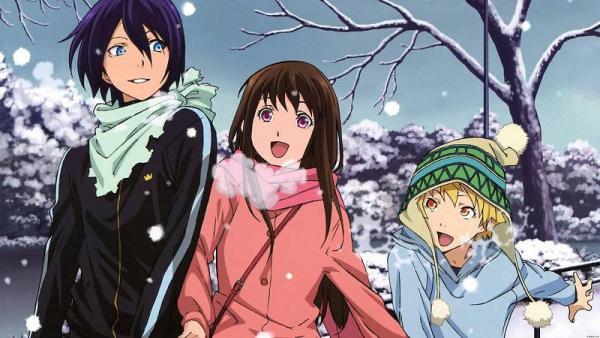 In the season 3 of Noragami, the true identity and dark past of Yato get unveiled. It was Yato's father who kissed Hiyori. In the upcoming installment, we will get to see the kind of relationship Yato has with his father. Yato had killed Bishamon's first family, but he forgives him. Now, Yato wants the status of a god. He also desires of millions of followers/devotees. He starts making allies. Meanwhile, Nora (Yato's previous Regalia) prepares to take revenge from him.
Unaware of the situation, Yato has an enemy who he doesn't know yet. The God of Fortune – Ebisu, who was using the Phantoms for making the world a better place to live, has been declared as a felon. Now, all the Gods don't like his activities and have decided to murder him. Taking Yukine's help, Yato gets the status of the god of fortune.
Noragami Season 3 Characters
Main Characters
Yato: The actual name is Yaboku who is a war god and wants to build his own temple. He dons a tracksuit and a scarf. He is used to reveal his phone number in public places in case anyone needs his help. He has athazagoraphobia – the fear of being forgotten. Along with it, he has romantic feelings for Hiyori.
Hiyori Iki: An ordinary girl who becomes Ayakashi or half-phantom due to an accident. She travels through both the worlds. She also has romantic feelings for Yato and feels jealous when Bishamonten gets closer to him.
Yukine: Yato's current Regalia who is close to him. His original name is Sekki while his regalia form is called Katana. He suffers injuries whenever he sins. He considers Hiyori as his elder sister and tries to learn new things from her.
Gods
The classification of Gods is based on two factors – war and poverty. They have a take and give relation with humans. It means that after receiving a prayer and/or a monetary offering, they offer humans their wishes. But, their existence depends on the faith of humans in them. Gods with shrine don't die when killed. They get born again, but from the child form and grew up to take the same appearance as before.
Tenjin: The God of Academics who has several Regalia and own shrine. He keeps a check on Yato by taking human form.
Kofuku: The God of Poverty, pose as Ebisu, is energetic and gentle. Her regalia is Daikoku. She can be fierce at time and can stand up to even Bishamonten on demand.
Bishamonten: The God of Combat with a woman form with long blonde hair. She has many regalia as she is not able to abandon the spirits attacked by Phantoms. Eventually, it forms a large group that increases her trouble as she can't attend all of them properly.
Rabō: An enigmatic character who is often seen talking to Nora. Also known as the God of Calamity, it is believed that he can control Phantoms.
Noragami Season 3 Release Date
There is no official word out yet regarding the third season of Noragami. So, the fans would have to wait for more time. The second installment concluded on a cliffhanger. This is the reason why viewers are waiting eagerly to see what happens next. There have been speculations that say there will be a new storyline and new adventures. These could end up as rumors, but there are reports the season 3 would release in late 2019 or early 2020. BONES studio hasn't come up with any official release date so far. Also, there is no official news from the producers and other networks about it.
Noragami English Dubbing
The English dub episodes of Noragami are available on FUNimation and Crunchyroll to streaming online. The fan can also watch the subbed and dubbed episodes of the anime on Hulu and YouTube.