Are you ready for another season of Ozark? You may have recently finished with the second installment of the tv series. But, it has already been renewed for its sequel. However, it may take a while before we actually get to watch the upcoming episodes of one of the best shows of Netflix. (Check: Lucifer season 4.)
The series' story revolves around a financial planner name Marty Byrde who moves his family from Chicago to the Ozarks to launder money for a Mexican drug cartel. Once involved, Marty and his family get involved in local crime and local families who have their own agendas.
The third installment is already in development. Only a few official details have been revealed about the hit crime drama. We are sure that it is only going to witness dark things ahead. Here, in this article, we have mentioned everything that you need to know like season 3 spoilers, plot, cast, etc. So, don't forget to bookmark the page as we will dropping updates regularly.
*Warning: major spoilers for season two*
Will Ozark season 3 come?
Yes, it will come soon. Jason Bateman has confirmed it via his official Twitter handle. The series will return for a third season comprising of 10-episodes. No other details have been revealed as yet. But, it doesn't stop us from speculating.
What could Ozark season three plot be about?
Marty Byrde and his family will get more engaged in criminal activities in the new episodes. There is a lot more story left that can be explored in the future installments.
In the season2 finale, Marty opened a giant casino boat that will be used to launder more money for the Mexican drug cartel. It would become the center point of the story around which the next season will revolve. Byrdes will get the biggest operation of their career up and running.
The second installment ended leaving some loose ends. The future season should tie them up as a lot of blood was spoiled across the entire installment.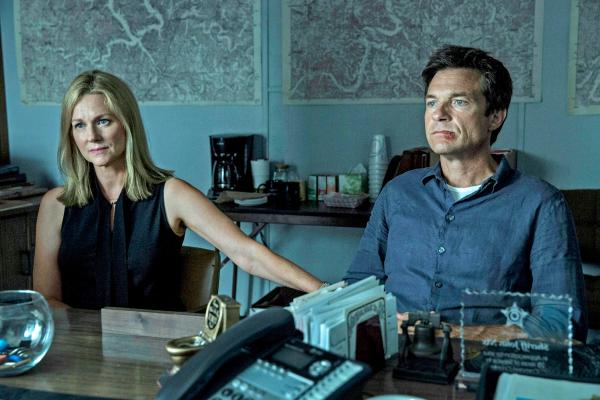 A mysterious gunman shot down Cade Langmore. A lot of people wanted him to be dead, but who could have ordered his killing or who could have killed him. Cade had also murdered officer Roy Petty. So, it also adds the Feds into the list who have got even a bigger reason to get him down.
Marty killed Pastor Mason Young to save Wendy. Unlike other crimes, he isn't able to distance himself from. They destroyed his body, but it won't be the last one for them. The Byrde family called Darlene Snell to adopt his baby. It left Young's child in incredibly dangerous hands as Snell is the murderer of her husband Jacob.
But, the most surprising thing of last installment was witnessing Wendy enjoying getting involved in Marty's money laundering, and then replacing Marty by directly communicating with the Cartel via lawyer Helen Pierce. Also, he refused to flee to Australia as he had planned earlier. It looks like we will get to witness this power play between the two mixed-up parents in season 3.
Along with all that, we will also get to see the flourishing affair of Marty with Rachel. Also, there seems to be a new Big Bad in town in the form of the KC Mob.
Ozark Season 3 Release Date: When is the premiere?
The 2nd installment released in August last year. We don't have an exact premiere date as of now. But, we can expect the next season sometime in 2019 on Netflix. When it comes to guessing, the second half of this year seems to be a good bet.
How many episodes will there be in season three of Ozark?
Just like its earlier seasons, the upcoming installment will also see 10 episodes. But, it may go way, way up. It's because Ozark is one of the most watched TV shows ever.
Ozark Season 3 Cast: Who is going to return?
All the major cast members will return for sure. Jason Bateman and Laura Linney will reprise their roles as Marty Byrde and Wendy Byrde, as husband and wife, respectively. Julia Garner, Sofia Hublitz, Skylar Gaertner, and Lisa Emery will be once again seen portraying their roles as ruth Langmore, Charlotte Byrde, Jonah Byrde, and Darlene Snell, respectively.
Those characters who died in the finale won't be seen.
Is the season 3 trailer of Ozark has released?
No, the promo video hasn't been released as of writing this. It will come out towards the premiere date of Ozark season 3. We hope that you also want to see Marty's casino boat in action.
How long will 'Ozark' last?
It is certain that we will get to watch Ozark season 3, but what about after it. The showrunner Chris Mundy was cited stating that he hopes to run Ozark for a total of five seasons. However, it may also have one more edition or one less too.
You can stream Ozark season 2 on Netflix in the US and the UK now.