The Shubh Arambh episode begins with Raja says to everyone that they should not trouble Rani or avoid asking her t leave the house as it is her wish now. He signs on the divorce papers and leaves after giving it to her. (check: Naagin Written Updates.)
Gunwant and Kridida start making fun of Rani and laughs. Gunwant says that she has put all her efforts to reveal the truth but she failed so badly. Kridida says that Rani was the happiest that Raja tied his knots with a girl like a servant. Kridida says that she is happy now as their hardwood is not wasted.
Gunwant says that he will get the shop in his name tomorrow on the occasion of Ram Navmi. Rani says that she is Raja's wife so she can do any possible thing to never let them get the victory. Gunwant says that he can praise her as she still has hopes in her mind. Rani says that she won't let them make Raja as their servant.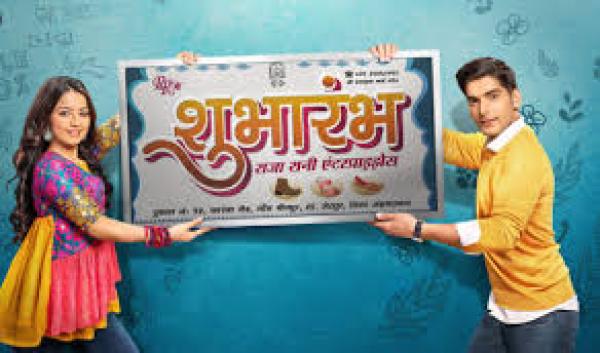 Raja and Fufa Ji were going in the car. They both talk to each other that Gunwant is so well in handling the whole family. The driver stops the car as there is chaos on the road.
Raja and Fufa Ji get out to see it. Raja sees that Rani's father and mother are there. Raja questions Rani's mother what happened?
She replies that he does it always but Utsav is not there so she is not able to handle him. Raja makes him get up and takes on the corner. Fufa Ji questions Raja whether he knows them? Raja says that they are Rani's parents. Fufa Ji gets a disgusting feeling of seeing them.
Rani's father is drunk and praises Raja for being so good. He says that Rani loves him a lot and she never speaks a lie. Raja feels confused with his statement.  Rani's father says that Rani just said a lie once to him as she didn't steal the money and took the blame to safeguard Utsav from going to jail.
Rajat and Fufa Ji get shocked after hearing it. Fufa Ji recalls when Ranu confessed this thing to him earlier. Raja questions her mother what is he talking about? She tries to avoid but reveals that he is speaking the truth. Raja recalls when Rani lied about the money. She says that she always keeps the relations strong and can do whatever to save them.
Rani looks at the divorce papers and gets worried. She thinks that when the truth will be revealed, then things will be fine. Darshana comes to her and says that Raja loves her a lot. Rani thinks to talk with Raja.
Raja feels confused about whether he should talk about everything to Rani. He gets confused about why will she blame Mota Papa (Gunwant) and Moti Mummy (Kridida) if she is not behind money! Rani comes into the room and says that she want to talk about their divorce.
Raja denies her and leaves from there. When he was leaving, his wallet falls on the floor. Rani looks at her picture in his valet and feels that she has got her sign.
On the next day, Aasha gets ready to go to the shop. She calls everyone but no one is there. She thinks that everyone might be in the car waiting for her so she was going to check but Rani comes there. Rani says that all of them have left in the car except her and Raja as they have to go by Auto.
Aasha says that she should not become over smart and not come behind them. She leaves to search for Raja. Rani informs someone on the call that Aasha is leaving.
Precap: Rani plans to make Mota Papa speaks his truth himself in front of Raja!