The Shubh Arambh episode begins with Aasha says to Rani that she should not come with them to the shop as she doesn't want to get the auspicious moment spoiled with her drama. Aasha leaves after saying it. Rani says that there is a need for the drama. She makes a call and informs that she is coming out. (check: Shubharambh Written Updates.)
Aasha comes out and starts searching Raja but he is not there. Utsav covers his face and pours chloroform on a cloth. Utsav puts the cloth on Aasha's face from her back and she gets faints. Raja was going out but Rani stops him and talks about the divorce papers. She says that she wants to talk about it.
She says that she is not ready for the divorce and she is his wife so he can't change their relation only by his sign. She says that she wants to be with him even if the shop is not under his name. She says that she will stay with him irrespective of whatever he gives to her.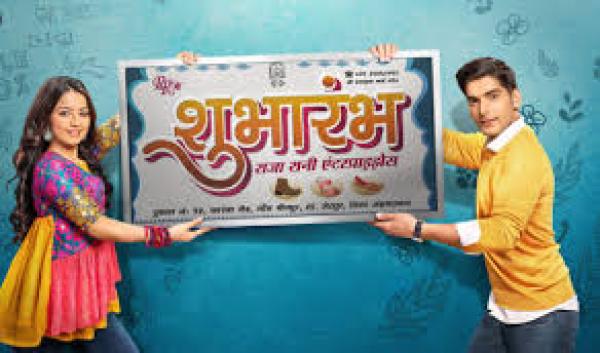 Raja recalls the moment when they made promises to each other at their marriage.
Utsav kidnaps Aasha and manages to sit in the auto taking her. He asks the auto driver to start and leaves a message to Rani. Rani sees Utsav's message and gets relief. Rani says to Raja that she can also come to the shop as she has the right too.
Raja goes outside and she also leaves with him. Gunwant arrives at the shop along with his family. He comes out from the car proudly and sees the board thinking to get his name on it soon. Natu Kaka comes to greet them and Gunwant looks at the green carpet for their entrance gate.
He questions Natu Kaka why is it the green carpet when he asked for the red carpet? Natu Kaka says that he tried a lot to find the red carpet but couldn't get one so he used the green one. Gunwant slaps him in front of everyone and fires him from the job so that he will remember now.
Natu Kaka begs him not to do it by touching his feet but Gunwant holds his hand tightly to hurt him. Everyone gets shocked to see his behavior. He pushes Natu Kaka outside and asks other workers to obey his rules only. He goes inside the shop with the family. Natu Kaka folds his hand in front of Hetank to save his job.
He consoled him that he will talk. Gunwant shouts after seeing Dhanwant's photo and asks to throw it out of the shop. He makes his photo hanged over there. He and Kridida gets happy but others are shocked. Mehul talks with Hetank that they should also ask about their part in the property too or else their parents may forget them.
Raja comes to the ship and asks other workers to take the pooja material. He doesn't enter the shop due to pitrudosh. Rani also stands with him. She says that they have so many memories in the shop and both recall them.
Hetank gives the property papers to Gunwant as Fufa Ji gave them. Gunwant gets smirked and puts them in the pooja.
Rani questions where is Mumy Ji? Raja says that she might be inside the shop. Rani questions Darshana about her but she replies that she is not here. Raja gets shocked after hearing it.
Precap: Utsav makes a call to Raja and demands for 10 lakh within 10 minutes for his mother. Raja tells Gunwant about Aasha's kidnapping and the amount asked by the kidnapper. Gunwant says that let his pooja happen and then they will see it. Raja gets shocked hearing it!