The Flash Season 3 Episode 13 Spoilers, Promo, Air Date: In the upcoming episode "Attack On Gorilla City," Gorilla Grodd is going to return. As we know, Harry loves adventure, and it will put him in real danger. At the end of episode 12, Jesse arrives Earth-1 and meets Cisco aka Vibe.
Jesse tells the rest of the team that Harry got an invitation from some gorillas to meet him. So, he went there alone with 10 people into the forest but was captured there. Jesse didn't receive anything about her dad. After that, she decided to visit earth-1 for help from the team Flash.
The Flash Season 3 Episode 13 Spoilers, Promo, Air Date
Determined to rescue him, Barry along with his members Caitlin, Cisco, and Julian travel to Earth-2 on the mission. And they were surprised that Julian is also showing up, so Jesse told him that they are going to another dimension on a mission and not for sightseeing. Julian emphasized that he don't want to miss the chance to go to another dimension and has taken a gun for the safety purposes.
Check: Unbreakable Kimmy Schmidt season 3 release date.
But, they didn't get to use their weapons as Grodd, and his apes captured the team Flash's members just as they arrive on Earth-2. A twist comes into play after that as Grodd reveals himself to them. As Grodd unveils his plan to stop Gorilla City's leader Solovar from his evil plans of taking over earth-1 with the team Flash.
While on Earth-1, Jesse and Wally are left with HR Wells and Joe to tackle a metahuman who has been terrorizing the city with his ability to control the gravity. There are speculations that Wally and Jesse romantic moments will also be coming soon in this season of the series "the Flash."
Team Flash gets to work on finding out who is the real enemy Grodd or Solovar. It can be entirely possible that Grodd is planning something evil to gain the trust of Barry and the rest of the team for his own cause. As the comics speak up, Solovar is an ally of Barry Allen and later Wally West. Let's wait and solve the twisting mystery.
The Flash S3E13 Synopsis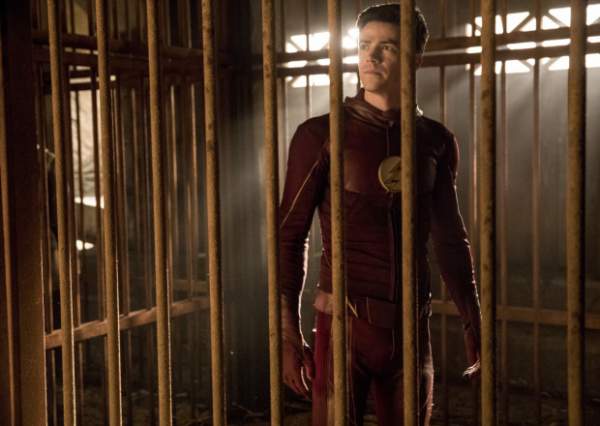 The Flash 3×13 Promo
https://www.youtube.com/watch?v=_tZ06XfzwrM
The Flash Season 3 Episode 13, titled "Attack on Gorilla City," will air on Tuesday, Feb. 21 at 8 p.m. EST on The CW.