In today's (3rd February 2019) episode of The Kapil Sharma Show season 2, we are going to see the Mohan sisters – Neeti, Shakti, and Mukti. They are three of the close friends of the host, Kapil Sharma. The Mohans also attended his wedding. Along with them, Manikarnika actor Nihar Pandya will also make an appearance on the stage. (Read: Naagin 3 Written Update.)
The show will feature the sisters talking about their childhood memories, and what and how close are they to each other. Being a singer, Neeti Mohan will be seen singing some of her hit songs, Shakti Mohan will showcase her dance talent while Mukti Mohan is also a dancer. Mukti will dance with Krushna Abhishek and Kiku Sharda.
Then, Manikarnika star Nihar Pandya will come to join the Mohan sisters. Neeti and Nihar will surprise the fans with their news of getting hitched soon. They are going to tie the knot in February itself. They will openly reveal their relationship. They will marry around Valentine's Day this year.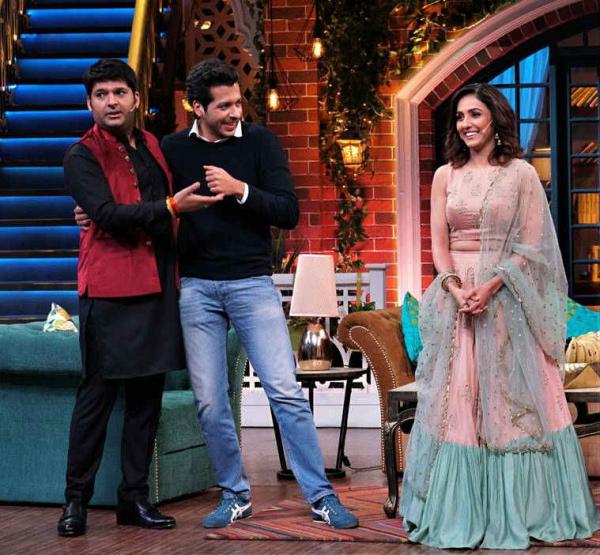 Neeti Mohan and her musical journey
On the show, Neeti Mohan told everyone about her auditioning days for V Popstars. She shared that seeing a huge queue for the auditions, she got nervous and demotivated, and finally returned home. She also shared that after all night watching the Britney Spears' Live concert, her father woke her up at 4 am in the morning and took her to the auditions. Neeti recalled her days from being a contestant to a winner, then to a judge, and now a playback singer. Nihar Pandy also recreated his proposal on the stage that left Neeti blushing.
Nihar Pandya proposes Neeti Mohan
Neeti and Nihar opened up about their love story to the public for the first time. The couple once again will be seen professing their love to each other. While talking about it with Kapil, he was featured recreating the same scene.
Kapil's fondness for the Mohan family
Kapil Sharma revealed that he is close to all Mohans in the family, be it the sisters or their parents. He appreciated their parents for their progressiveness and raising four daughters with the best values and talent, and supported them at every times. Being an author, their father gifted Kapil two of his books on positivity. Kapil shared that his words helped him in his low times.
Neeti and Jab Tak Hai Jaan

Neeti shared her experience of recording for Jiya Re in front of Gulzar, Yash Chopra, and AR Rahman. She opened up regarding how overwhelmed she was while in front of some of the industry legends. She shared that she had to gather courage to even speak before them.
The Kapil Sharma Show episode featuring Mohan sisters aired on February 3, 2019, at 9:30 pm on Sony TV.