Shahrukh Khan's latest and most expensive film till date, Zero now seems officially out on the 3rd weekend. Today, it's the 17th day of its release and business run at the box office. The movie starring Anushka Sharma and Katrina Kaif is continuously witnessing drop since it hit the silver screen in terms of its collection. The directorial of Aanand L Rai garnered mixed reviews from the critics and then, it didn't got the expected positive word of mouth from the audiences. (check: KGF 3rd weekend collection.)
It has turned into a drastic failure at the box office. Zero was one of the most anticipated film of 2018. Heavy amount of VFX used in the film made its budget to rise to Rs 200 crore. In the first two weeks of run, the flick has been able to collect close to Rs 90 crore only. The figure is unimpressive considering some of the biggest Bollywood names in the film. So, it is clear that the movie is struggling to cross the Rs 100 crore mark in India.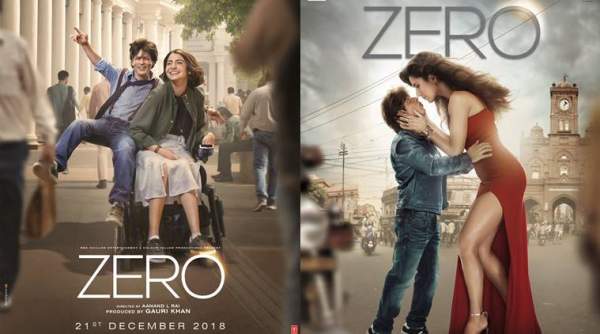 Zero made its highest single day collection of Rs 20.71 cr that too on its first Sunday. It is facing very tough competition from Kannada film KGF directed by Prashanth Neel and Hindi film Simmba directed by Rohit Shetty. They both have earned Rs 159.83 cr and Rs 170 cr, speaking till yesterday. Zero's story revolves around a dwarf man Bauua Singh who is looking for a bride. He spends his father's money and later falls in love with a wheelchair bound scientist (Anushka). And then, a superstar Babita Kumari. Later on, this love story travels to outer space.
Besides the lead stars, it also stars Zeeshan, Sheeba, and Tigmanshu in important roles. Apart from them, there are a lot of cameos from Bollywood actors including Salman Khan, Sridevi, Kajol, Rani Mukherjee, Karishma Kapoor, Deepika Padukone, Juhi Chawla, and Alia Bhatt.
The collections of Zero till date area as follows.
Week One – 81,86,00,000
Week Two – 6,25,00,000 apprx
Friday – 10,00,000 apprx
Stay tuned for Zero 17th day collection 3rd weekend update.