The episode begins with Usha shouting at Vinayak that he did everything after talking with Pandit. Sandhya questions what has he done? Vinayak says that he saved Sandhya and his family's life. He says that he lied to everyone that his second daughter was born dead. (Check: Kawach Written Updates.)
He gave her to the lady who was helping Usha deliver babies and asked her to take away the child forever from them. Everyone gets shocked to hear it. Usha asks Vinayak how could he do such betrayal with a mother? She says that he separated a daughter from her mother just for everything told by Pandit.
Sandhya's Aaji shouts at Vinayak that he did so bad with her own daughter. Sandhya says that she is her twin sister so she should be with them. She says to her father that he did very wrong with her sister. Angad consoles Sandhya and questions Vinayak why does her sister think that Sandhya is the reason behind her death?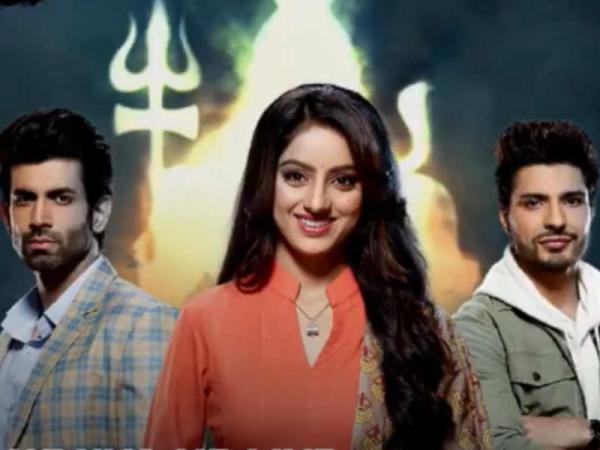 Angad questions that he is hiding something else also. Vinayak was about to speak, but the light turns off. Jolly has come to kill Vinayak to hide his truth. Everyone gets shocked to see Jolly. Jolly says that he was scared after knowing that everyone is aware of Bhairvi and Kapil's connection.
Jolly says that after Bhairvi, only Vinayak was the person who can reveal his truth. Angad says that he came to kill Vinayak and questions about the truth. Jolly says that there were three owners of Agnivarsha restaurant, including Ashutosh, Manoj, and Bhairvi. He says that he was also the fourth owner of the restaurant.
He planned to invest in the hotel and Vinayak was also in their team. Jolly says that Vinayak has helped them in many bad works. Jolly says that the restaurant was not working well so they planned to burn the restaurant to get money from the insurance. He says that they burned the restaurant but didn't know about the presence of 30 people.
He says that they managed to hide everything but Kapil came as an insurance agent who got to know about the truth. He says that they send Vinayak with money to bribe Kapil.
Vinayak says that when he went to Kapil's home, he got shocked to see Kapil's wife who looked identical to Sandhya. Vinayak says that he told her that he is her father and everything. He says that she got angry and closed the doors for him. He says that he felt very bad on his act so he told everything to Jolly.
Sandhya says that if he could have surrendered, then all other four partners would also get revealed. Sandhya questions Jolly uncle that he burned Kapil's family just for the sake of some money. Angad questions how is Sandhya linked with everything? Jolly was about to speak, but the light starts flickering.
Both the spirits come there to kill Sandhya, Jolly, and Vinayak. Sandhya questions her sister Sakshi about her fault and how come she led to her death? Kapil targets at Jolly and Vinayak and traps them. Sandhya begs Sakshi (the spirit) to leave them and she is hurt to know everything.
Sakshi says that she is not going to kill them, but torture them worse than death. Kapil and Sakshi are not able to do anything since the priests come reciting Lord Shiv's prayer. Sandhya's Aaji says that she contacted with the priests to help them. The priest brings down Vinayak from the spirit's trap.
The priest says that the Rudraksha only saves those who are good humans. The priest says that he can release the spirits from such a pain. Sakshi says that she wants revenge. The spirits start showing their powers to fight with the priests. The priests start their prayers to stop the spirits. The priests release away Kapil's spirit from there.
Malini wakes her and all her trap done by the spirits gets released from her mouth. Malini's voice comes back and she gets emotional. Sakshi shouts badly and Sandhya asks her to console down. Sandhya asks her to let the priests release her away from such pain. Sandhya asks her to get Moksh from being a spirit.
Sakshi says that she will not release from being the spirit and will always hate her. Sandhya questions what has she done with her? Sakshi holds her hand that she will learn the reason. Sakshi says that both their destiny is linked because they are twin sisters. The priests conduct prayer to release Sakshi from there.
Sandhya gets unconscious and starts vomiting. Sandhya goes to her room and Angad comes running to her. The priest tells that one spirit is released, but one is not released yet.
Sandhya opens the door and falls into Angad's arms. Angad brings her to the hospital and Sandhya comes into senses. Sandhya questions about Sakshi but Angad asks to wait for the doctor to tell the reports. The doctor gives the good news that Sandhya is pregnant. Angad and Sandhya get shocked looking at each other.
Aaji slaps Vinayak for doing such a crime. Usha has called the police to the house to arrest Vinayak. Aaji tries to explain Usha not to do such a thing. Usha says that he did so bad with her daughter. Usha asks the inspector to arrest Vinayak.
Malini says to Kiran that the spirits are punishing Jolly for his bad doings. Kiran questions why Jolly has been sent to the mental hospital and cries badly. Someone says to them that Jolly is not in his senses and has become a dead person who is dangerous for humans.
Malini and everyone come to Sandhya's house. Malini questions Angad why he has asked them to come here? Angad says that Sandhya is pregnant.
Precap: Sandhya decides to give birth to her baby. The priest says that this child will be very dangerous and she has to deal with tough situations due to her child.