The episode begins with Sumitra enters into the house with a group of people. Bela hears some noise and looks everywhere to investigate someone's presence. Krish comes and hides Bela as Sumitra is walking with the group. Krish says that there were some strange people which are dangerous. (Check: Naagin 3 Written Updates.)
Bela questions him as to how he is awake! Krish says that he was thinking that something is wrong and has thrown the tablets given by the doctor. Bela asks him to leave for his safety. He says that she is surrounded by more enemies than him. He says that the lady was so attractive and her eyes were magnificent. (Read: Total Dhamaal collection.)
Bela gets to understand that Sumitra has come with some people. Vish is badly trapped and Vikrant says that don't move as any movement will lead to her bad health. Vish tries to breathe slowly and the tree branches get away from her. She gives a knife to Vikrant and he cuts down the branches to get away from the trap.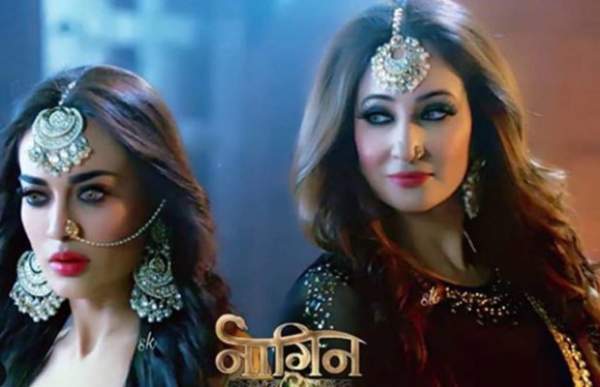 Bela denies help from Krish and both of them hide behind the car as Sumitra has come out with the group. Sumitra and her team leaves. Krish asks Bela to leave from the place by walking. Krish stops a taxi and then asks the taxi to leave. Bela questions why did he let the taxi go! He replies that he is just following the plan and runs away with her.
The group of people is following Krish and Bela. Krish calls some ladies and says that the group of people in the black outfit is coming to steal their gold jewellery. The ladies get into violence and moves forward to beat the group. Krish takes Bela with him and calls a taxi. Both of them sit in the taxi and leaves from the place.
The taxi driver compliments Krish's plan and Bela ask the driver to move towards the Haveli. The driver says that it is a dangerous place and huge snakes are present at that place. Krish tries to crack jokes on Naag and Nagin's. Bela interrupts and says that he doesn't know anything about snakes.
Bela and Krish reach the Haveli and she bids him farewell to leave. He denies for leaving. He opens the gate and gets scared after seeing snakes all around. Krish starts giggling on Bela. Bela turns into a giant snake, half human and half snake. He gets shocked after seeing Bela in her Naagin avatar.
She says that she is Naagrani and has come here to investigate who is Huzoor Sahab! Huzoor's goons try to assault Bela and Krish. Though, Krish being a tough man starts beating the goons. Bela comes in her Naagin avatar to fight with the goons. Vish and Vikrant also join Bela and Krish to fight with the goons.
Bela moves forward to open a gate, but someone tries to attack her. Krish comes for protecting her and gets hurt with a wound. Bela says that he can leave now as she doesn't need his help. Vish, Vikrant, and Bela come inside and a great pooja is going on. One goon says that Taaj Poshi is going to happen for the Naagrani.
Vikrant says that Bela is the Naagrani. The goons don't react to them.
Sumitra also speaks that intelligent people can learn things from a single evident. Vikrant recognizes her voice and Sumitra comes out by removing her black outfit. Sumitra says that all of them are not having any brain so they came here. Bela says that no one is allowed to enter here and Sumitra speaks loudly what Bela said, but no one gave any response to it.
Sumitra says that Bela is nothing at present and not even the Naagrani. Bela denies with her thoughts. Bela says that in the presence of one Naagrani, there couldn't be any other Naagrani. Sumitra says that this can happen when the first Naagrani has ditched her Naag log and made the Naag Vansh feel ashamed.
Sumitra says that in such a situation, all the Naag and Nagin's can take a decision to replace that Naagrani who shamed them. Sumitra says that both the Shesh Vansh and Nidhogg Vansh have made a new record. Bela calls the Pandit Ji and gets shocked to see someone strange acting as a Pandit.
Sumitra says that the Huzoor has done all this. Bela asks about the Huzoor. The Huzoor comes at the place in a black outfit and everyone starts praising the Huzoor.
Sumitra asks everyone to take their heads down in front of the Huzoor. Bela shouts that she is the Naagrani but the Huzoor interrupts that she is wrong. Vikrant and Vish say that this voice is familiar to them. The Huzoor removes her face covering and Bela gets shocked to see her. It is the real Ruhi who is Huzoor.
Bela says that this is her face and she was Ruhi. The Huzoor says that Bela has ditched her and taken her face. Bela says that she is lying and it is her face, which got destroyed on that day. Bela says that she changed her avatar to take revenge from the humans. Vikrant is confused and says that Bela is Ruhi. The Huzoor starts crying saying that Vikrant has lied to fall in love with her.
The Huzoor says that she wants everything back, which Bela has stolen from her. Bela says that she is just saying a lie. The goons start to kill Bela with her friends. The Huzoor takes Bela upstairs and questions that why is she doing like this! The Huzoor says silently in Bela's ears that she is just making these people fools. But the Huzoor says that she is a bad girl and asks everyone to hate Bela.
Precap: Bela gets to see Mahir ad is worried that he is trapped by Huzoor in her plans!