The episode begins with Shivangi crying to meet her father and husband. Shivangi says that she is hopeless now. Rithik says that one should not leave hopes. Shivangi looks at her father and husband coming with Mihir. Mihir says that both of them were trapped in the cellar below. (Check: Naagin 3 Written Updates.)
Shivangi apologizes from them for thinking that they killed her. Rithik says that she believed what she looked at! Rithik says that the time has gone for him to leave now. Shivangi denies that he won't go anywhere. Rithik says that he has no one with him as his daughter and love are separated from him.
Bela says that no one has been separated from him. Shivangi and Bela hold the Naagmani in their hand and pray to call Shivanya. Shivanya comes back. Rithik goes to her and rests down on her lap. Shivanya says that she won't leave him alone now. Rithik closes his eyes and Shivanya makes him young again.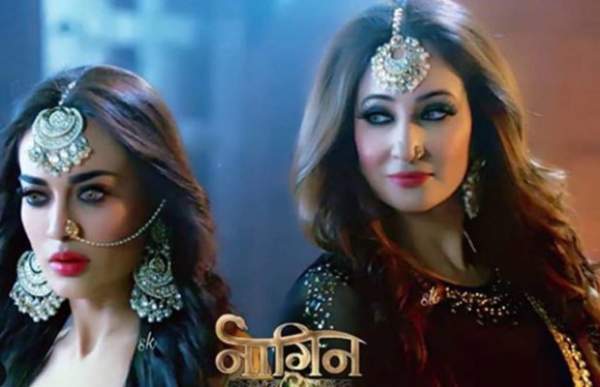 Rithik opens his eyes and she is happy to see him. Both of them leaves from there by waving bye. Vish bites Alek and Rohini to kill them.
Rocky asks Shivangi that did she hate him? Shivangi says that she has only loved her. Rocky asks him to take with her wherever she lives. Shivangi says that she needs to perform her last duty.
Shivangi says that she has become free from the curse now. Shivangi says that before leaving the Naaglok, she would like to hand over her crown and Naagrani's position to Shravani. Shivangi says that Shravani would be the last Naagrani. Shivangi declares Shravani as the Naagrani and Naagmani Rakshita. Shivangi leaves with Rocky from there.
Vish says to Shravani that everything is correct now. Shravani says to Mihir to go to his family as everything is fine now. Shravani says that she has to go to Lord Shiv's temple. All of them walks out of the temple. Shesha comes out from the ground and says that nothing is finished.
Shravani and Vish come to the temple. Shravani says that Sumitra, Shesha, and Tamsee belong to different places still they have come together. Shravani says that if they wanted Naagmani, then they could have taken it from the Maha Naagrani Shivangi. Vish says that Naagmani might have become cursed.
Shravani says that in the past, Tamsee got the Naagmani and killed Mahir and her. She says that they have to fight until they get the answer.
Bela prays to Lord Shiv with Vish and asks to give her answers. A reflection comes out of Shiv Ji's third eye. Markande Baba appears in front of them. Baba says that several things came out from Samudra Ghatna and everyone was waiting for Amrit. Baba says that Dev and Danav want to grab it.
He says that Dev got it and Vasuki Naag had an important role in it. He asks whether they know about Vasuki Naag. Bela says that he is their first Naagraj and Kuldevta. Baba says that Danav pulled Vasuki Naag's body and Dev pulled the tail. Many things came out from Samudra Ghatna and Dev and Danav took it.
Vasuki Naagraj left from there without taking anything, but people from his vansh was greedy for Amrit. They thought they were betrayed. Vasuki Maharaj's sister Mansha was the Naagrani at that time. Mansha helped her brother and the Sukurp tried to kill Shivangi.
Vish questions that they have got the Naagrani then why did they kill Bela? Baba says that they want Naagrani and wanted to end Naaglog. Bela says that Shesha is the Sukurp. Baba says that Naagmani is safe for 50 Poornimas and after that, they need to find the enemies to kill them.
They return back to home. Bela says thanks to Mahir for marrying her tonight. Bela says that tonight is the day when an Ichadari Naagin won't lose her powers after marrying a human. She says that in her past, she was cursed and united with a human so now also the curse is there. She says that today is the night of forgiveness.
Shravani reveals to Mihir's family that she is a Naagin. Samarjeet says that they will unite them. Mahir and Bela were about to take the marriage rounds in front of Naagmani. Tamsee, Shesha, and Sumitra come back. Amber Bua says that she was right about DM as she is wrong.
Sumitra says that she is right and others are blind. Bela asks them to talk with her. Bela says to Vish and Mahir to take care of the family and she will go to fulfill their last wish.
Shravani comes to the Haveli with Sumitra, Tamsee, and Shesha and says that she will kill them today to save Naagmani till Anant Kaal. Bela becomes a half Naagin with 5 snakeheads. Bela kills Sumitra with a Trishul and attacks Shesha's neck to kill her with the Trishul.
Tamsee gets shocked to see this and Bela kills Tamsee also with the Trishul. Bela becomes human and recalls when Markande baba gave her the Trishul to kill the enemies. Vish says to Bela that Naagmani is protected now. Bela says that someone will always be there to protect the Naagmani and keeps the Naagmani in front of Lord Shiv.
Bela says that Naagmani is safe until 50 Poornimas. Both of them return to Mahir's house. Bela reveals to everyone that she has killed all the enemies. Mahir and Bela get married. Mohit asks Vish that she is not Raima. Vish introduces herself as Vishaka. Everyone is happy.
Two ladies are heading towards the temple and their feet are shown with anklets. Vish is a two-headed snake and keeps her hand over the Naagmani and Trishul. Vish says that she waited for so long and after 50 Poornimas gets ended even Shravani couldn't protect t it as she thinks all her enemies are dead.
Vish talks with her second face that they can easily search the Naagmani after 50 Poornimas get finished. She laughs!
The Naagin season 3 ends!