The episode begins with Bela asking from Mahir to stop. Bela says that he can act in front of everyone, but his eyes can't tell a lie. Bela says that she doesn't know the reason behind his actions, but she knows that Krish is Mahir and no one can deny from this truth.
Krish says that he is not Mahir but Krish and if she can't understand this, then also it is not a big deal. Krish says that it is just nonsense. Bela says to Mahir that she can't see him with someone else. Krish says that he can't tolerate her non-sense and is leaving. Bela is smiling at him. He again says that he is going.
Bela says that when he can't lie properly, then why does he even try! He stops and turns back to look at her, but he leaves. Kuhu and Andy come into their senses. Yuvi and Alek come in and says that they were unconscious because of them as they have to do some work.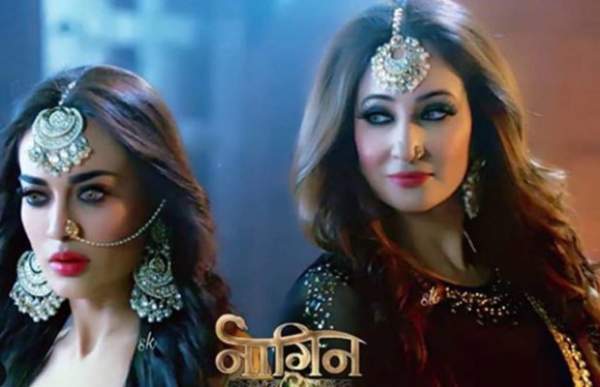 Yuvi comes in his Naagin avatar and is about to bite Andy, but Kuhu begs him to stop. Yuvi and Alek take them. Bela comes and Vish asks why she is crying! Vish asks about Krish but Bela is quiet. Mahir has come to Huzoor. Yuvi and Alek have brought Kuhu and Andy with them and throws them down.
Bela, Vish, and Vikrant take them. Kuhu asks Bela about Mahir who is with Huzoor! Vish and everyone asks Bela to take revenge. Bela says that she has leaves everything on Lord Shiv. The priest begins Huzoor and Mahir's wedding rituals.
Bela and her team come to pray for Lord Shiv. Vikrant is playing the music of the instruments and Andy is ringing the bell loudly. Huzoor and her team are getting disturbed by the loud noise. Sumitra comes to stop them and Vish stops her. Yuvi comes ahead and Vikrant stands in front of him to block his way.
Alek and Rohini also come and Kuhu comes in front of them. Sumitra pushes Vish and throws God's Aarti from Bela. Kuhu holds the flaming Aarti and keeps the prayer going on. Bela takes Sumitra down and says that Lord Shiv is the divine God. Bela says that Maha Shivratri is the divine day, which is celebrated with great happiness and no one can interfere in the Lord Shiv's prayer.
Huzoor asks the priest to continue the wedding rituals. Huzoor asks her team member to stop them. He comes and kicks everyone down with a stick along with Vish, Vikrant, Kuhu, and Bela. He moves ahead to push Andy down and hits Andy badly. Andy stops him but he burns Andy. Huzoor asks her team to hold everyone.
Mahir gets up and leaves to see Andy. Bela looks at him and is shocked to see Andy getting unconscious. Vikrant and Vish also come to see Andy. Kuhu is crying after seeing Andy as he is not breathing.
Huzoor asks Mahir to begin the wedding rituals. Bela stops Huzoor and says that fight with her or else she will not leave her. Bela comes in her Naagin avatar and Huzoor also takes her Naagin avatar. Huzoor kicks Bela down and she gets unconscious. Vish and Vikrant ask Bela to wake up.
Vikrant and Vish come forward to fight with Huzoor's team, but they get badly hurt. Huzoor calls anyone else who wants to fight with her. Mahir wakes up Bela and says that he is with her. Bela wakes up and agrees with her. Huzoor takes Mahir to get married to him.
Bela runs ahead and hits Huzoor down. Bela holds Huzoor's neck and says that she will not leave her anyhow. Huzoor stops her team and leaves in the air with her team. Sumitra also leaves with her team. Bela says that Huzoor was fighting with her very strongly and can't die so easily.
Agori Baba comes and says that they were the people who have great powers. He says that it is not easy to know them and only Lord Shiv knows who will kill Huzoor and Hukum. Baba says that let's take blessings from Lord Shiv. Everyone starts praying to Lord Shiv. A light comes towards Bela who will kill Huzoor and Hukum.
Baba says that the divine God has given their blessing to the one who will fight with all this.
A group of people in black outfit had gathered around Sumitra, Alek, and Rohini holding weapons. Hukum talks in a sign language to ask Sumitra who is she getting his sister married to! Sumitra says that it is Krish who looks alike Mahir and she has seen him in the market.
Sumitra says that she has learned about Krish from his driver and has followed Krish into his office. Sumitra has asked Krish to do his work as he was greedy for money. Sumitra has asked Krish to fool Bela and know about her plan. Sumitra has asked Krish to act like Mahir and Krish and learn about Naagmani from Bela and she will give him huge money.
Sumitra has told Krish about the things which Mahir knows so that Bela gets confused. Sumitra says that Bela will get broken down after meeting Krish as Mahir. Hukum holds Sumitra's neck and throws her down. They ask Alek, Rohini, and Yuvi to leave. A member of the black outfit group commands Sumitra to follow Hukum.
Hukum also leaves along with her team. Sumitra is angry at them and wants to kill them. Sumitra gets angry on Bela and Krish.
Kuhu is broken down on Andy's death. Kuhu asks about Mahir from Bela, but she says that he will come with them soon. Bela asks Bultu to take care of Kuhu. Bela says that she wants to know the reason behind Mahir's actions to support Huzoor.
Precap: Mahir comes with gifts and Vish is happy to see him. Bela hugs him tightly!