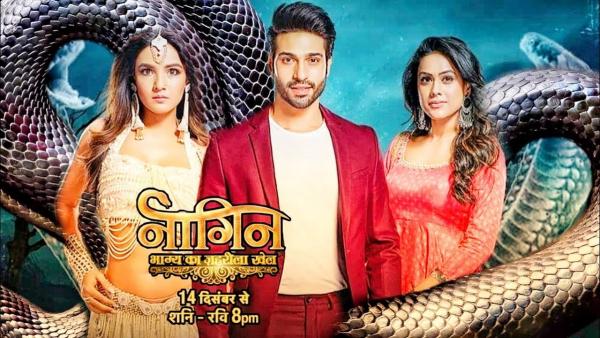 The Nagin episode begins with Dev questions Vrinda to enter inside. He says that she has already got wet in the rain so she should come inside now. She says that she loves to have fun in the rain from her childhood. Dev also comes outside in the rain and her hands get washed off from the Vabhoot. (check: Naagin written updates.)
Vrinda's sindoor gets washed away in the rain and comes on her forehead. He puts the watery sindoor on her forehead hairline. Dev hugs her and covers her. She also starts to hug him and then recalls when Nayantara died. He kisses her forehead. Maha Pandit interrupts over there.
Vrinda looks at her and thinks that Rohit Baba is in such a condition, and gets worried about Maa. Manyata stays unconscious inside the room. Vrushali leaves with Ketki from there. After some time, Vrushali comes and takes Manyata to a captive room so that nobody gets to find her until she reveals her Lal Tekri Mandir's secret.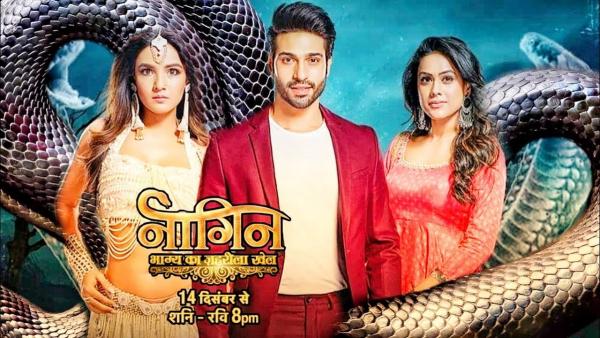 Vrinda meets Rohit Pandit behind the house in the backyard. He says that Manyata has been kidnapped by the Parikh family. Vrinda gets shocked hearing it. Nayantara enters Dev's house and questions Lily about Dev! Lily tells her that Dev is spending her wedding night with her wife, Vrinda.
Dev comes to find Vrinda over there. Lily says to Dev that Nayantara came to meet him. Vrinda gets worried about where to find Maa! Maha Pandit says that she should be with Dev as he might be aware of it.
Dev starts searching Nayantara. Nayantara goes inside the jungle and hides there. She gets angry that she always thought right about Vrinda and only Vishakha will help her now. Rohan and Sparsh return home and starts acting pity after seeing Vrinda. They say to Vrinda that Dev left her in the middle of the night.
Nayantara removes the thorn which got stuck on her feet. Dev goes behind her to check whether she is Nayantara or anyone else. Vrinda blows off the Vabhoot and goes to find Dev after taking her Naagin avatar. Dev reaches at the temple while following Nayantara and looks at Vishakha over there. Nayantara is still hiding behind a pillar.
Ira and Ketki think to talk with Vrushali that where is Manyata! Vrushali hears their conversation and says to them that there's nothing to worry about Manyata. Vrushali says that she has managed to bring Vabhoot and will not let anyone know about her.
Dev talks with Vishakha that he came from the same place, but never knew about the side of this temple at which he is standing now. Vishakha says that she returned after many years and asks him to leave as she will conduct a Pooja here. He leaves from there. Vishakha gets alert as Naagmani would come anytime.
She says to Nayanatara to take out the stone and attain similar powers like Vrinda. At the moment, an earthquake arrives along with the storm. Vrinda gets shocked. Dev is in the haveli and gets worried that the girl was alone in the temple. Vishakha turns her half body into her Naagin avatar.
Nayantara moves to take the Naagmani but Dev arrives there and pushes her to make her safe and grab a pillar from falling over her. He accidentally put his hand on the Naagmani and attains its powers. He leaves the pillar which falls on Nayantara. His forehead gets filled with Naagmani and its powers.
Vishakha was coming towards him, but a pillar falls on her and she gets fainted. Vrinda reaches there as a Naagin and helps Dev to get out. Vishakha gets awake and removes the pillar from Nayantara. Nayantara also becomes conscious. Vishakha blames her. Nayantara says that it was just a stone.
Vishakha questions whether she knew what it was? Nayantara says that the stone was Naagmani. Vishakha says that she waited for 50 Poornimas to get the Naagmani. She turns into a snake and blows hot air on Nayantara. Vrinda returns to the human avatar and returns home with Dev.
Nayantara says to Vish that she went to know about Vrinda. Vish says that Naagmani disappeared because of her stupidity. She says that you could easily grab being born in the Ashlesha Nakshatra. Nayantara says that it was her motive due to which she saved her life.
Vishakha says that her mother also raised her for all of this. Nayantara interrupts not to speak about her mother. Vish grabs her neck and says that she would kill her now. She throws her and makes her get vanished into the pillar.
Vrinda thinks that her mother is in trouble because of Dev and she can easily kill him, but she wants to locate her mother first. She says that after finding her mother, she would kill everyone. Madhav gets shocked after seeing Vrinda in a half snake's avatar and hides over there.
He sees that Dev is unconscious and gets to know that Vrinda is a Naagin. He was about to run from there, but fall. Vrinda hears him as he falls.
Madhav gets inside the house. Ira is waiting for Madhav and says to Ketki that she asked Madhav to bring warm water for her. Madhav runs to tell Ira about it, but Vrinda takes him in the jungle to kill him. Madhav starts shouting and Dev was coming over there.
Vrinda closes his mouth with her tail and says that she will kill everyone except the innocent Akash uncle and Baa. She says that she is Manyata's real daughter and not Nayantara. Vrinda becomes human and questions about her mother. Madhav runs after throwing her on the tree.
Dev comes to the jungle and finds blood on the tree. Vrinda becomes Naagin and comes in front of Madhav. Madhav hit her head with a stone and runs to Swara's house. He hits Swara too and puts a knife on her neck. Vrinda gets shocked seeing him.
Precap: Vrinda is searching Manyata and enters the temple. Manyata says that she is here, but Vrinda isn't able to hear her voice!