If you type Best Toilet Paper In The World in Google Image search, it will deliver you some weird results. As of writing this, it shows Pakistan's national flag as the first few results. It is not the first time such thing has happened. There have been many such incidents in the past.
This incident has surfaced just 48 hours after the attack on a CRPF convoy in Jammu & Kashmir's Pulwama district. A suicide bomber named Adil Ahmad Dhar ran an SUV carrying hundreds of kilos of explosives into the convoy. Jaish-e-Mohammed has claimed the responsibility. The terror attack took place on February 14 and engulfed the lives of 44 CRPF personnel in the deadliest attack on security forces in decades.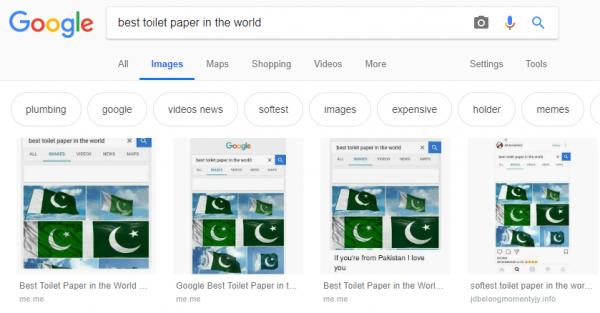 Coming back to the Google search results, this is not the first time when Google algorithm has thrown up irrelevant images. If you remember, the US President Donald Trump's picture came up while searching for 'idiot' on Google's image search. Some of its credit goes to the Green Day song – American Idiot – which protestors used during his trip to London.
Also Check: Army Major Dies in J&K's Rajouri IED Blast
If you search for 'pappu', the President of Indian National Congress – Rahul Gandhi's image comes up.
Twitterati didn't much long to share it on the micro-blogging platform. The pictures are being shared vigorously and are currently going viral online. You can also see for yourself that the hashtag #BestToiletPaperInTheWorld is trending on Twitter as people are tweeting about it with their images of Google searches.
Here are some of the tweets that surfaced with the said hashtag on Twitter.
#besttoiletpaperintheworld #googlesearch #screenshot perfect answer by google👍🏻 pic.twitter.com/Wi0pK0rCvB

— Jaydip Patel (@_The_Jedi_) February 16, 2019
Best toilet paper in the world#Besttoiletpaperintheworld pic.twitter.com/nf2QemeBy1

— Kushal Pal (@Kushalpal100) February 16, 2019