The episode begins with Mohini says to Mr. Bajaj and Prerna that both of them deserve each other as they kill people. Mohini says that he kills people and she acts to love people and hit on their back. (Check: Kasautii Zindagii kay 2 written updates.)
Mr. Bajaj says to Mohini that she can never understand about Prerna's feelings. Prerna says that they should not fight right now. Anupam questions what is she trying to make them understand? Anupam says that Anurag is in such a condition because of Mr. Bajaj.
Mr. Bajaj says that he came here to tell everything but he got shocked to see Mohini pushing Prerna. Mr. Bajaj warns everyone that he will forget everything if someone hits Prerna. Mr. Bajaj says that they can misbehave with him as he knows to answer. Anupam questions whether he is warning them?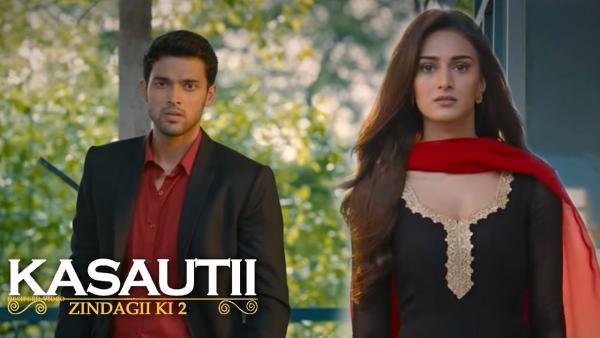 Mr. Bajaj says that they think every conversation is a warning. Mr. Bajaj says to Prerna that she should not bear any humiliation. Mohini calls the police to file a case against Mr. Bajaj. Mohini says that they have an eyewitness also who is Shivani!
Mr. Bajaj says that he has made a mistake so he will cooperate. The police say that they can't arrest Mr. Bajaj just by their explanations.
The inspector questions Shivani whether she has seen Mr. Bajaj drive the car fast? Shivani denies that she has not seen this, but his car was parked there when Anurag met with an accident and the crowd told her that his car has hit Anurag. The inspector says that he needs to find clues to arrest Mr. Bajaj. The inspector says that Mr. Bajaj came to the police station and told everything.
Mohini asks the doctor to make Anurag shift to home. Moloy gets shocked to see Anurag's condition. Mohini and Anupam make Moloy calm down as he gets very sad. The doctor asks everyone to wait outside as he needs to call a senior doctor.
Prerna gets sad after recalling whatever happened in the hospital. Masi says to Prerna that she should stay away from Basu family as they don't care about her. Rishab comes into the room. Prerna gets up that she will come soon. Rishab questions Masi what did she speak to her?
Masi says that she just asked her to stay away from Basu family as the situation is very complicated. Mr. Bajaj questions why it is so complicated? Masi says that Rishab has hit Anurag who was Prerna's friend. Mr. Bajaj says that he is no more her friend.
The senior doctor comes searching for Anurag's room and Prerna shows him the direction. The doctor says that if Anurag didn't come in senses within 6 hours, then he won't be back to life. Prerna gets shocked after hearing this.
Prerna gets sad after recalling that Anurag is in serious condition. Prerna comes to the kitchen and starts crying. Prerna was taking utensils, but everything falls from her hands. Prerna gets sad after recalling her memories with Anurag. Someone questions Prerna why is she crying?
Precap: The senior doctor operates Anurag to make him breathe, but he doesn't come back to senses. Prerna comes to his room and gets shocked to see his condition. Prerna goes to Mr. Bajaj and says that Anurag matters a lot to her. Prerna says that she won't let Anurag die like this.
Masi questions Tanvi whether she likes Anurag? Prerna comes to Anurag and asks him to come back to life. Mohini gets angry to see Prerna with Anurag. Anurag holds Prerna's hand and comes back to senses!