The episode begins with Anupam saying to Anurag that he should earn enough that Prerna regrets losing him. Anurag goes to the conference room. Anupam thinks that it's good that Anurag focuses on his work instead of sitting sadly. (Check: Kasautii Zindagii Kay 2 Written Updates.)
Mr. Bajaj comes home with a teddy bear for Cooky. Masi says that Cooky was playing hide and seek with Prerna. Tanvi calls Prerna to know about Cooky. Mr. Bajaj questions about Cooky from Prerna. Prerna says that they were playing and Cooky was hiding.
Mr. Bajaj shouts at Prerna that he had brought her just to take care of Cooky and she can't do it. Masi comes to Rishab and ask him not to shout. Tanvi calls everyone as she has to find Cooky in the storeroom. Nivedita hears that Mr. Bajaj has brought Prerna just to take care of Cooky only.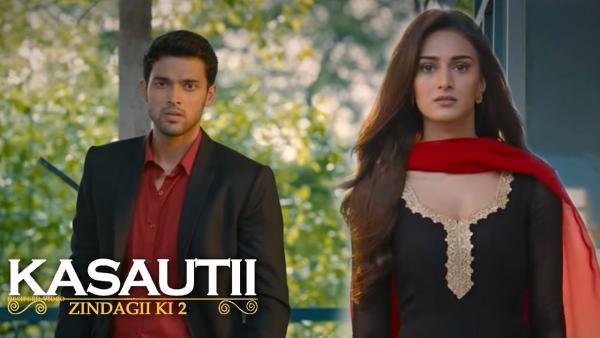 Cooky is lying in an unconscious state in the storeroom. Mr. Bajaj says that Cooky is afraid of the dark place and takes her to the room. Prerna apologizes about Cooky's condition. Mr. Bajaj shouts at her that his servants take better care of Cooky than her.
Mr. Bajaj tries to wake up Cooky, but she doesn't come in the senses. Mr. Bajaj shouts at Masi and Tanvi that they should call the doctor. Prerna thinks that she got busy in talking with Shivani and then forget about Cooky.
Masi calls the doctor to come to check Cooky's condition. Masi recalls when Tanvi asked Cooky to hide in the storeroom. Tanvi took Cooky to Masi and Masi takes Cooky to the storeroom. Masi recalls when she takes Cooky into the storeroom and the light was turned on.
Tanvi hides in the storeroom to haunt Cooky with a white cloth and started flickering the light. Tanvi closes the lights and door to scare Cooky. Tani started whispering her name. Tanvi says to Masi that she acted like she saved Cooky. Masi says that Rishab didn't do right to marry Prerna.
Masi says that she wanted Tanvi to marry Rishab but she didn't come close to Cooky. Masi says that Tanvi could have handled Cooky and marry Rishab for all the property and business. Masi says that Rishab has told her that he loves his daughter and Prerna has saved Cooky many times so he married her.
Masi says to Tanvi that Rishab doesn't even love Prerna. Tanvi says that they need to end Rishab and Prerna's marriage. Prerna tries to wake up Cooky but Mr. Bajaj asks her to stay away from Cooky. Cooky wakes up and Mr. Bajaj hugs her. Prerna thinks that Mr. Bajaj is the best father. Cooky holds Prerna's hand.
Prerna hugs Cooky and apologizes to her. Prerna promises Cooky that she will always be with her. Prerna questions why did he hide in the storeroom. Cooky shows a sign that the door got closed and the light turned off. Cooky signs that she knocked on the door, but no one opened it.
Prerna understands her signs, but Masi and Tanvi come to change the topic. Masi says to Prerna that she will talk with Rishab since he shouted at her.
Masi comes to Rishab and says that she like Prerna but she is not ready to hold a mother's responsibility. Masi says that when he shouted at her, it sounded like Prerna is a maid for Cooky. Tanvi hears their conversation from outside the room. Mr. Bajaj goes to make a call.
Precap: Anurag question Prerna about Mr. Bajaj's rude behavior? Prerna says that he is her husband and it is her matter. Mr. Bajaj says to Anurag that he gets to know about his acts. Masi and Tanvi are planning to push Prerna from the stairs in the party!