The episode begins with Shivani and Veena busy with their household works. Someone calls at the home. Shivani picks the call, but no one speaks. The phone rings again, Shivani picks the call and no one speaks anything. Veena comes and asks who is calling! (Check: Kasautii Zindagii Kay 2 Written Update.)
Anurag thinks that Prerna was hesitating a lot when she had come to his room for the first time, but now she has taken over his room just the way she took over his heart. Anurag thinks that he is mad at her stupidity as she is ruining her life by coming here. He thinks that he had never imagined that a girl who looks so delicate will face everyone so strongly.
He loved the way Prerna shut everyone up especially Komolika. Komolika comes in the room and is angry on Prerna that she is trying to challenge her. Komolika is calling her dad as she needs his help to get rid of Prerna. Anurag takes the phone and says that she could call dad only when she had lost to Prerna.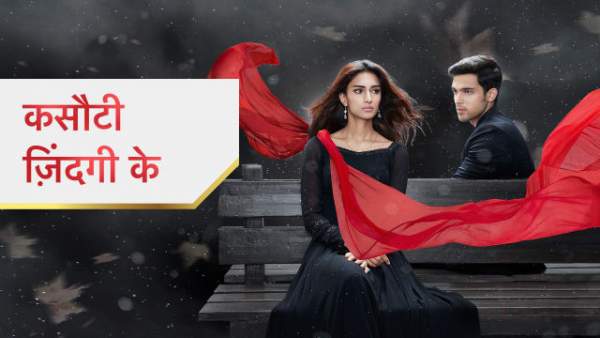 Komolika replies that Prerna has taken over her house, room, and the bed. He says that being his wife, he wants her to share all her problems with him and not with her father. He says that she is a strong woman so she can fight and he is with her. Komolika says that she is going to do the packing for their honeymoon and she leaves.
Shivani is in the market and someone is keeping an eye on her. She takes the vegetables and starts running from the place. A guy is following her and she gets worried. Ronit shows his face to her and says that he can't live without her. He says that he sent him to jail. Shivani says that he is a cheap person.
Ronit says that he is in love with her and wants her to love him back. Shivani says that nothing is the same right now, especially after she found out about his sister. She warns him not to come close to her. Someone comes and asks about the problem. Shivani leaves from the place.
Mohini is doing Anurag and Komolika's aarti to bless them. Nivedita asks them to enjoy at the beach over there. Anupam says to keep a distance from the water or they might have drowned each other. Komolika thinks about Prerna that she hasn't come to wish them. She says that she has forgotten something and goes upstairs.
Anurag think that why is she going upstairs? Komolika is searching Prerna and couldn't find her so she thinks that Prerna might have run away as she got scared of the challenge. Komolika and Nivedita come outside to the car and looks at Prerna standing over there.
Komolika comes to Prerna asking that she wants to come with her and Anurag. Prerna denies that she hates traveling by cars as much as she hates Komolika. Prerna says that she has come here to bid goodbye to Komolika. Mohini comes and says that it is not the car which she booked.
Prerna says that the driver has called at home and says that he is very sick so he wouldn't show up for work. Prerna says that she has arranged another car for them as she won't let their honeymoon get canceled. Nivedita asks her mother to check the car. Mohini calls the driver and he say that he is not well and bedridden so can't come.
Mohini says to everyone that the driver is not well. Nivedita says Komolika and Anurag have fun on their honeymoon. Anurag says thanks to Prerna for helping them and holds Komolika's hand to leave for the honeymoon. Prerna opens the door for Komolika, and Komolika feels that it's so strange behavior. Prerna says that she will spoil her honeymoon slowly. Both of them leave for the honeymoon.
Nivedita is worried about Prerna, but Mohini says that let her do whatever she wants to. Mohini says that she is happy about Anurag and Komolika. Mohini says that she can't tolerate Prerna in her son's bedroom so they need to do something.
Prerna is sad after recalling her memories when Anurag asked her about her honeymoon plans. She replied that Kalindi is a great place to visit and it is the place where Anurag has gone with Komolika for a honeymoon.
Komolika is thinking that why Prerna helped her to go on a honeymoon! The car stops and the driver go out to check it. Komolika says that it's a strange place and there is complete darkness all around. Anurag thinks that it's strange as she gets scared too. Anurag asks Komolika whether she is scared in the dark.
Komolika denies that he is with her and holds his hand. The driver says that the ignition is not working so the car needs to be pushed. Komolika asks what does he mean? The driver says that he means, the car can be jump-started so they can get it checked by a mechanic nearby.
The driver says that there is a garage after two hours of traveling and there is a hotel, but it is not a good one so it will be better if they push the car. The driver says that he can't help for pushing the car as his hand is injured and the car is big, so Anurag can't push alone so ma'am will have to help him. Anurag denies that he will manage.
The driver says that he should call the boss on a video call and Komolika starts pushing the car. Prerna is looking at everything as Komolika gets irritated to push the car.
Precap: Komolika says that everything has happened because of Prerna. Komolika is talking with her on the video call that she has planned all this. Anurag asks Komolika to relax down. He says to Prerna that he is with Komolika!