The Kasauti Zindagi Kay today's episode begins with Anurag saying to Prerna that he will do anything possible for her father as he has promised his father. He leaves and she is crying. Anurag reaches Komolika's house and she is looking at him. He is waiting downstairs and Komolika comes down. She recalls when Mishka said that she won't get Anurag in her life.
Anurag asks for help from Komolika. She says that she will do whatever he wants and she says that it is her duty as Moloy came to her house before he met with an accident. He asks why did his father come to meet her! She says that he has come to meet her father as the Basu publications are not doing well and he needed money so he came to meet her dad.
She says that her dad agreed and give him a good project so for such help her father put a small condition. Anurag asks about the condition. She says that your dad, as well as her, wants them to get married. She says that they looked very happy and hugged each other to congratulate for their wedding. Anurag is shocked to hear this and questions about such a statement.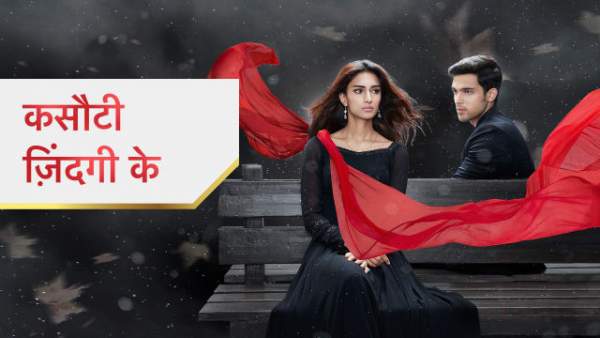 He says that he was going to get married to Mishka then how come this thing came out. She says that she doesn't know anything and even Mishka doesn't want to talk to her about this. She says that she feels stuck and going crazy thinking about all this. He holds her hand tightly and says that he doesn't want to know about what happened and what not.
He just questions her if she can help him or not. He says that Rajesh uncle is in very bad condition and she mentioned a doctor from London so if she can call the doctor urgently here. She asks him not to be so rude as she will help him and there's no need to return the money which his father has taken.
She says that she'll help him and save Prerna's dad just like she has to save Prerna's family from becoming homeless. He questions what she is talking about!
Komolika says to Anurag that he must be aware that her dad and Naveen knew each other so Naveen required money, he approached her dad and in return, he gave Prerna's house documents as a mortgage. She says that after knowing the truth, the situation became correct. She says that she will return Prerna's house documents as well.
She says that Basu house has been mortgaged to the bank and Nivedita knows this but she couldn't do anything. Komolika says that she will help him with everything. She says that it is our duty to fulfil our father's wish. He says that he came here to ask for her help and in return, she is talking about the business, deal, and condition.
He says that these things are not required to get married and only one thing is required which is love. She says these are just good thoughts and she is not interested in these things. She says that she will help him, but they need to complete their parent's condition. She says that don't act so selfish and fulfil our parent's wish.
He says that he was wrong to expect help from a selfish and heartless girl. He says that he will solve every problem without her help and money. He says that I have the best doctors and so he doesn't need her help. He leaves saying all this. She thinks that he is forcing her to do anything to get married to him.
Anurag comes at the hospital and looks at Nivedita talking to someone about the business. He asks about what happened. She says that Basu publications are on the verge to end and the loan taken from the house will come to an end. She says that everything will end and investors only trust her father. She says that her mother was finding Anurag.
Anurag leaves to meet her mother and looks at the news about Basu publications getting down. He asks from the doctor and doctor replies that their condition is deteriorating. Mohini hears this and gets broken down. Anurag handles Mohini and consoles her. Vinita comes to Anurag and asks to help her.
Anurag leaves from the place, but Prerna stops him and asks to help save her mom's life as she has not eaten anything. Prerna says that in every problem, he has helped her and she asked to help her the last time. He gets emotional and hugs her to console her. He wipes her tears and says that he promised to correct everything no matter what he needs to do.
Anurag comes to see Moloy and recalls his promise to him. He recalls everything happened and calls Komolika. Anurag comes outside from Moloy's room and gets broken down. Everyone is in deep stress and he is feeling very sad.
Komolika comes with her doctor from London. She looks at Anurag and smiles. The nurse asks Anurag to bring the medicine and looks at the news about a good situation of Basu publications with a new project.
Komolika comes there and reveals everything to Anurag when she was talking with her father about giving the contract to Basu publications. Anurag says her thanks. Komolika says that she will give Prerna's house documents to him. Anurag leaves and Prerna look at them. Vinita comes to take Prerna. Komolika is very happy to get married to Anurag.
The doctor says that Mr. Basu is in a coma. Everyone gets shocked to hear this.
Precap: The doctor says that Rajesh is no more. Everyone is in deep stress. Prerna and Vinita are crying badly!