The Kasauti Zindagi Ki 2 episode begins with Prerna gets shocked seeing Anurag unconscious brought up by the goons and shouts for him. Viraj says that if she gets ready to marry him, then he will leave Anurag or else he will kill him. The goons take Anurag to the cliff and make him stand there. (check: Kasautii Zindagii Kay 2 Written Updates.)
The goons tie Anurag with a rope to the car. Viraj comes to cut Anurag's rope. Prerna cries badly and gets ready to marry. Viraj comes on the Mandap and asks his goon to take a video so that Prerna doesn't deny the marriage later.
Pandit Ji begins chanting the Mantra for the marriage. He asks them to exchange garlands with each other. Viraj he wears it and puts it on Prerna also. The goon sends a video to Sonalika and she gets happy as she was waiting to see the marriage live. Prerna looks at Anurag and starts crying. Pandit Ji looks at Anurag.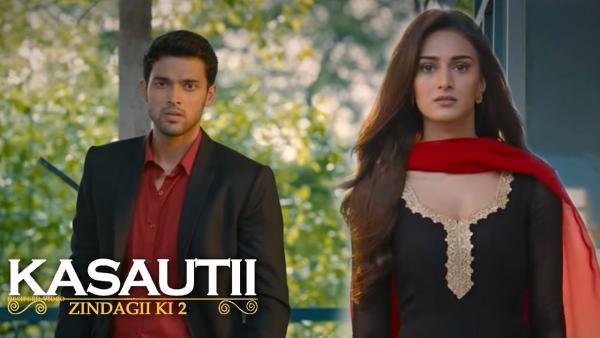 Viraj asks him to focus on his work. The wind starts blowing and the Goddess Chunnari flew on Anurag's face. Prerna gets happy and looks at Viraj. Anurag comes into senses and looks at the goons. He shouts after seeing Prerna. Prerna asks to leave Anurag. Anurag looks at the rope tied to him.
Anurag beats up the goons. Viraj asks Pandit Ji to continue the marriage. Prerna says that she won't let it happen. Anurag cuts the rope with the knife. Viraj throws his garland and comes to Anurag. Both get into a fight. Anurag falls as he is weak but he recalls Prerna. Prerna uses the knife to threaten Viraj.
Viraj says that he didn't want to kill Anurag but now he has no other option. Viraj takes out his gun and points it on Anurag to kill him. Prerna gets shocked seeing it and pushes Viraj. Viraj gets off from the cliff. In the meanwhile, Viraj releases the bullet and it goes into Prerna's stomach. Anurag gets shocked seeing her.
Prerna falls in Anurag's arms. She asks him to run to the hospital for her. Anurag grabs her and runs to the car but finds that the car is locked. He goes on the road for help. Prerna says that she wants to speak something. He asks her to talk after getting fine. He looks at a couple on the stall of PaniPuri and recalls Prerna with him.
He finds a taxi and takes Prerna to the hospital. Anurag consoles Prerna that she will be fine and nothing will happen to her. Anurag gets some flashes of memory. Anurag takes her to the hospital her treatment begins there. The doctor takes out the bullet from Prerna. Prerna asks the doctor to make her delivery normal.
The nurse informs Anurag that the bullet just hit on the skin surface so there's nothing to worry but she is suffering from labor pain now. The nurse informs him that the doctor has removed the bullet.
Prerna is crying badly in pain. The doctor questions her whether she is sure to get a normal delivery? Prerna replies a yes and screams with pain. Anurag recalls some flashes of them. He looks at Prerna's face as his vision gets clear. The baby's crying sound is heard. The doctor congratulates Anurag that he has become a father and blessed with a daughter.
Precap: Anurag talks with Prerna that they have become parents now. Anurag calls Prerna as Mrs. Prerna Anurag Basu. Anurag says that he will go back home with Prerna and his baby as he has recalled things. Moloy gets happy but Mohini is upset with it. Sonalika gets shocked!