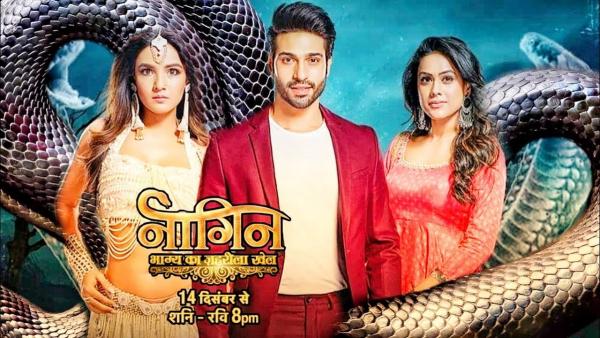 The Nagin episode begins with Vrinda get ready to bite Dev and says to him that she will leave only a small amount of poison so that he forget last night. She was about to bite him but Baa comes over there. Baa asks her to put the lape on him. (check: Naagin Written Update.)
Vishakha asks the Maha Purohit Pandit how to communicate with her mother? He replies that she said that she will do with the locket. She asks him about a solution as she doesn't have much time. She starts showing her fake tears to make him emotional. Maha Purohit takes out the Tilismi book.
Vishakhs gets happy seeing it as she thinks to find all her answers in the book. She takes the book and was about to leave but he stops her that he can't permit her. She takes the pictures of the book on her phone and runs from there. He thinks that she missed the Prashad. Vrinda returns in her Vish avatar and thinks to take away the book next time as she needs Naagmani first.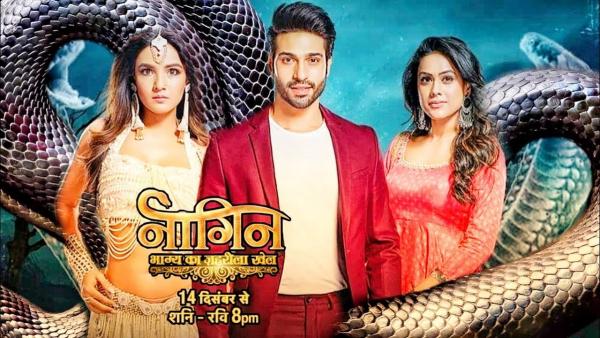 Hardik, Sparsh, and Rohan get awake. Vrushali questions them whether they saw a snake? They deny as they fall after getting drunk. Ketki says that Vishakha told them that they got into a fight with each other to dance with her. Their mothers leave thinking that they might have done it. Ira and Ketki talk with Vrushali to see Manyata.
Dev comes into senses and stares Vrinda. Vrinda thinks to bite on him before he gets conscious. Vrinda questions him whether he remembers the last night? Dev replies yes that he knows all the truth. Dev says that she dares to invite Rajat last night. Vrinda thinks that he is not talking to her Naagin avatar but Rajat.
Vishakha goes from there. Vrinda gets the hint that Vishakha might have bitten him. Dev questions where is the smell coming from? Vrinda replies that he was drunk last night. Dev says that he doesn't drink. Vrinda takes him in the washroom and washes away his lape.
Vrinda questions Dev how is he feeling now? Dev questions how did he got drunk? Vrinda says that by drinking. Dev says that he got angry after seeing her with Rajat. Vrinda says that she doesn't recall anything. He questions why did she call Rajat last night? Vrinda says that she didn't call him, but if he thinks so he has such thinking. She comes out from there.
Vishakha says to Vrinda that if she didn't bite Dev last night then he would recall everything. Vrinda says that she slept last night. Vishakha says that she doesn't trust her now as she is acting more like Dev's wife rather than Manyata's daughter. Vishakha questions whether she changed her revenge decision?
Baa asks all the ladies to keep fast as today is MahaShivratri. Baa questions Vrinda whether she had food? Vrinda says no. Vrinda's locket shining. Vishakha looks at Vrinda and says to her that she will complicate her life. She shows her the cave and Laal Tekdi Mandir.
Vishakha takes the locket and comes to talk with Vrinda. Vishakha says Vrinda that she heard about Manyata from the Naags that she is in the cave. Vrinda says that she knew about it and goes to open the door for Swara. Swara comes with Vrinda's Shagun for her fast. Dev says that Vrinda is not fasting.
Vrinda says that she is keeping the fast and takes her Shagun. Dev handover his plate to Rohan knowing that Vrinda is keeping the fast.
Lily takes Dev with her and questions why he gave his plate to Rohan? Dev says that she is also keeping the fast so who is he? Lily says that he will talk at the right time about it and questions whether he is in love? He says that Vrinda is not predictable. Lily says that he has become mad in love.
Vishakha asks Vrinda to search beneath the temple in the cave. Vrinda asks her to take her place during pooja so that she can leave. Dev enters there and Vish leaves in her snake avatar leaving her plate. Vrinda says to him that she is eating. Dev shows a surprising reaction.
Swara's father makes Vrinda and Dev do the pooja in the temple. Vish shows Vrinda the map to go over there. Swara questions Vrinda where is she going? Vrinda goes saying that she doesn't have time. Vishakha makes a fake Manyata sit in the cave and turns into Vrinda's avatar to snatch Naagmani by making Dev angry.
Ketki gets shocked after seeing the duplicate of Manyata. Vrinda also looks at her and gets sad. Ketki says to Vrushali that she has seen Manyata. Vrushali takes her and Ketki says that she failed to see the face but it was Manyata.
Vrinda plans to go to the cave before moonlight goes. Swara follows her and questions what does she want? Vrinda says that she is searching for her real Mom. Swara gets shocked. Vrinda recalls what she said and apologize to Swara that she didn't mean it. Swara questions whether she knows about it?
Vrinda says that for past days but didn't ask her. Swara says that she might have a reason. Swara says that someone came to the temple and left her in her father's hand. She says that he brought her home and so they took her care. Swara says that she doesn't want to get separated from her.
Vrinda says that it won't happen but she has to find her real Mom. Swara follows her to save her.
Baa asks everyone to enjoy and gives Dandiya to everyone. Dev says that he is going to play Dandiya after a long time of 12 years. Vishakha who is in Vrinda's avatar looks at Rajat and thinks that he entered at the right moment. Vish goes to Rajat and offers him the sweet.
Precap: Swara questions Vrinda why Bel leaf affects her and Manyata? Vishakha in Vrinda's avatar starts dancing with Rajat!