The episode begins with Anurag looks at Prerna's resume which might have sent during the joining time. Anurag gets to know that Prerna used to work before also in their company. Anurag reads about Prerna's favorite place which is Switzerland and gets some flashes of his memory. (Check: Kasautii Zindagii Kay 2 Written Updates.)
Anurag hears Prerna's voice in his memories. Ronit is talking with Komolika and thanks her to meet her in-laws. Prerna looks at them. Komolika says to Ronit that she has to leave, but goes to take something from her room. Ronit also goes with her. Prerna looks at them and enters the room.
Prerna holds Komolika's hand and slaps her. Ronit shouts at Prerna but Prerna asks him to keep his mouth shut. Prerna calls Sonalika with her real name, Komolika. Prerna says that everyone should know about her reality. Sonalika questions about Komolika?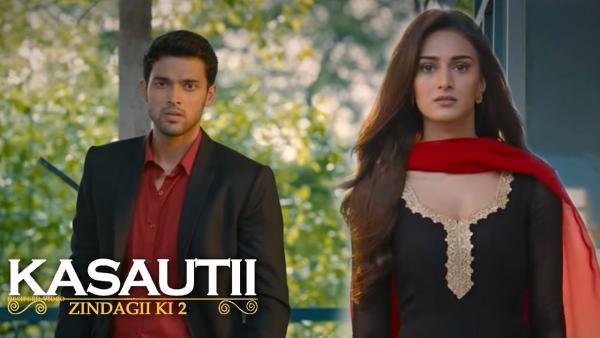 Prerna says that Komolika is such a vamp who burns anything that a servant touches like her. Sonalika accepts that she is Komolika and says that she will make Basu's life hell. Komolika says to Ronit to kill Prerna and end everything. Komolika leaves from there. Ronit grabs Prerna's neck to kill her.
Shivani looks at Sonalika coming outside the room and goes inside to check Prerna. Shivani hits on Ronit's head with a bottle. Komolika comes there, but Prerna gets out of the room with Shivani. Prerna locks the door. Komolika and Ronit get up and open the door as the lock breaks.
Ronit questions about the dancer girls from the guests and gets to know that they have gone outside. Prerna leaves with Shivani in the car. Ronit and Komolika go behind them in their car. Ronit loads his gun to kill them. Prerna drives fast to reach Basu Mansion. Shivani tells her that Komolika is behind them.
Ronit gets out of the car's window and fires them. Komolika takes a short cut to reach the highway before Prerna and kill her. Prerna comes in front of Komolika's car. Komolika drives the car and Prerna takes her car back. Ronit asks Komolika to slow down the car. Prerna's car hit with a wall and Komolika hits in her car. All of them get hurt.
Shivani gets out of the car to take Prerna with her. Ronit is unconscious and Sonalika gets hurt on her head. Shivani asks Prerna to go and tell the truth to everyone and stays there. Komolika tries to come in senses and gets out of her car. Komolika takes a rod and hits on Shivani's head from behind.
Prerna comes to Basu Mansion and shouts for Anurag. Prerna tells Mohini that Sonalika is Komolika. Sonalika comes there and Mohini takes her side. Prerna goes to talk with Anurag as they don't trust her. Mohini and Sonalika try to stop Prerna.
Prerna comes to Anurag's room and locks the door. Prerna questions Anurag whether he feels strange when she touches him. Anurag denies it. Prerna says that they loved each other in the past two years. Prerna says to Anurag that Komolika wants to snatch him from her. Anurag recalls that he has heard Komolika's name.
Prerna tells the truth to Anurag and Anurag recalls back everything. Mohini shouts to open the door and he opens it. Sonalika takes Prerna to leave, but Anurag denies it. Anurag says to Sonalika that she is Komolika.
Precap: Anurag throws out Komolika from his house and falls over there. Nivedita blames Prerna that her brother died because of her!