The Kasauti Zindagi Ki 2 episode begins with Naveen saying that he is not going to spare Anurag while talking to Komolika on call. He says that he won't let Anurag's dead body, even to leave this jungle and disconnects the call.
Komolika is shouting, no but the network got failed. She can't connect to Naveen again and hires a person to bring Anurag home safely. She says that Anurag shouldn't get hurt anyhow, and leave Prerna in the jungle. Mishka is listening to all this and gets worried about Komolika's intentions for Anurag.
Naveen finds Prerna's outfit part in the jungle and thinks that they might have gone towards the temple. He moves along with the team towards the temple.Anurag is helping Prerna and covering her wound. Prerna holds his hand and asks that why is he doing all this!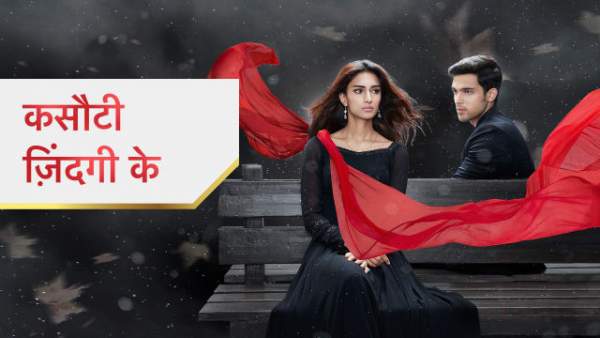 She says that why is he putting his life at risk just for her! He says that I'm an idiot and I've never imagined that this will happen to him. He says that whenever Prerna is around, his heart beats fast. When Prerna is not around him, he starts finding her. He says that he gets restless when she cried.
She says that stop talking like this and make it simple for her to understand. He questions that she can't understand it even now also. He says that Prerna has told him about love and its meaning. He says that she is the only one who has made him learn about all these feelings then why can't she understand him!
He confesses his love for Prerna in front of her. He adds that the guy who doesn't even know the meaning of love has fallen in love with her and feels incomplete without her. He says that he can't live without her and Prerna is looking at him. He confesses his love for her. He says that he doesn't know about Prerna's feelings.
Prerna makes him quiet and says that he can't see in her eyes that how much she loves him! She says that he couldn't understand about her happiness when he is around her and confesses that she loves him more than him. She confesses her love for him and they both hug each other. Both of them are really happy to stay together.
Mishka comes to talk with Komolika and makes her recall when Komolika said that she will not ever snatch Anurag from Mishka. Mishka says that she is such a stupid person to believe it and trust on Komolika from childhood even after she keeps on breaking Mishka's trust. Mishka is worried that she trusted again Komolika.
Komolika says that she feels that something is special in him, which is attractive for her. Komolika is happy and feels excited that Anurag doesn't even look at her. Komolika says that she tried her best to stay away from Anurag and acts like his sister-in-law by treating him like Mishka's life partner.
But it won't change the fact that Anurag is born for Mishka, so leave him for Komolika and let her play with his feelings. Komolika says that one should stay happy with whatever one gets like she was about to be Anurag's sister-in-law but now he will be Mishka's brother-in-law and Komolika's life partner. Komolika warns Mishka to stay away from her and Anurag.
Anurag and Prerna feel really happy about their love, but Prerna gets stressed. He asks about what happened! She says that these tears are for both happiness as well as sadness. She says that this moment won't come again in her life that Anurag loves him so much. He asks about the sadness.
She replies that she is upset because they both have feelings for each other, but they can't stay together after confessing this love. She adds that there are so many people around them for which they need to think about. She says that the marriage with Naveen was not her wish, but she was just helpless.
It was at that moment when she realized that she loves Anurag. She says that she wanted to come and confess her feelings, but couldn't since Naveen was in between them. After Naveen has gone from her life, she was about to confess her feelings for him, but Mishka came back in his life and she got really broken.
She says that when he was about to confess his feelings to her, then life made Naveen come again in her life. She says that her luck is so bad that she couldn't get Anurag in her entire life.
Anurag wipes her tears and consoles her. He asks her to stay quiet and listen to him. He says that he will fight with every problem or situation and they will stay together forever and trust in their destiny which made them come together. He says that in front of God, they have met for the first time. He adds that today also, in front of god they have confessed their love for each other.
Anurag takes Kumkum from the goddess and says that the vermilion offered to the idol Goddess is very auspicious and every veneration begins with the vermilion. He says that this vermilion is an unbreakable promise which a husband makes to his wife to stay together in every situation.
He promises her holding the vermilion that irrespective of any situation, joy or sorrow, they will stay together. He puts the vermilion on Prerna's forehead and asks to give him just a week to settle all the situations and fight for their love.
Precap: Naveen looks at Anurag and Prerna together close to each other. Naveen takes the gun and Anurag stands in front of Prerna!