Nagin 3 19 January 2019 Written Update: The strange girl enters the Sehgal house and asks Sumitra to look at the bride. Sumitra removes the face covering and gets shocked to see Bela as the bride. Shivli's brother and his wife come in their avatars as Vikrant and Vishakha. (check: Petta vs Viswasam collection.)
A servant comes and asks Sumitra to take a call which is urgent. Sumitra denies and asks the servant to leave, but Bela and Vish force her to take the call. Sumitra gets shocked after listening to Shivli's father. Bela adds that Shivli's father might be really afraid about their kidnapping.
Alek says that it is not possible since he killed Shivli's parents. Bela says that they were not dead and were the Naag's. After all this, there get two teams divided as Bela and Sumitra's team.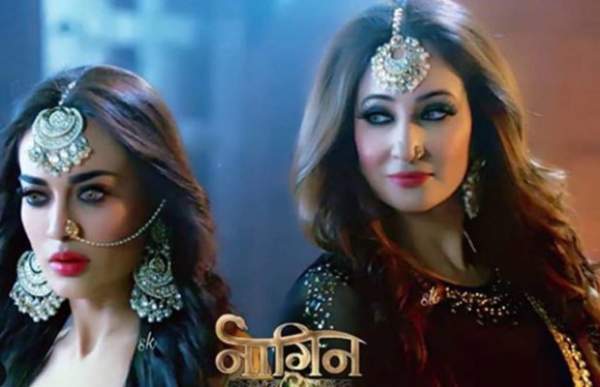 Sumitra thinks about Bela's actions and Rohini shouts at her that she is stupid. Yuvi says that let's kill all of them instead of fighting. Sumitra says that Bela's return is beneficial for us and so we will kill Bela once our mission gets fulfilled. Sumitra says that it is good to keep Bela alive to get the Naagmani.
Bela, Vish, and Vikrant are thinking about Sumitra's next actions. Bela says that she will not kill us so early and would be looking for Naagmani with our help. Bela adds that they all beat Mahir and done so wrong that he is not mentally fit.
Sumitra asks Yuvi to keep Bela away from Mahir so that Mahir doesn't get to recall anything. Yuvi takes Mahir down, but Mahir is not going. Bela enters Mahir's room and recalls her memories with him. Mahir fools Yuvi and runs to his room.
Mahir enters the room and denies to go down with Yuvi. Bela asks Yuvi to get out. Mahir says that he wants back Shivli and says that Shivli is her partner. Bela comes out from the room and Yuvi starts speaking some lines to make her feel bad. Mahir comes and Yuvi says that Bela is a bad girl and no one wants her.
Kuhu is serving the food for everyone and Yuvi brings down Mahir for the breakfast. Mahir takes Kuhu to eat the breakfast, but she denies and asks Mahir to eat. Mahir demands another food, but Sumitra comes and asks him to eat it. Bela shouts at Sumitra to stop misbehaving with Mahir. Bela is shocked to see Sumitra and Rohini commands on everyone and they leave asking others to eat. Andy comes and gives toys to Mahir. Bela questions about everything to Andy and he replies that we eat everything left. Kuhu says that Sumitra gives medicine to Mahir after which he wakes up like this every day. Kuhu says that the medicine is only kept in Sumitra's room and no one can ask about it. Bela denies them to eat the leftovers and prepares fresh breakfast for them. Vish and Vikrant are going to check some proof for Mahir's health condition.
Rohini looks at Bela's activity when she is preparing the fresh food and goes to tell to Sumitra.
Vish is checking Sumitra's wardrobe and Rohini comes inside the room but Vish hides. Sumitra calls Rohini and she leaves.
Bela asks Kuhu and Andy to eat the breakfast. Sumitra comes to everyone and starts shouting at everyone.
Precap: Sumitra comes in her Naagin avatar and bites Mahir. Bela couldn't do anything since Alek has held her tightly.
Stay tuned for more Naagin 3 written updates.