Nagin 3 27 January 2019 Written Update: The episode begins with Sumitra announcing to be the Naagrani and Naagmani's sole holder in front of her team in the Haveli. Sumitra throws out Andy and Kuhu from the house. Mahir comes and Yuvi asks him to get out too. Bela comes at the moment along with Vikrant and consoles Mahir. (Check: MTV Splitsvilla 11.)
Sumitra takes Bela to show her power on Naagmani. But the Naagmani is not at that place. Sumitra asks her Naag servants that what has happened at the place? The Naag servants tell that it was a lady who stole the Naagmani. Mahir comes with an album and throws it after seeing snakes at the place. The Naag servant recognizes the lady from the album who stole Naagmani and it was Vishakha. Everyone is shocked to know this thing.
Mahir is in his room and thinking about the snakes. Bela enters the room and tries to console him. asks what happened? He says that everything is going wrong and wants Shivli back. Bela changes into Shivli and comes again in the room. But Mahir says that I am upset with you since she didn't come to help him. Shivli says sorry and he accepts it.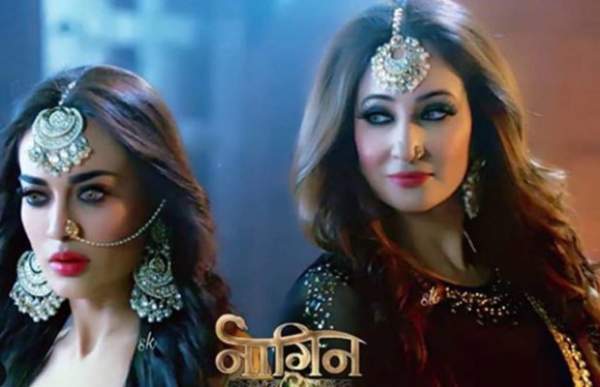 Mahir gets up and is looking for Bela. He adds that she is a good girl and wants her back. Shivli turns back as Bela and Mahir hug her as he wants to be with her always. Bela gets emotional, but Mahir gives her toys to make her happy. Bela asks Mahir to take a rest and sleep as it's very late.
Vikrant takes Bela and Guru Ji comes to talk to them. Vikrant tells that the Naagmani has been stolen by Vish from Sumitra's place. Guru Ji reveals that Vish's soul is present. Guru Ji says that it is only possible if Vish's some wish is still left and not fulfilled. Vikrant gets emotional and reveals that she wants to hear my love for her.
Yuvi is hearing all this and goes back to talk with Sumitra. But gets shocked to see a lady coming in his way. He starts screaming but Sumitra comes at the moment.
Sumitra is shouting at Yuvi for thinking such stupid things about Vish's presence. Mahir listens when Yuvi says that a soul has come into the house. Mahir gets scared after hearing that there is a ghost in the house. Yuvi asks him to go and sleep in his room.
Bela is talking to Vish's photo, but Mahir calls her and she leaves. Rinki, the vulture is listening to all this and comes ahead to talk with Vish's photo by making fun of her death. Vish comes from behind and Rinki gets scared. Rinki screams and the other vultures also get aware that she is in some danger. Sumitra and Yuvi also get to hear Rinki screaming. Rinki comes into the room where Bel leaves were spread all over. Rinki jumps into the box filled with water thinking that the Bel leaves are covering it and she is safe there. Vish turn on the water flows into it and bids farewell like the way Rinki did with her.
Sumitra and her team come at the place where Rinki is dead in the water-filled box.
Precap: Vikrant calls Vish to come back and take revenge from the ones who have troubled you. Sumitra is trapped in a place!
Stay tuned for Naagin 3 updates.