The Nagin 3 episode starts with Bela's entry on the bike to stop Mahir and Vish's wedding. Bela confesses her love for Mahir in front of everyone and he is lost in her. She says that you once asked me to express my love in front of everyone and you will not deny from anything I ask. Sumitra says to Bela that Mahir has decided to be with Vish. Bela says that Mahir please don't listen to anybody and do what your heart wants! (check: Simmba 9th day collection.)
Mahir starts the bike and asks Bela to come with him. Bela sits on the bike and they both leave. Sumitra comes in front of the bike and questions Mahir that he doesn't trust his mother now. Mahir denies and says that I don't feel good with all these happenings. Sumitra says that if you don't want to marry Vish, then don't but stay with me for some time till the new year begin. Mahir stays there and they start the celebrations.
Sumitra takes Bela aside and says that your special surprise is waiting for you. Sumitra says that your mother is in that bowl and Bela looks at the shadow in the bowl. Sumitra says that the bowl will burst with your mother at 12 pm and one minute is left. Bela looks really worried and wants to safeguard her mother.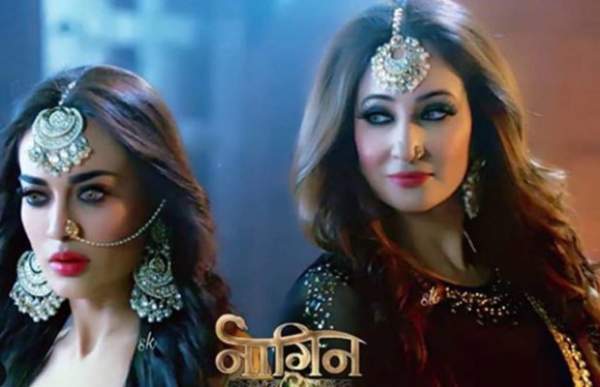 Everyone starts the countdown and the bowl gets burst out. Sumitra takes Bela aside and says that your mother is in my hand. Bela says that my mother has run away from you. Sumitra says look at your mother upstairs. Vikrant has helped Bela's mother, but Yuvi has come and puts a knife to the neck of Bela's mother.
Vish looks upstairs and is shocked to see all this happening. Vikrant wakes up and without making any noise tries to do something. Bela is looking at Vikrant without pretending. Vish cuts down the light. Sumitra leaves to check the light. Vikrant takes his Naag avatar and bites Yuvi. Yuvi fells down and Vikrant rescues Bela's mother.
Bela says that let me take Mahir with me, but Vish says that he will not come with you. Vish beats on Mahir's head and Vikrant takes him. Sumitra sees all this and comes there. Bela warns her to stand there only and asks Vikrant to take action fast. Both Sumitra and Bela takes their Naagin avatar and starts fighting. Vikrant takes away Mahir and Vish takes Bela's mother with her.
The light is turned on and Sumitra starts shouting that Bela please don't kill me, but no one is there. Andy consoles her and Kuhu says that Bela and Mahir are missing.
Bela is happy to see her mother and hugs her. Bela's mother asks Ruhi what happened there and did everyone gets to know all this? Bela denies that when the light turned on I ran away. Bela says that Sumitra has planned many things and this is just the beginning. Bela asks Vikrant about Sumitra's intentions. Vikrant says that I am not with my mother anymore and I don't know about anything. Bela asks about Mahir and his well-being. Vish says that he is in the car and you go to him.
Bela removes Mahir's masks, but Mahir says that why are you doing this with me? She says that I want you to take away from there so I did this. He denies to trust her. She asks why did you not stop me when I came on the bike? She questions think about the reason.
Precap: Mahir slaps Yuvi and Yuvi tries to beat Bela. Yuvi hits on Mahir and Bela tries to take Yuvi away. Sumitra also comes in the place.
Stay tuned for Naagin 3 news.