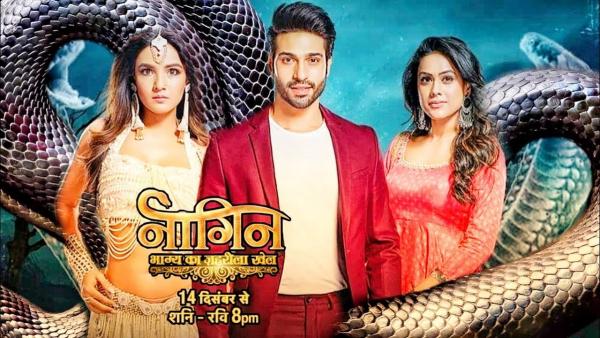 The Nagin episode begins with Baa praises Vrinda for her decorations. Vrinda goes from there making an excuse and takes out Drakshira from the locker. Lilly looks at Pratik coming over there and they rush to him. Dev looks at Milly and Lilly talking to someone. (check: Naagin 4 Written Updates.)
Both are talking to Prateek who is Lilly's boyfriend and is talking about an excuse to not reveal Pratik as Lilly's boyfriend in front of everyone. Rajat comes to Dev and Dev questions someone whether Rajat was invited! Dev finds Vrinda and questions her whether she has checked the guest's list as to whom she should have invited.
She replies that she has sent an invitation only to the special ones and asks him to leave her. She goes from there. Dev thinks that he is the one who is coming in her life as she feels that Rajat is special to her. Dev is furious after seeing Rajat. Both get into a quarrel. Rajat is being invited by Vishakha so no one is aware of it.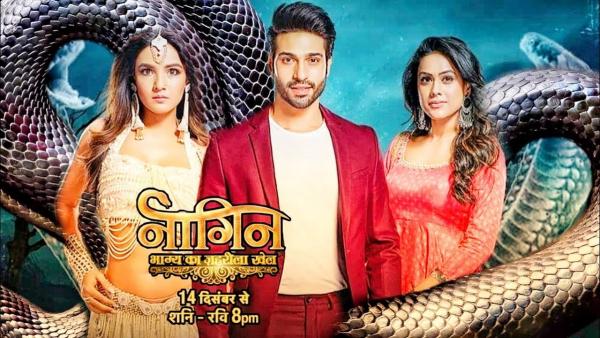 Dev started searching Vrinda and asks everyone about her. Vrinda comes to her room and thinks about what should she do with Drakshirath. She uses her locket to talk with Manyata but fails. She thinks that the enemies might have known about her communication so they had taken her mother somewhere else.
She thinks to make those guys drink Drakshira to know about the truth. She makes a plan and thanks Lord Shiva for it. Dev questions Rajat why is he here? Rajat says that Vrinda has invited her. Dev gets angry after hearing it.
Vishakha looks at Dev as he is searching Vrinda and thinks that she can get the Naagmani only by keeping him away from Vrinda. Vishakha comes into Vrinda's avatar and calls Rajat at the party. Dev questions why she wants to talk to Rajat. She replies that she wanted him to show that she has moved on in her life.
Dev becomes angry and his forehead starts glowing with the Naagmani. He leaves from there. Vishakha gets a hint that Naagmani shines when Dev gets angry. Vrinda makes the Drakshira drink and was going downstairs but Dev comes over there. Dev questions her why is she not with Rajat now?
She says that she has forgotten him after getting married. Dev says that she is lying. Vrinda asks him not to be like a typical husband. Dev takes the Drakshira and dinks it all. He turns dizzy after drinking it. Vrinda thinks that she has more too for others.
Vrinda recalls when Baba told her that people speak the truth after drinking Drakshira and thinks to test it. She questions Dev why he has so much hatred for Rajat? Dev says that he hates him as she dated him and she belongs to him only. Dev hugs her and she questions how did he know that she would be his? Dev says that he knew it.
Dev questions why did she marry him if she hates him? Vrinda says that she had to. Dev asks her for a dance.
Dev comes to the party and dances with Vrinda in front of everyone. Vishakha thinks that he got drunk and it can be either alcohol or Drakshira. Vrinda takes everyone to the stage and makes them drink Drakshira. Vrinda returns to keep the tray but Rajat comes to her. Dev gets angry seeing them.
Dev grabs Vrinda from her waist and Rajat leaves from there in anger. Dev is about to kiss Vrinda but she goes behind his cousins as they were going outside. Dev looks at Rajat going outside and misunderstands Vrinda.
Vrinda asks from Rohan, Hardik, and Sparsh about her mother. They reply that her father would be aware of it. Vrinda questions about Manyata but they questions whether she is hot? Vrinda turns into a half Naagin avatar and stares them. All of them start laughing look at her but she grabs Rohan with her tail.
Hardik and Rohan try to run but she holds them too. They reply that they are not aware of Manyata.
Vishakha comes into Vrinda's avatar and reaches to Rajat questioning him why is he leaving? Rajat questions why she invited him? Vishakhs feels Dev's footsteps and falls in Rajat's arms. Dev looks at them and shouts at Rajat. The Naagmani starts shining in his head but he stops as he can't see Vrinda over there.
Dev comes to Vrinda and gets shocked to see her in Naagin's avatar. Vishakha is hiding over there looking at them. Dev shouts to Vrinda to leave his cousins. He gets angry and his forehead starts shining with the Naagmani.
Vishakha doesn't want anyone to see Vrinda's real avatar and hits Dev with a dev. His cousins question her why she didn't hit Vrinda as she is a Naagin. Vishakha also comes in her Naagin avatar and bites them too. Vishakha tells Vrinda that nothing would happen to them as they have drink Drakshira.
Ketki, Vrushali, and others get shocked to see the boys lying unconsciously over there. Vrushali asks Vrinda about all this. Vishakha makes an excuse that they got into a fight with each other over who can dance with her.  Everyone takes all the boys home.
Vishakha says to Vrinda to bite on Dev's forehead as he will recall her real avatar after waking. Vrinda thanks her for helping her every time.
Vrinda returns to her room and looks at Dev as he is lying unconscious over there. Vrinda gets worried after seeing blood on Dev's neck and takes out the first aid box. She was about to apply for medicine on him and he starts moving. Vrinda recalls when Vishakha told her that he will recall everything after getting conscious. Vrinda thinks to bite on his forehead.
Precap: On the occasion of MahaShivratri, a pooja is going to the Parikh house. Vrinda thinks that Manyata wants to talk with her. Vrinda gets doubt on Vishakha as she is trying to manipulate her!