Qyamat Ki Raat 26 January 2019 Written Update: The episode 63 of the serial begins with Sanjana saying that within three days Raghav would come into her life. Viraaj comes in the human avatar from the lizard. Karan is looking everything. Sanjana and Viraaj come out and see Karan. Sanjana closes his mouth and Vaidehi hears some noise. (Read: Naagin 3.)
Viraaj in his lizard avatar takes Karan with him. Sanjana sees Vaidehi coming outside. Sanjana distracts Vaidehi and asks did she hear some noise? Sanjana makes an excuse of the vessel broken with winds. Viraaj is successful in taking Karan to the jungle and kills him. The inspector looks Viraj taking something heavy in a sack and starts following him.
Vaidehi is having some weird vibes and looks some foot impressions on the soil on the floor. Sanjana opens the window for huge winds and the foot impressions disappear. Sanjana makes an excuse by saying that this is a village area where the sand easily comes in. Vaidehi thinks that there is some fault. Sanjana asks whether Vaidehi is doubting on her as Raghav loves her and not Vaidehi. Sanjana request from Vaidehi to stay as a sister with her in her wedding rituals since she doesn't have any family. Vaidehi starts crying, but Sanjana consoles her. At the moment, Raj comes when Vaidehi was about to leave.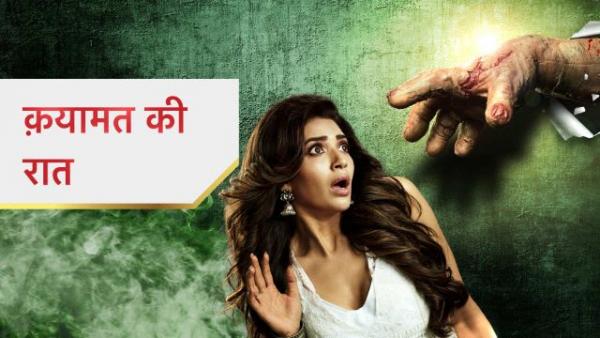 Viraaj transforms himself into the lizard avatar. The inspector is following him and is shocked to see such a creature. Viraaj hears the coming of someone, but keeps on going to distract the inspector. Viraaj leaves the sack and the inspector opens it and gets shocked to see Karan dead. Viraaj comes as a lizard and attacks on the inspector.
Raj is getting a close moment with Sanjana and Vaidehi is left in tears. Sanjana talks to Raghav that Vaidehi will stay at her sister for the wedding. Vaidehi leaves and Raghav want to have a conversation with Sanjana.
The inspector fires on the lizard, but nothing happens. Viraaj is running behind the inspector as a lizard. The inspector calls Raghav and Vaidehi picks it. He screams Karan's name but network failed. Vaidehi isn't able to connect to the inspector and comes in Raghav's room. Vaidehi gets upset to look at Sanjana and Raghav together. Vaidehi says that the inspector was calling on his phone and feeling scared.
The lizard bites the inspector and buries his body into the sand. He destroys his phone too.
Vaidehi says that something is weird. Raghav and Vaidehi were about to leave, but Karan comes in. It is Viraaj who has come as Karan and the real Karan is not dead but locked in a room. Karan says that I was just walking outside. Vaidehi is doubting on the weird behavior. Sanjana says that Vaidehi wants to separate me and Raghav. She puts allegations on Vaidehi and says that she made a false story. Vaidehi is shocked to see this.
Sanjana and Viraaj do magic on Raghav. Dadi is heading towards their room direction. Karan says that Raghav will be in her world. Sanjana adds that with this black thread, Raghav will be with her always. Dadi is having a strange expression after hearing all this. Dadi looks at Sanjana in her witch avatar and casting a spell on Raghav. Dadi is in doubt about Karan. Vaidehi comes at the moment and Dadi gets scared. Sanjana comes out after hearing a screaming noise, but couldn't find anyone.
Precap: Sanjana is bringing out Kalasur. Viraaj asks about Kalasur. Sanjana explains that I've come into the presence from Kalasur.
Stay tuned for Qayamat Ki Raat updates.